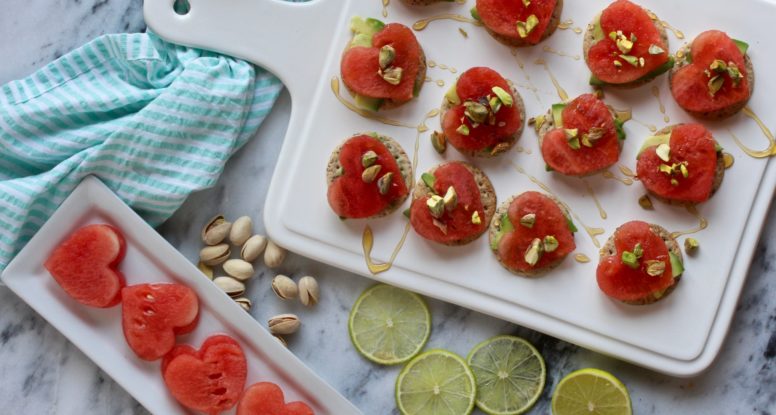 Avocado Watermelon Snacker Crackers
I'm hungry!
Does that exclamation sound familiar? It sure does to me. When I pick up my little sous chef from school, I'm always met with those two words. Luckily, we both love a delicious, nourishing snack. And the effort in making that nourishing snack is worth it, because snacking can be a great way for your kids to get more nutrition while keeping them happy and satisfied until their next meal. Today I've partnered with Simple Mills for this post all about making snack time meaningful and I'm sharing a recipe for my Avocado Watermelon Cracker Snackers. 
Snack Time Stress
I know for many parents snack time can be stressful. You're tight on time, you're trying to balance life and work, you're working hard to do the right thing for your kids and that's exhausting. I get it, trust me and I've got a solution! It's called planning – it's truly the key to successful snack time – for you and your child. Planning ahead means you're prepared, which hopefully relieves some of that stress. Part of this planning involves sitting down with your child and making a list of their favorite foods. Hear them all and write them all down, even the not-so-nutritious foods, because you can use those as inspiration for more nourishing snacks. Now that you've got your list, start combining things that work. For example, your child loves crackers and cheese. Lucky you! That's a great, nourishing snack that's easy to make! See how planning just made your life easier?
Have Them Help
Who says you have to make the snack all of the time? You don't and you shouldn't! Instead, it's you're responsibility as a parent is to teach your kids the great skill of being confident in the kitchen. During the weekend, discuss (maybe at the family dinner table) what kinds of snacks your child would like during the week. Take them to the store, have them help you pick out those items. When snack time rolls around, give them 2 snack options to choose from, then pull out those ingredients for them or have them get the ingredients themselves. Set your kids right up at that kitchen counter, roll up their sleeves and help them make that snack. If you don't have small bowl, plates and mixing utensils, now would be a great time to make that small investment.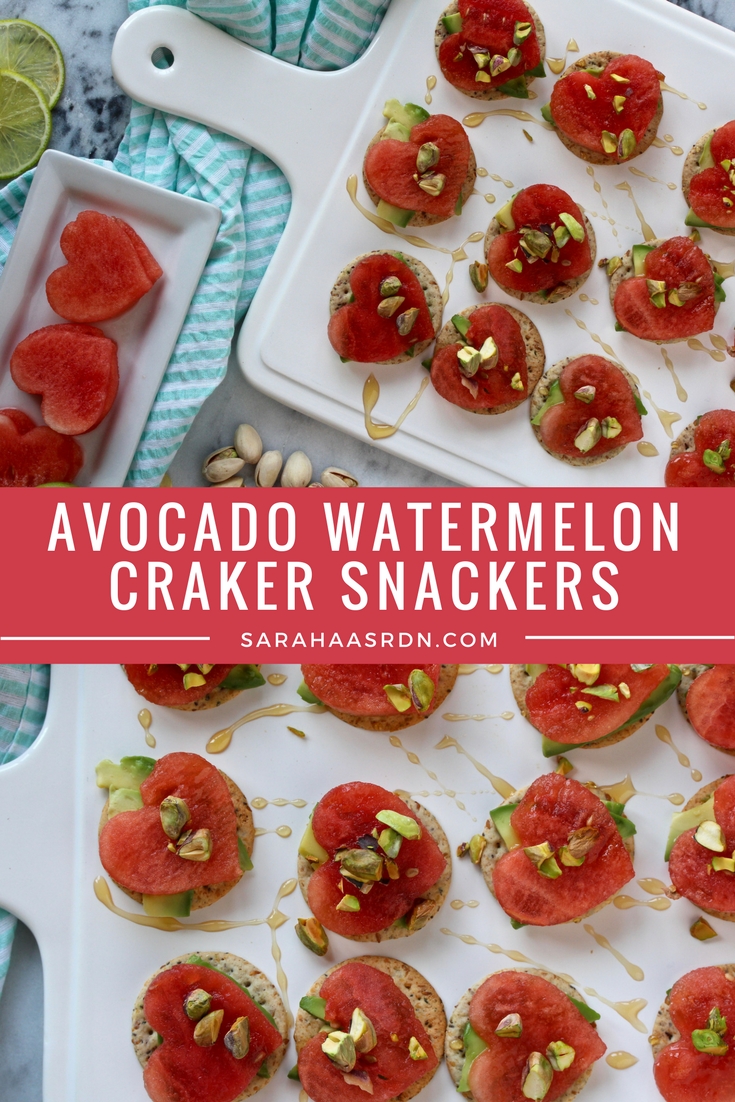 Be Creative
Kids have great ideas and creativity. Don't squash it, instead, embrace it! Use their enthusiasm to help them create new, fun snacks. Have them use cookie cutters or a rolling pin to create their special snack. Let them smash, mash and have fun making their snack. This involvement makes them feel empowered and more likely to enjoy what they've created.
Simply Smart Snacking
Speaking of snacks, have You tried Simple Mills crackers yet? As I mentioned above, I'm super excited to be partnering with them on this post. They're a brand I've come to know and love. Their products not only taste good, but their ingredients are just like their name implies, simple. That means a lot to me as a mom and dietitian. And I'm really digging their line of Sprouted Seed Crackers which are made with nutrient-dense ingredients including a high bio-availability sprouted seed blend. They're high in ALA Omega-3s & a good source of Vitamin E and Manganese. And what's more – they're also Certified Gluten-Free and free of grains, dairy, soy, corn & artificial colors, flavors & preservatives! Where can you find these crackers? Well, Simple Mills is happy to announce their products will be available in Meijer stores! That's right! So while you're doing your other shopping, you can pick up a box of their delicious crackers! In fact, pick up the ingredients for these delicious Avocado Watermelon Snacker Crackers while you're there!
Print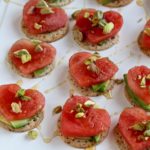 Avocado Watermelon Snacker Crackers
---
Description
A simple after school snack that your kids can help you make! These Avocado Watermelon Snacker Crackers are a nutritious way to satisfy any hungry belly.
---
1

ripe avocado

1/4

medium seedless watermelon

1

lime
kosher salt, as needed

16

Simple Mills Original Sprouted Seed Crackers

1

–

2

teaspoons honey

1/4 cup

pistachios, shell removed and chopped
---
Instructions
For the avocado: Slice avocado in half and remove the seed. Peel the skin away from the flesh and discard. Cut each avocado half into 16 thin slices, then squeeze lime juice over them. (Note – Cut big slices in half to ensure they fit on the crackers.)
For the watermelon: Cut the watermelon into 1/4-inch slices. Using a small cookie cutter, about 2 inches in size, cut the watermelon into shapes, no bigger than the crackers, you should get about 32 pieces.
To make the cracker snackers: Place the sliced avocado on crackers, sprinkle lightly with salt. Top with watermelon cutouts then drizzle with honey and garnish with chopped pistachios.
Notes
Kid Tip: Have your kids make the watermelon cutouts while you slice the avocado. They can also help with assembling the cracker snackers.
Cooking Tip: Don't have watermelon? No problem, swap in another melon or fruit of your choice! I like these with cantaloupe or even mango slices!