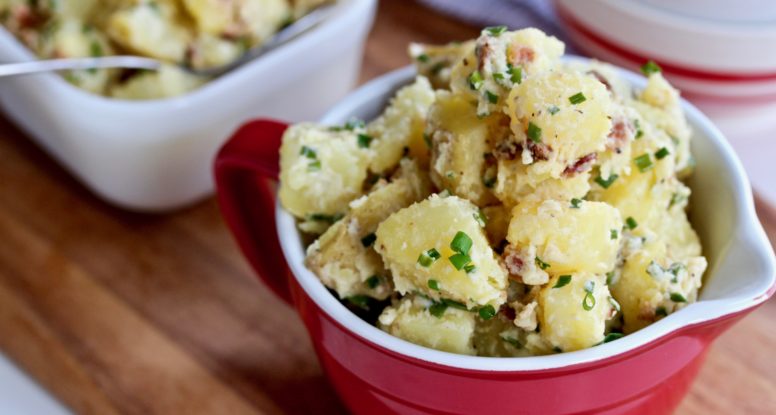 Bacon Chive Potato Salad
As you know by now, August is Kids Eat Right month and in honor of that, I'm running a month-long campaign to help promote getting kids in the kitchen cooking. Why am I telling you this again? Well, because I'm trying to set the stage for you. And I promise this Bacon Chive Potato Salad is relevant to the story. So here we go…
So, You're Opinionated, huh?
As I have come to find, as the little sous chef has gotten older, she's gotten a whole heck of a lot more opinionated. Which sure, can be cute, but also a wee bit annoying. And just about every day when I offer vegetables at lunch and dinner, she looks at me like I have three eyes. And I'm pretty sure I don't have three eyes. So yeah, she's opinionated and she's made it clear vegetables aren't something she likes. Got it.
But I'm a Dietitian
Yes, I hear that loud and clear, but she's fighting a losing battle because I'm a dietitian. And I'm a dietitian with a culinary background. And I am one tough MF that won't give up! So, yep, I keep on bringing on the vegetables. And I present them in all kinds of ways. And I 100% insist she at least tries them. So there.
Sara, the Potato Salad?
I'm getting to that! Here's the thing, the little sous chef likes potatoes the LEAST of all vegetables! I know, crazy, right? So un-American! Ha! But, I thought, I'll whip up this potato salad with BACON (which she loves, of course) and she'll be scooping it up and enjoying every mouthful. So yeah, I gloated…felt really proud of myself when I set the bowl on the table. Then, well, you know what happens next. She takes one bite (at least she humored me) and chewed it, made a face of disgust, swallowed and then proceeded to pull out the bacon pieces ONLY and eat those. Go figure.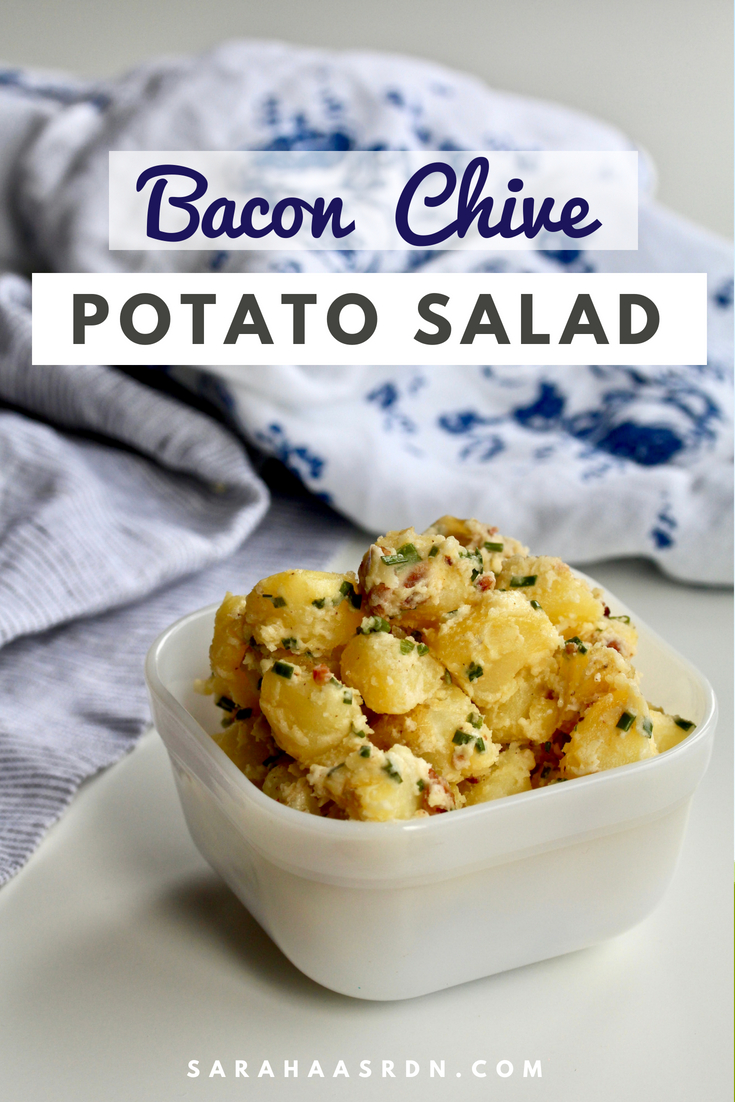 The Moral of the Story
I bring this story up for a few reasons. The first being that you can't always cater to your kids and that's okay. You can try, but if it doesn't work, don't sweat it. They're kids after-all. The second reason is that I'm a parent just like you. I certainly don't have it all figured out, even when it comes to what my kid eats. And finally, don't give up. Just because your kid doesn't like something, don't even think you should never offer it again. You keep on offering it, no matter how annoying it is. Because guess what, some day, they might just come around…or they might not! Ha! Happy parenting and enjoy this potato salad while you do it!
Print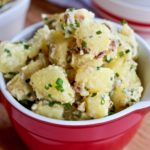 Bacon Chive Potato Salad
---
Author:

Total Time:

35 minutes

Yield:

10

-

12

servings

1

x
Description
Traditional potato salad with a punch of bacon and chives. You can't beat this easy-to-make Bacon Chive Potato Salad!
---
2

pounds Yukon gold potatoes, scrubbed

4

slices cooked bacon, chopped

1 tablespoon

cooled bacon fat

¼

 

cup +

2 tablespoons

olive oil mayonnaise

2 tablespoons

plain Greek yogurt

1 teaspoon

dijon mustard

1

large stalk celery, finely chopped

 

¼ cup

fresh chives, chopped
salt and black pepper, to taste
---
Instructions
Place the potatoes in a large pot and cover them with water by 1 inch. Set over high heat and bring to a boil. Reduce heat to a simmer, partially cover and cook for about 20 to 25 minutes or until fork tender. Take pot off of heat and drain. Allow to cool slightly. At this point you can remove the skins or, for nutrition-sake, keep them on! 🙂 Dice the potatoes. Set aside.
In a large mixing bowl, whisk together the bacon fat, mayonnaise, Greek yogurt and mustard. Add the celery and fresh chives, along with the diced potatoes and bacon. Toss to combine. Season with salt and pepper. Garnish with additional chives, if desired.
Notes
Feel free to omit the bacon fat in the dressing.
I like to use olive oil mayonnaise, but any type of mayonnaise will work.
Prep Time:

10 minutes

Cook Time:

25 minutes

Category:

Salads