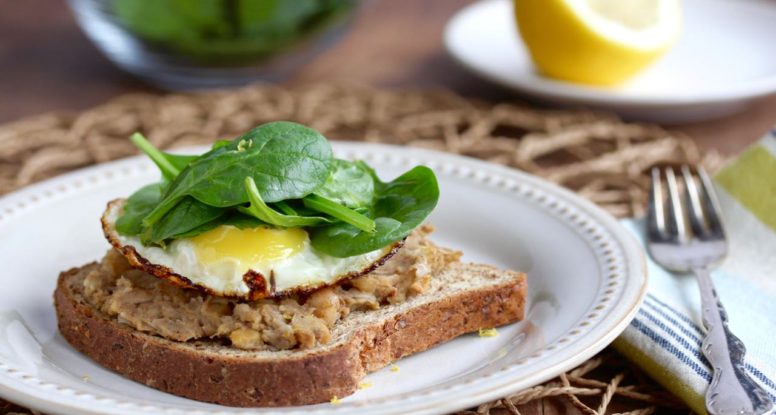 Baharat Bean Toast with Fried Egg
I like toast, I really do. Why do I love it? Because it's the perfect platform for so many other nourishing foods. And when I'm encouraging people to try new foods (such as beans), I love to incorporate something familiar. Enter toast.
Today is Fertility Friday and it's also the day I convince you that you love beans and that you love beans on toast. Don't wrinkle your nose at me! Trust me when I say you'll be a bean fanatic after you try my recipe for Baharat Bean Toast. How do I know this? Let me tell you a story.
Any Good Relationship Starts with Beans
Well, that might be a bit extreme, but let me explain. When I first met my husband he was, let's just say, bean averse. It probably didn't help that the first time I cooked for him I made something called "12 bean soup" and after at least 8 hours in the crockpot, it tasted more like rock water than bean soup. I take full responsibility for that, but I didn't give up. I knew I could convince him. And I did. Did I crack open can after can of beans to convince him? No way! How would that possibly work? Canned beans are boring, bland and unappealing by themselves.
Becoming a Bean Master
To convince him, I made beans from scratch, adding flavorful ingredients that seasoned them as they cooked low and slow. When I did use canned beans, I made sure to add plenty of aromatics (read – onions and garlic), spices and herbs. And you know what, it worked! In fact, it's worked so well that I've turned that Midwestern boy into Bean-believer. Which really just means I can get away with serving beans as the "main event" at mealtime. #success
Beans + Toast = Perfect Pair
So what does all of this have to do with Fertility Friday? Bottom line – beans are good for you, especially if you're trying to get pregnant. Research suggests that by replacing most of the meat you consume with vegetarian protein sources, you may actually decrease your odds of ovulatory infertility¹. Beyond that, beans are low in fat and rich in complex carbohydrates. They provide fiber, iron and other essential nutrients, such as folic acid, that support and promote optimal fetal growth.
And Just What is Baharat?
Glad you asked! Baharat is a blend of spices used in Middle Eastern cooking. And do you know what's great about it? It tastes awesome! It really does and I think you'll be amazed at how fragrant and fabulous it is! It's tasty on this bean toast, but it's wonderful other ways too. Try it mixed with Greek yogurt for a fantastic dip or toss it with roasted vegetables or cooked grains. It's a simple way to boost flavor to any of your favorite foods. Feel free to thank me now or later, but I'll offer my "you're welcome" in advance because you're toast and beans just got a seriously tasty upgrade!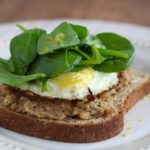 Baharat Bean Toast with Fried Egg
---
Description
Build better "toast" with this super easy recipe for Baharat Bean Toast, inspired by Middle Eastern flavors!
---
1/8 teaspoon

ground allspice

1/4 teaspoon

ground black pepper

1/8 teaspoon

ground cardamom

1/4 teaspoon

ground cloves

1/2 teaspoon

ground coriander seed

1/4 teaspoon

ground cinnamon

1/4 teaspoon

ground cumin

1/8 teaspoon

ground nutmeg

1 tablespoon

water

1 tablespoon

olive oil

1

15-ounce can garbanzo beans, drained and rinsed

1/4 teaspoon

kosher salt

4

large eggs

4 cups

mixed lettuce

1 teaspoon

+

1 tablespoon

fresh lemon juice, divided

1 teaspoon

fresh lemon zest

4

slices whole grain toast, thick-cut, toasted
---
Instructions
Mix the spices and water together in a medium mixing bowl. Set aside.
Heat a medium non-stick sauté pan over medium heat. Add oil and spices and cook, stirring constantly, until fragrant, about 1 minute. Add the drained beans and salt and cook, an additional 2-3 minutes, or until beans are warmed through. Transfer mixture back to the medium bowl, along with 1 teaspoon lemon juice and mash with a fork. Cover and keep warm while cooking the eggs.
To fry the eggs, set the non-stick skillet back over medium heat and add 1 cracked egg. Cook 2 minutes, cover with foil and cook an additional 2-3 minutes or until desired doneness. Repeat with remaining eggs.
While egg is cooking, toss the lettuce with the remaining lemon juice and zest.
To serve, spread 1/4 cup of the bean mixture on each piece of toast. Top with a fried egg and the dressed greens.
Nutrition
Serving Size:

4

Calories:

282

Sugar:

3

Sodium:

538

Fat:

11

Saturated Fat:

2

Unsaturated Fat:

7

Trans Fat:

0

Carbohydrates:

32

Protein:

14

Cholesterol:

186
¹Chavarro JE, Rich-Edwards JW, Rosner BA, Willett WC. Protein intake and ovulatory infertility.
American journal of obstetrics and gynecology
. 2008;198(2):210.e1-210.e7. doi:10.1016/j.ajog.2007.06.057.