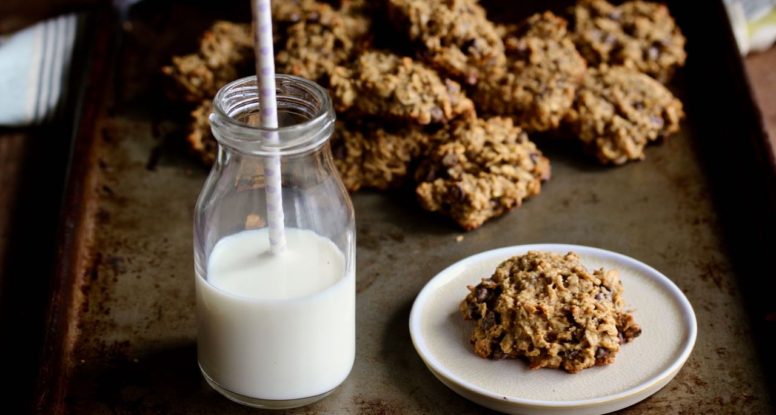 Banana Oat Breakfast Cookies
Good morning breakfast lovers! Wait, not you? Well, sit tight because I've got a recipe that will turn you into a breakfast-believer. Just how am I going to do that? With cookies of course! But not just any cookies, Banana Oat Breakfast Cookies.
Breakfast Believer
I know many of you skip this meal, but please, stop doing that! It makes me sad and angry. And you don't want me sad or angry, because it's not pretty…very messy and splotchy. Seriously, breakfast exists for a reason. No matter what research does or doesn't say, I firmly believe in the power of getting something in that belly of yours shortly after you wake up. Why? Because I think it helps set your day up right. When you eat breakfast you're giving yourself a positive, healthy start – fueling it to perform and function. That food will help prevent any "hanger," disastrous over-eating or donut indulging mid-morning. Are you a believer now?
Banana Oat Breakfast Cookies
Really, you're not? Oh come on! That was so convincing! Ok, I'll work with you. So not having enough time is your excuse? Aha! Well, then I've got you covered with COOKIES! Wait, did I just say cookies? I thought that would get your attention. Yes, I'm selling you on cookies for breakfast, but listen up, I don't mean just any cookie. No, I mean these Banana Oat Breakfast Cookies. More like fluffy granola bars, these little breakfast delights are powerful nutrition in deceiving cookie form. I've jammed it all in there – whole grains, fruit, oats, nuts, seeds and even a little chocolate. Breakfast never tasted so good. Oh and that time thing, make these these the night before. It only requires one bowl, one fork, one baking sheet and about 2o minutes. You got this!
Cookies For Breakfast?
Sure, when you make them like these, why not? While I love a good bowl of cereal, sometimes I find it can lack some of the nutrients I want and have too many of things I don't want. So, just for fun, I compared my cookies nutritional stats to some of the most popular breakfast cereals and here's what I found(note that amounts next to cereals are recommended serving sizes based on package labels):
Banana Oat Breakfast Cookies: For one, 1-ounce cookie: 
 151 calories,  5.1 grams protein, 18.5 grams carbohydrates, 5.4 grams sugar, 3.1 grams fiber and 7.2 grams total fat
Honey Nut Cheerios: 3/4 cup or 1 ounce 
 105 calories, 2.5 grams protein, 22 grams carbohydrates, 9 grams sugar, 2 grams fiber and 1.3 grams total fat
Raisin Bran: 1 cup or 2 ounces
 190 calories, 5 grams protein, 46 grams carbohydrates, 18 grams sugar, 7 grams fiber and 1 gram total fat
Frosted Mini Wheats (bite size): 24 biscuits or about 2.1 ounces
 190 calories, 5 grams protein, 46 grams carbohydrates, 11 grams sugar, 6 grams fiber and 1 gram total fat
So you see, cookies for breakfast (well, at least some of them) aren't so bad after all! Now get out of bed and makes these for breakfast!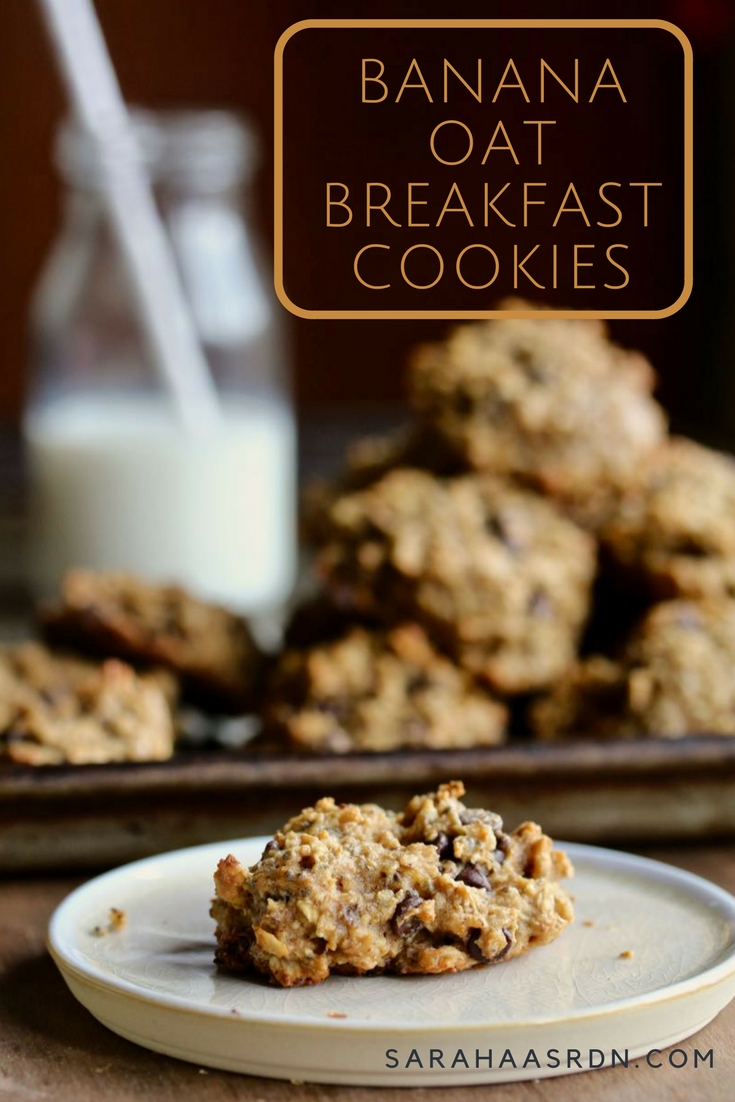 Print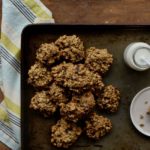 Banana Oat Breakfast Cookies
---
Author:

Total Time:

25 minutes

Yield:

18

1

x
Description
Do you find yourself running out the door with breakfast? Not anymore with these super easy, delicious and nourishing Banana Oat Breakfast cookies!
---
1

large, ripe banana

1/2 cup

unsweetened applesauce

1/2 cup

creamy peanut butter

2 tablespoons

maple syrup

2 tablespoons

ground flax seed

1 tablespoon

chia seeds

1/3 cup

white whole wheat flour

1/2 teaspoon

baking soda

1/4 teaspoon

baking powder

1/4 teaspoon

salt

1 1/2 cups

rolled oats

1/4 cup

chopped nuts

1/4 cup

mini chocolate chips
---
Instructions
Preheat the oven to 350'F and cover a large baking sheet with parchment paper.
In a large mixing bowl, mash the banana with the back of a fork. Mix in the applesauce, peanut butter, maple syrup, flax seed and chia seed.
Add the flour, baking soda, baking powder and salt. Stir well to combine, then add the oat, nuts and chocolate chips.
Drop in large, rounded tablespoons on prepared baking sheet. Flatten a little using your fingers to prevent cookies from getting too puffy while baking.
Bake for 12-15 minutes or until golden. Remove from pan and cool on wire rack.
Notes
Make these cookies gluten free by using gluten free oats
Make these cookies vegan by using vegan-friendly chocolate chips
Swap chocolate chips for chopped, unsweetened dried fruit such as apricots, raisins or mango.
Prep Time:

10 minutes

Cook Time:

15 minutes