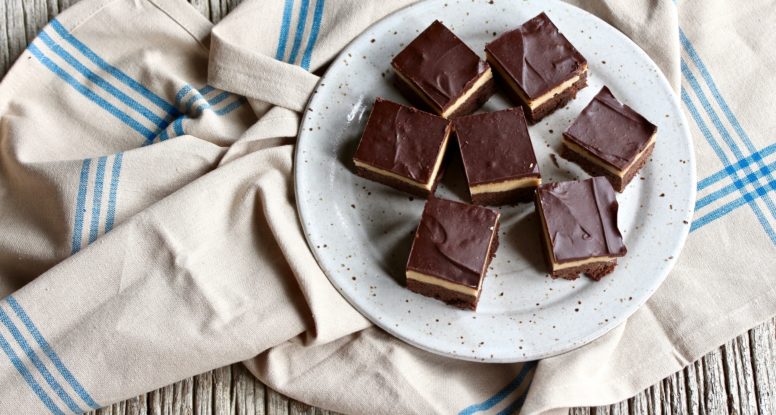 Best Buckeye Brownies
Reminder, I am from Indiana, a neighboring state to Ohio. Ironically, when I was little, I never once remember hearing the word "buckeye." You'd think that since I was neighbors with the "Buckeye State," it would've been talked about at some point. But no, my first encounter was when I was at my internship at the University of Massachusetts. That's when I fell in love with buckeyes.

Buckeyes, A Love Affair
Nope, I didn't fall in love with a strapping Ohio State football player (FYI – The mascot of Ohio State is Brutus Buckie), I fell in love with the chocolate-covered peanut butter balls. Say what? Well, you know love chocolate! And chocolate + peanut butter is pretty magical, right? Well these little guys are called buckeyes because they look just like the seeds (?) that fall off the buckeye trees, native to Ohio. Cool, huh?
The Buckeye Introduction
As I mentioned, I didn't know about these magical buckeyes until I was in my internship. One of my internship friends, who was ironically from Wisconsin (not Ohio!), made them and I about fell off my chair when I took my first bite. I'm not even sure the reason behind why she made them, but I was sure glad she did. That memory sticks in my mind to this day! Thanks Jessica, wherever you are!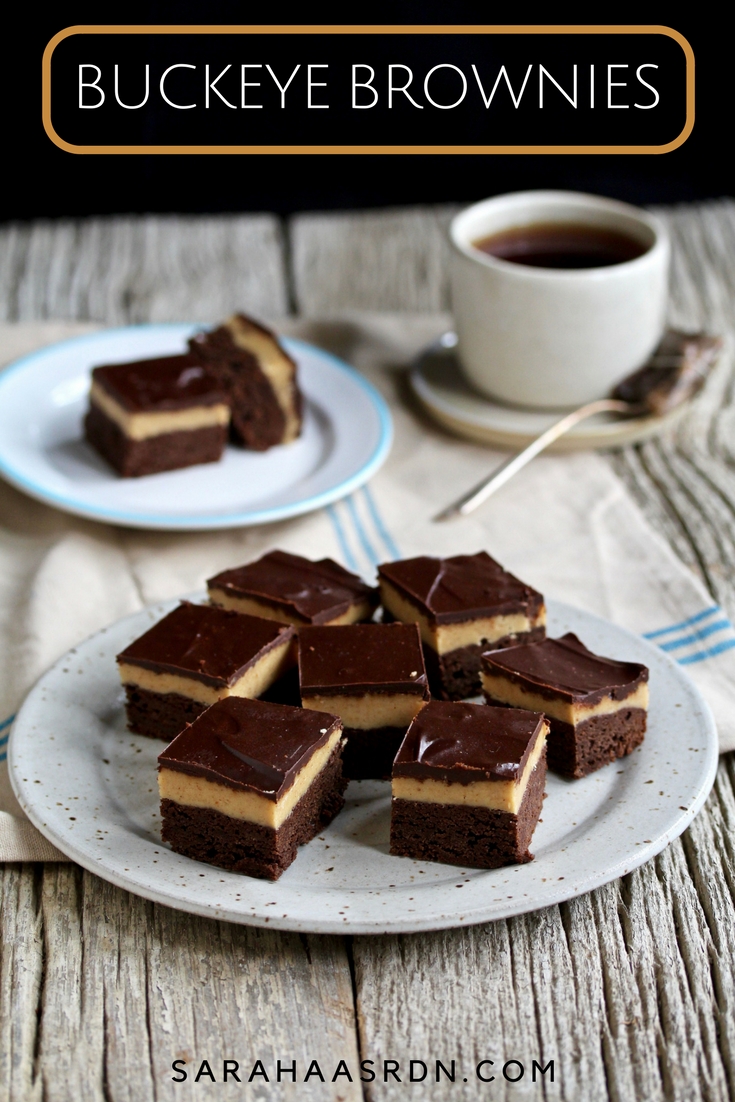 Buckeye Brownies
In fact, that memory just keeps on lingering. So, I decided to do something about it. Make my own buckeyes. But after perusing some recipes, I was feeling like I didn't want to make them after all. I mean, peanut butter wrapped in chocolate is awesome, but I wanted more. And that made me think about brownies topped with peanut butter and MORE chocolate. Hee hee. So, that's what I did and you know what? It's AWESOME!
Your Turn!
Ok, now it's your turn. Make a batch of these bad boys and tell me what you think! Drop me a line below to tell me what your favorite dessert is too, while you're at it. Maybe I'll tackle your fav next time!
Print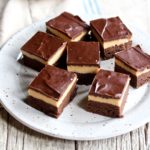 Best Buckeye Brownies
---
Author:

Yield:

16

servings

1

x
Description
Have you ever had a buckeye brownie? If not, I'm about to change your world! Chocolate meets peanut butter in an oh so yummy way!
---
Brownies:
2/3 cup

granulated sugar

1/2 cup

unsweetened cocoa powder

1/4 teaspoon

salt

6 tablespoons

butter, melted

1 teaspoon

vanilla extract

2

large eggs

1/2 cup

white whole wheat flour
Peanut Butter Topping:
1/3 cup

smooth peanut butter, room temperature

1/4 cup

salted butter, softened

1 cup

confectioner's sugar

1/2 teaspoon

vanilla extract

2 tablespoons

milk
Chocolate Glaze:
4 ounces

semi-sweet or dark chocolate
---
Instructions
To make the brownies:
Preheat the oven to 350'F and line a 8-inch x 8-inch brownie pan with parchment paper.
In a medium bowl, whisk together the sugar, cocoa powder and salt. Stream in the melted butter and whisk to combine. Stir in the vanilla extract and eggs. Add the flour and stir until just mixed.
Pour batter into prepared pan and bake for 20-22 minutes. Cool in pan before icing.
To make the peanut butter topping:
Place the peanut butter and butter in the bowl of a stand mixer and whisk until well combined. Add confectioner's sugar, 1/4 cup at a time, until blended. Mix in the vanilla extract and milk. Whisk about 1 minute on high speed until light and fluffy.
Spread topping over cooled brownies.
To make the chocolate glaze:
Place the chocolate in a small, microwave-safe bowl. Cover and microwave on low heat in 20 second increments until chocolate is melted and spreadable, about 1 minute total.
Spread melted chocolate over the peanut butter topping using an offset spatula or knife.
Place brownies in the refrigerator for at least 30 minutes before slicing and devouring!
Notes
I like to use dark chocolate for the glaze. I usually buy a really good bar of it and chop it up before microwaving it.