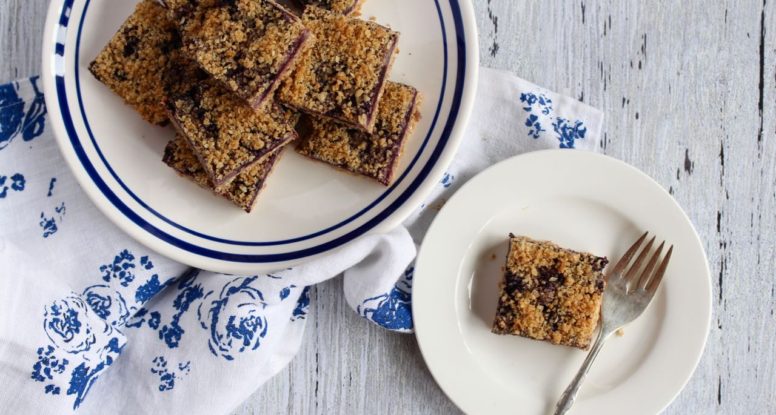 Blueberry Crumble Bars Recipe
Can it be? Is summer really almost over? Perhaps a Blueberry Crumble Bar could save my end-of-summer-sadness!
If you're like me, this happens every single year. I get to the end of August and think "what the heck? How can it almost be September?" Well, of course time inevitably keeps propelling us forward, but for some reason, my mind just doesn't accept that sometimes. I mean, I swear it was just a few weeks ago when I finally felt safe stuffing my long, dark heavy winter coat in the closet. I literally stuffed it in there too – jammed it in – as I had no interest in even seeing a glimpse of it for the next several months.

Summer Vacation!
The saving grace this time of year? The memories! Oh yes, the memories. All of the awesome moments captured in my mind of the fun we've had this summer. It went fast, because it was awesome. And lucky for me, I get to rekindle the memories with this month's Recipe Redux. With a theme that encouraged us to celebrate a food we fondly enjoyed on vacation, I felt compelled to choose blueberries. And then decided to turn them into some yummy Blueberry Crumble Bars.

Blueberries, Blueberries, Blueberries!
So why blueberries and Blueberry Crumble Bars? Because earlier this summer we joined some family members for a trip up to Michigan. It was an awesome time and slightly crazy with little ones running amuck, but awesome. One of the highlights though was a trip to a magical (seriously, it was magical!) organic blueberry farm. Everything about the experience was like a fairy tale. The owners were pure Michigan perfection, the day was pure Michigan perfection and the blueberries were – you got it – pure Michigan perfection. We picked blueberries for almost 2 hours and I think I could've stayed all day. In fact, I had so much fun that I came back the NEXT day to pick more! It sounds so cliche to say, but it was spiritual – getting up early, hearing the bugs and seeing the dew on those little blueberries. I felt like I was in Heaven. I sure hope Heaven is just like that blueberry farm!

Blueberry Crumble Bars, of course!
So, you can see, I had a great time. I bought over 5 pounds of those blueberries. I think everyone in my family thought I was crazy. But, I didn't care. I came home and froze them and now I've got a freezer full of those delicious little blue memories! But the freezer was a little too full, you know what I mean? Like, I can't quite get the door closed without some sort of crazy Jenga-thing going on in there. But, what to do with them? Blueberry muffins seemed obvious, but I didn't want that. Then, I thought, what about a crumble. Nah, well, wait…Blueberry Crumble BARS! Yes!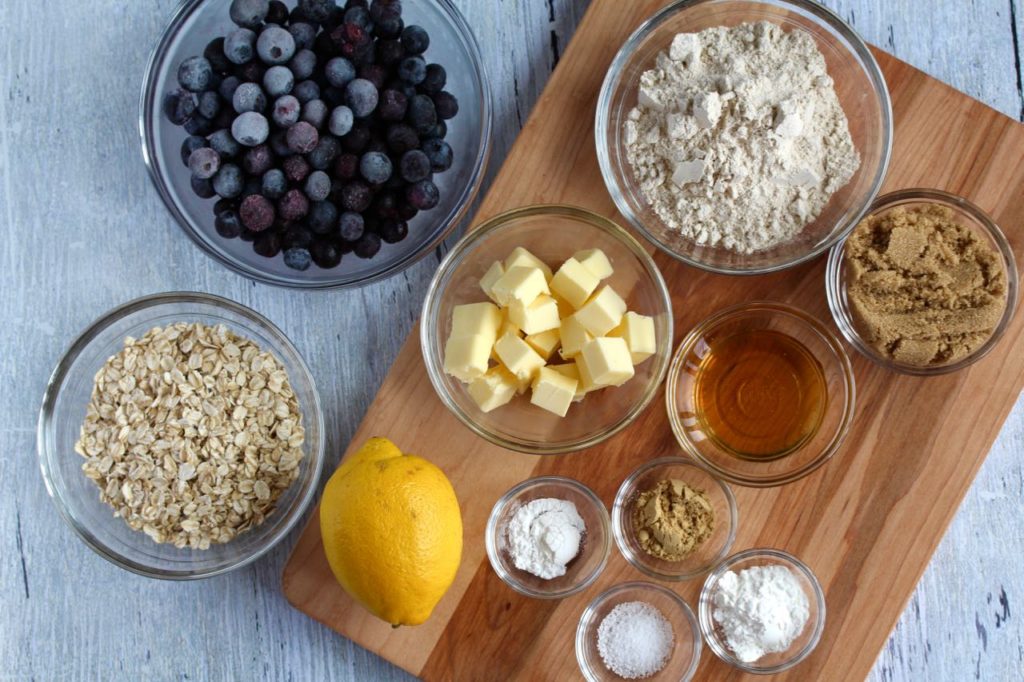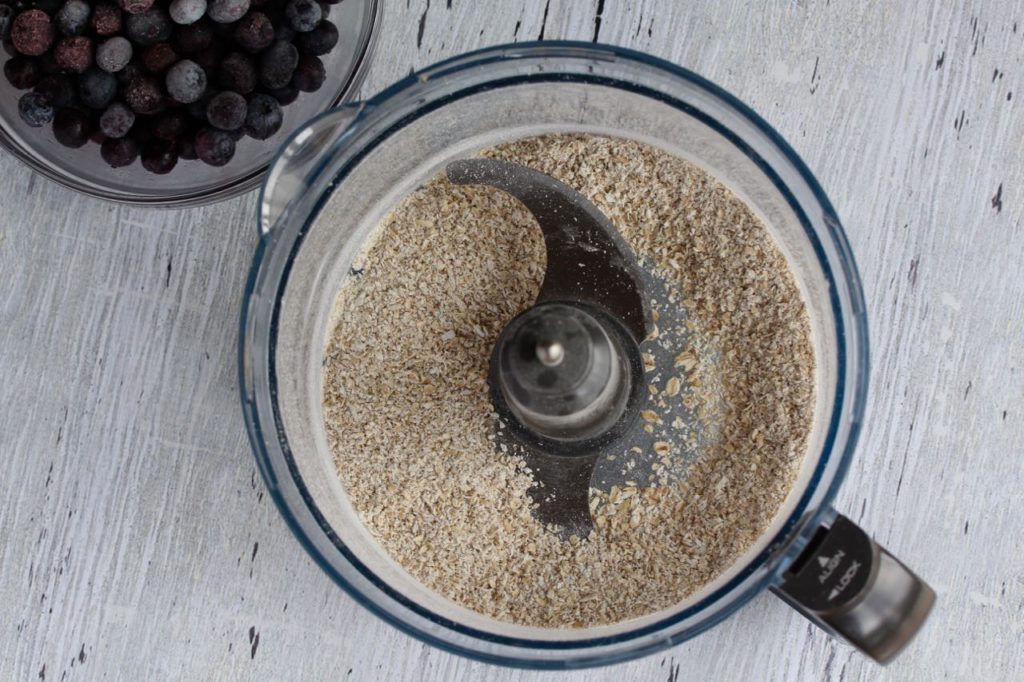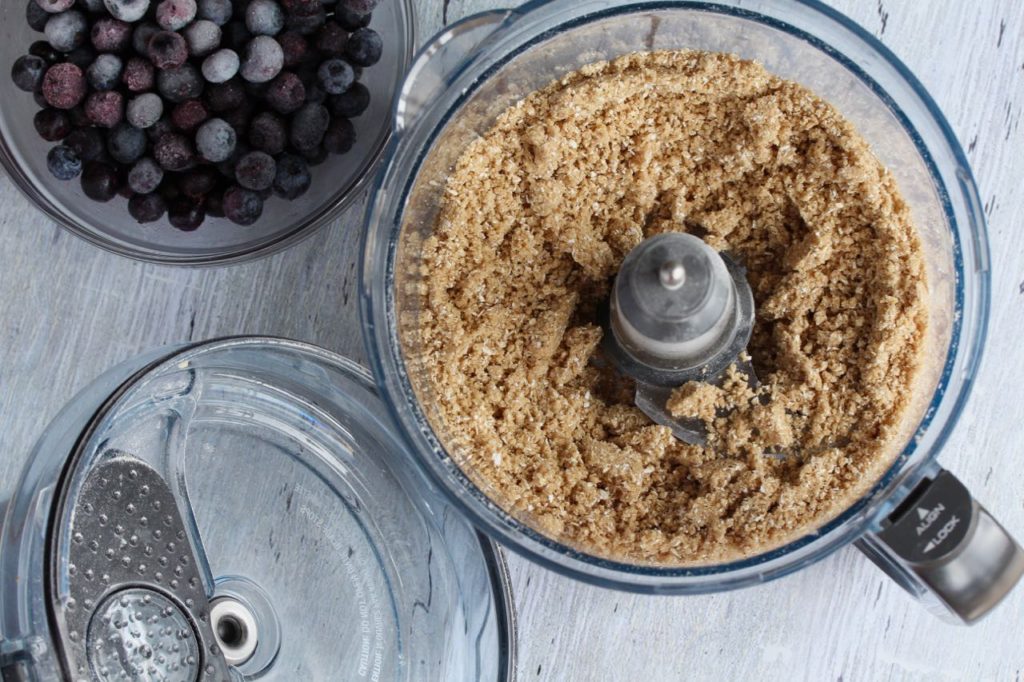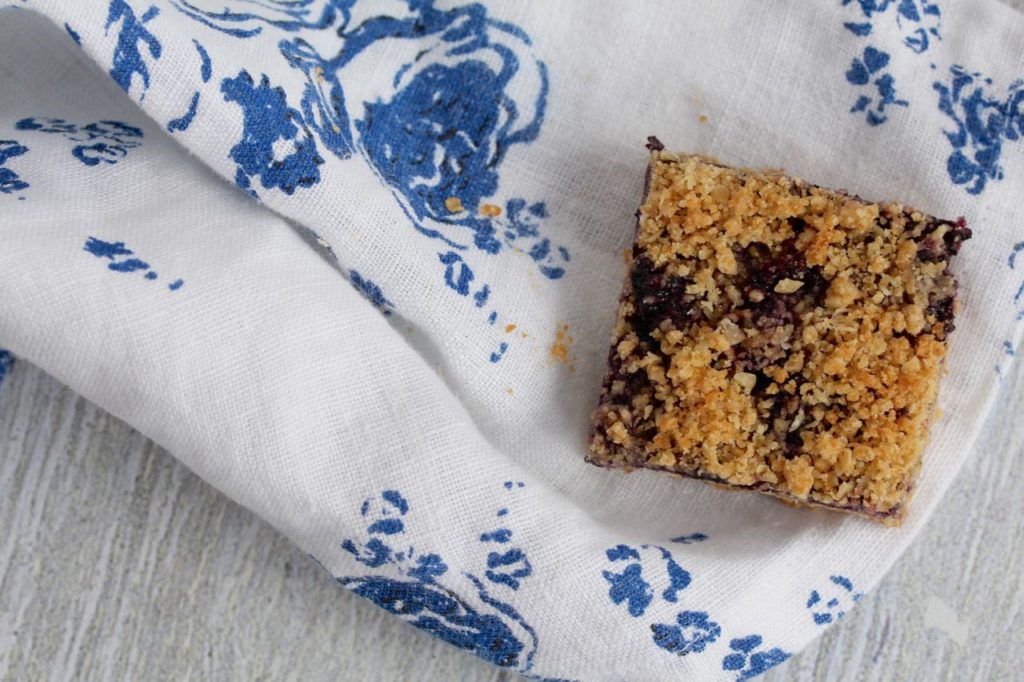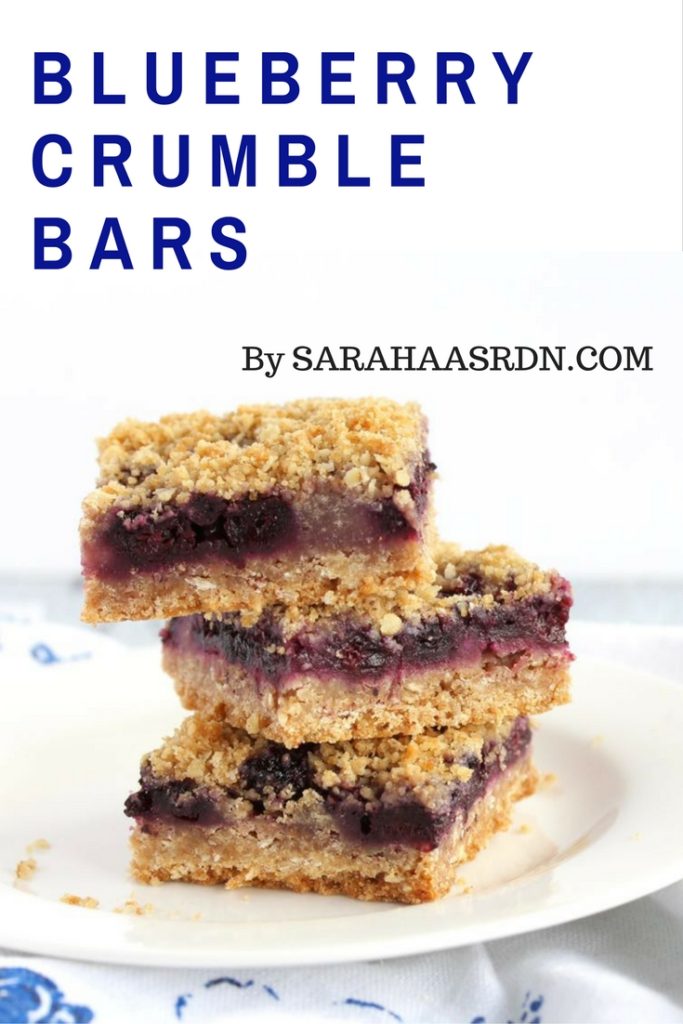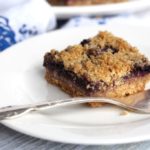 Blueberry Crumble Bars
---
Description
Fresh or frozen blueberries are turned into a delicious bar that tastes just like summer!
---
3/4 cup

rolled oats

3/4 cup

white whole wheat flour

1 teaspoon

ground ginger (optional)

1/3 cup

packed brown sugar

1/4 teaspoon

salt

1/2 teaspoon

baking powder

6 tablespoons

cold butter, diced

2 1/2 cups

blueberries (fresh or thawed, frozen)

2 tablespoons

honey

2 teaspoons

cornstarch

1 teaspoon

lemon zest
---
Instructions
Preheat oven to 350'F and line an 8×8-inch baking pan with foil, extending foil just over the sides of the pan and spray with cooking spray.
Place the oats in the bowl of a food processor and process until it looks like coarse flour, about 10 seconds. Add the flour, ground ginger, brown sugar, salt and baking powder to the oats in the food processor and pulse to combine. Add the butter and process until mixture resembles wet sand, about 20-25 seconds. Set 3/4 cup of the mixture aside and press the remaining mixture evenly into the bottom of the prepared pan. Bake for 15 minutes.
While crust is baking, prepare the filling. In a mixing bowl, combine the blueberries, honey, cornstarch and lemon zest and toss to combine. Spoon mixture evenly over the baked crust then sprinkle the top with reserved crumb mixture.
Bake in preheated oven for 35 minutes or until top is golden. Cool completely before slicing.
Notes
This bars will slice nicely if allowed to set up in the refrigerator for at least 30 minutes.
Nutrition
Serving Size:

16

Calories:

114

Sugar:

9

Sodium:

40

Fat:

5

Saturated Fat:

3

Unsaturated Fat:

2

Trans Fat:

0

Carbohydrates:

18

Protein:

1

Cholesterol:

11