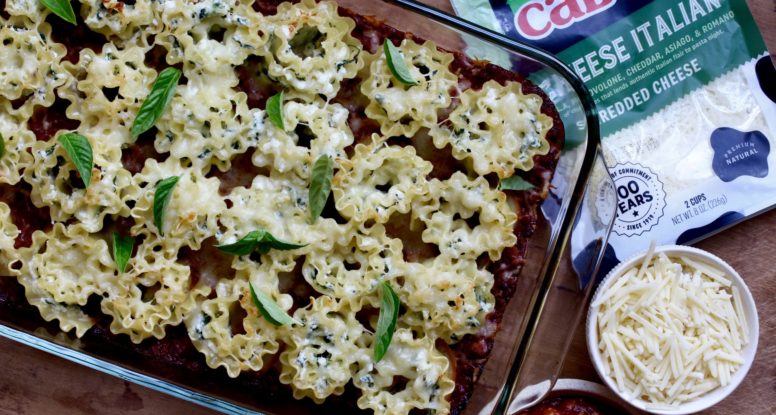 Cheesy Sausage Lasagna Pinwheels
This is a meal your family can get behind! Loaded with plenty of cheesy goodness, you can expect to hear, "more please!" when you serve up these Cheesy Sausage Lasagna Pinwheels dinner!
A big thank you to Cabot Cheese for sponsoring this recipe. I only work with brands I use and enjoy in my own home and rest assured, the views here are all my own!
Making Your Family Happy
It's no easy task to make every person in your family happy. Especially when it comes to meal time. Am I right? Everyone has an opinion about what's being made and how it's being made. I've found the only REAL way to make them happy is to get them involved. That's right. I like to put the ownership of their happiness in their own hands. Makes sense to me. And when that happens, you take the pressure off yourself. Can I get a Hallelujah?! 🙂
Everyone Chips In
You've likely heard every mommy or family-food-focused blogger talk in length about the importance of getting everyone involved in the cooking process. And if you're like me, you've rolled your eyes a few times reading those posts. They often have pictures of pure harmony and no mess. Um, nope, that's not what it looks like. Hence, why I roll my eyes. You've got to toss your expectations out the door and accept mess and craziness and say, "all of this anarchy is cool." Because, back to my initial point, it will lead to THEM TAKING OWNERSHIP OF THEIR HAPPINESS! In other words, the chaos is worth it.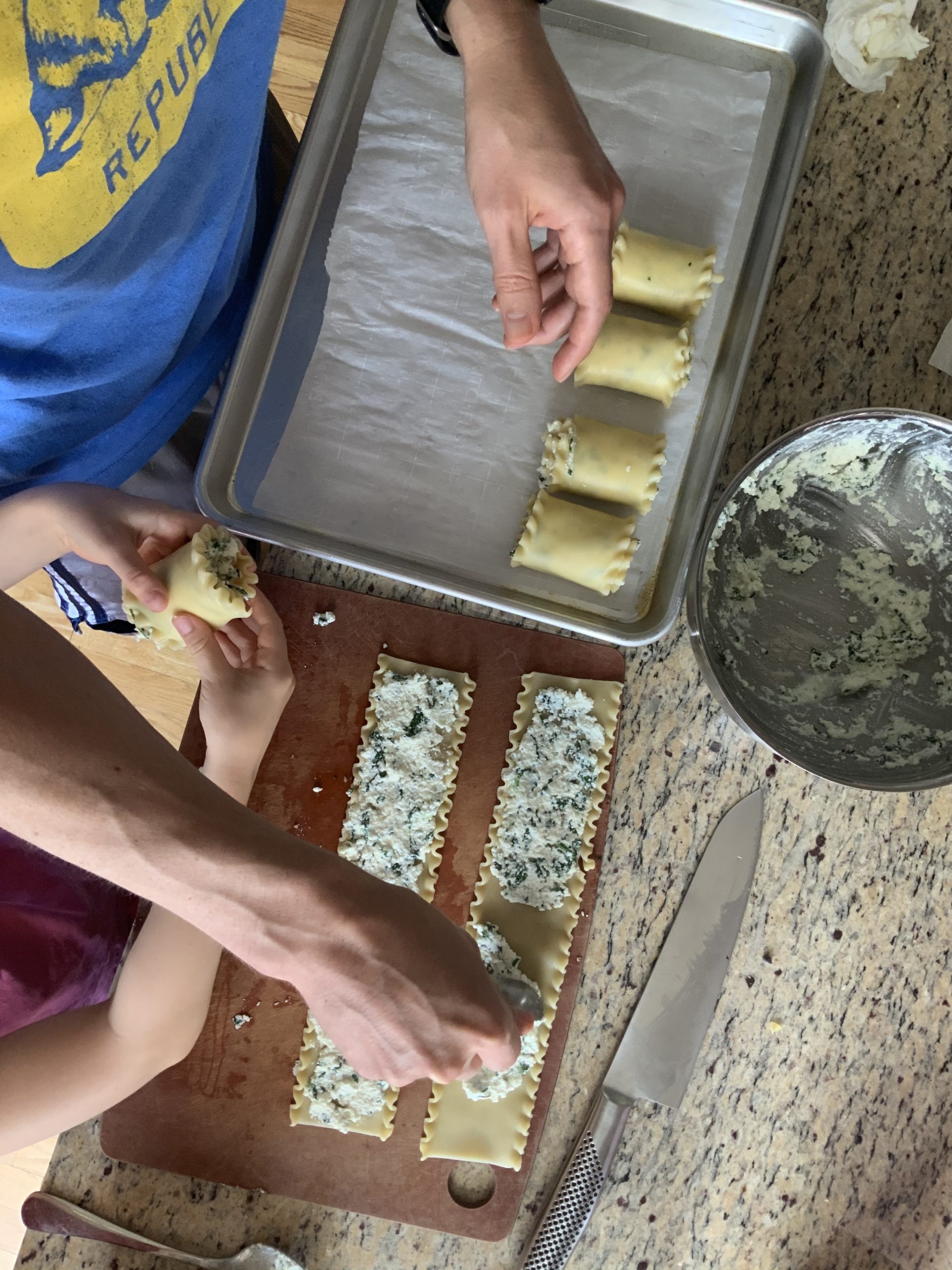 Everyone Should Be in The Kitchen
See that pic above. That's real life people. I enlisted my husband and the sous chef to help me. And you know what, it was messy and it wasn't perfect. But I loved it! And they did too. During this crazy time we need more moments like this. Getting our hands dirty, laughing, making messes. We need to connect and the kitchen is a great place to do it. So yeah, grab your kids and your partner and get in the kitchen.
These Lasagna Pinwheels
They're so cute, right? But you're  probably thinking, "Um, Sara, this looks like it's going to take forever to make." Nope, guys, it's not. BECAUSE here's the deal…you're not making it yourself, remember? You've got help! Get those people off the couch and into the kitchen. Give them tasks that you know they can execute safely. And if you want to save a little time, skip making the sauce and buy the jarred stuff. Just don't skimp on the cheese. Buy the good stuff. I use the 5 Cheese Italian blend from Cabot Cheese because frankly, it's delicious. I only like delicious. 🙂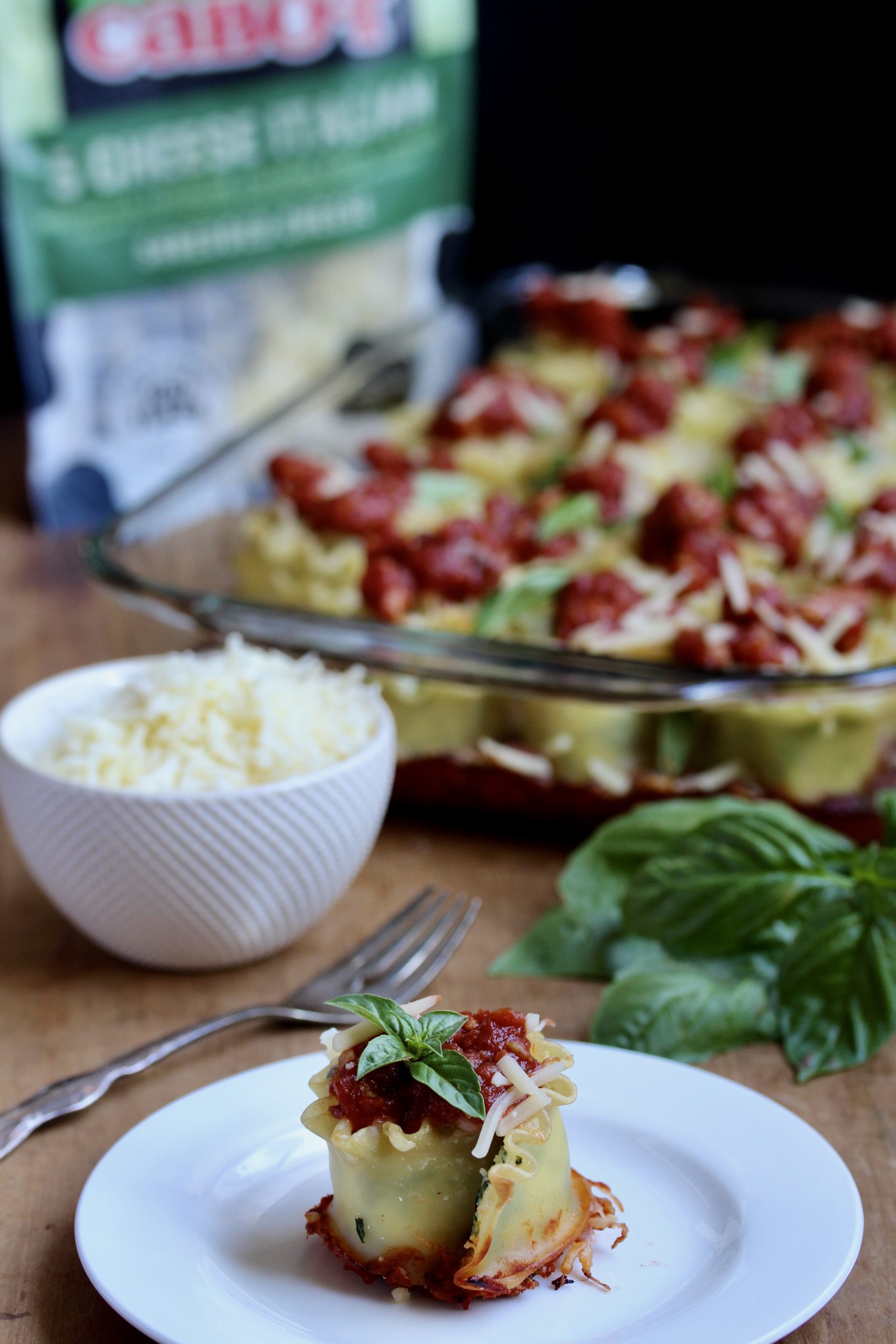 Now You Make Them
That's right, I've blabbered long enough. It's time to gather your ingredients and get cooking. Try it this weekend and let me know how it goes! Be sure to tag me when you post creations! I would LOVE to see them! Happy cooking friends!
Print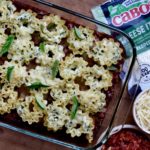 Cheesy Sausage Lasagna Pinwheels
---
Author:

Total Time:

50 minutes

Yield:

8

servings

1

x
16

lasagna noodles, cooked (cut in half, put half on bottom, then add second layer)

2 teaspoons

extra virgin olive oil, divided

1

(5 ounce) bag baby spinach

2

links (about

½

pound) Italian turkey sausage

1

small yellow onion, diced

1

garlic clove, minced

2 tablespoons

tomato paste

1

(28-ounce) can crushed tomatoes

½ teaspoon

kosher salt, divided

¼ teaspoon

crushed red pepper

1 teaspoon

Italian seasoning

1

(15 ounce) container low-fat ricotta cheese

¼ teaspoon

ground nutmeg

1 ½ cups

shredded cheese, divided

¼ teaspoon

freshly cracked black pepper

2 tablespoons

red wine vinegar
fresh basil, for garnish
---
Instructions
Preheat oven to 375'F and coat a 9×13-inch baking pan with non-stick cooking spray.
Cook the pasta in large Dutch oven following package directions. Drain and rinse in cold water. Place noodles on parchment paper to cool. Separate layers with extra parchment paper to prevent sticking.
Heat the oil in the now empty Dutch oven over medium-high heat. Add the garlic and cook 1 minute. Stir in the spinach and cook until just wilted, about 1-2 minutes. Remove from pan and set aside.

 

Add the remaining oil to the pan along with the onion and cook, stirring often, until softened, about 5 minutes, Add the sausage and cook, stirring to crumble, until browned, about 5 minutes. Add the garlic and cook 1 minute then stir in tomato paste and cook until deep reddish-brown, about 3 minutes. Add tomatoes, ¼ teaspoon salt, crushed red pepper and Italian seasoning, turn heat to medium-low and cook 15 minutes.

 

While sauce cooks, prepare the ricotta mixture. Roughly chop the cooked spinach then add to a bowl along with the ricotta, nutmeg, ¼ teaspoon salt, pepper and ¾ cups shredded cheese.

 

Stir vinegar into sauce then spread half of the mixture on the bottom of the prepared pan.
Place 1 cooked noodle on a clean work surface and spread 2 tablespoons of the ricotta mixture over the top. Roll up, then slice in half horizontally. Place each half in the pan, nestled in the sauce. Repeat with remaining noodles and ricotta.

 

Cover with foil and bake 20 minutes. Sprinkle top with remaining cheese and bake an additional 10 minutes, uncovered.
Garnish with fresh basil and extra sauce before serving.
Notes
Note: Sub any 24-ounce jar of your favorite pasta sauce for homemade sauce to save time.
Prep Time:

20 minutes

Cook Time:

30 minutes