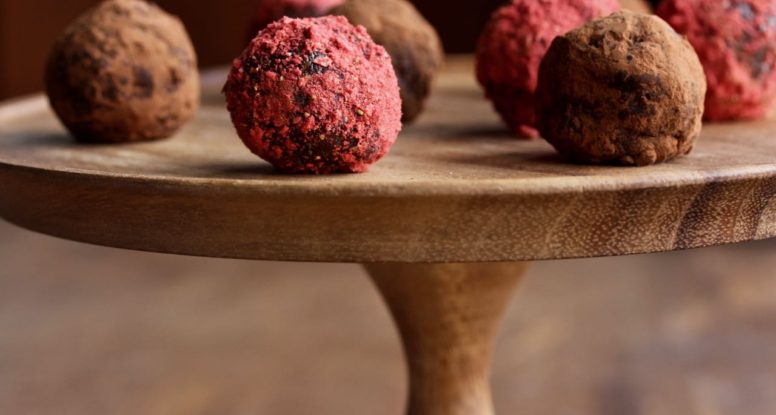 Chocolate TRUFFLE Energy Bites
"I'm so hungry!" How many times have you said that or heard that? More than you can count, right? But finding a snack that satisfies that hunger can sometimes be a challenge. But I've got the weapon to fight that hunger! My Chocolate Truffle Energy Bites!
Get On The Bandwagon
By now I know you've heard about energy bites. In fact, at this point, you might be rolling your eyes at the thought of them. I completely understand. While I agree their brilliance is fading (the nutrition world is so fickle, right?) , I also know these snacks just make good sense. So, suck it up and get 0n the energy bite bandwagon!
Why Energy Bites Work
Besides being so darn cute, energy bites, just work. Here's why THIS dietitian loves energy bites!
They taste good! When made right, these little snack balls can pack so much incredible flavor. And I like my snacks like my meals, loaded with flavor!
They're portion controlled! What's one of the biggest problems we have with snacking, and eating in general? If you guessed portion size, you're right! That's the second reason energy balls are great. They're pre-portioned and just the right size so you don't over-do it.
They can fill the nutrition void! These bites will never be a complete meal, but they can provide some great nutrition in between those meals. Bites can be made with whole grains, fruits, legumes, nuts, seeds and even veggies! Um, that's AWESOME, right?
YOU can make them! Seriously, these are ridiculously easy to make. It's a "drop everything in the food processor" type of thing. Easy! And when you're in control, you know exactly what's in them. That's a major plus in my book because you'll only be getting the things you like and the things you need and nothing else.
They're portable! If you're like most Americans, you want a snack to be grab and go. Energy bites couldn't be a more perfect fit! You can pack a few in a re-sealable container and pull them out when a snack attack hits!

Build Your Own Bites
Now is the time! Go and make your own energy bites! Yes, you can! Scared to give it a shot on your own? No worries, I've got a recipe to get you started! This one is super delicious and can be made in about 5-10 minutes. So easy! Once you've mastered this one, experiment with other flavors. Drop your cool modifications in the comments section below!
Print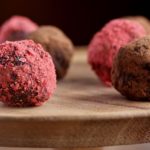 Chocolate Truffle Energy Bites
---
Description
Cashews, dates and oats provide energy – add cocoa and you've got a delicious Chocolate Truffle Energy Bite
---
1 cup

raw cashews

5

pitted dried dates

1/4 teaspoon

kosher salt

2 tablespoon

unsweetened cocoa powder

2 tablespoons

pure maple syrup

1 tablespoon

chia seeds

1/2 cup

rolled oats
---
Instructions
Place the cashews, dates and salt in the bowl of a food processor and blend for about 4 minutes or until has the appearance of wet sand. Scrape down the sides of the bowl then add the cocoa powder and maple syrup and blend for 1 minute. Add the chia seeds and oats and blend one minute more.
Shape mixture into 18 equal-sized balls. Roll in optional mix-ins and enjoy. Can be stored in a zip-top bag in the refrigerator for 3-5 days.
Notes
Optional Mix-Ins: cocoa powder, flaked coconut, dehydrated, crushed fruit, chia seeds, matcha powder, peanut powder
Nutrition
Serving Size:

18

Calories:

80

Sugar:

6

Sodium:

35

Fat:

4

Saturated Fat:

1

Unsaturated Fat:

3

Trans Fat:

0

Carbohydrates:

11

Protein:

2

Cholesterol:

0