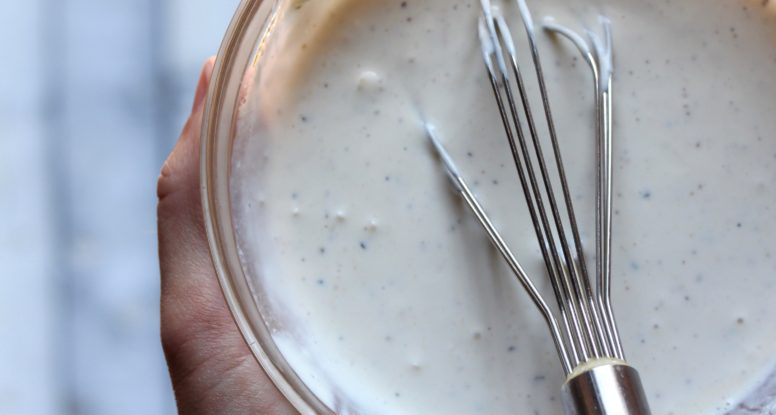 Creamy Caesar Salad Dressing
No creamy dressings for me! Yes, you saw that correctly, I said "no creamy dressings for me!" Well, let me backtrack a little…
Back in the good old 1990's and early 2000's fat was BAD. Like really BAD. Like if you even thought about adding avocado to something, people would scorn you. So sad, right? Indeed, it was a sad time, because during that time, I decided to give up some pretty yummy foods.
Even worse about this time was the fact that there was no mention of moderation, people just eliminated fat from their diets. So that meant no cheese, no cream, no butter, no oil – you get my point. Yes, lots of fat is BAD, but a little fat is actually good, quite good. But I was an athlete and I believed the hype, so I ate low-fat muffins, put vinegar on my salad and ate tons of those rubbery non-fat cookies, because I thought this was what I should do.
So, at the salad bar, I shunned those creamy salad dressings, and instead made a beeline for that little bottle of vinegar. I pretended that it was yummy and that I loved it, but I yearned for that Ranch or creamy Caesar dressing. Sigh.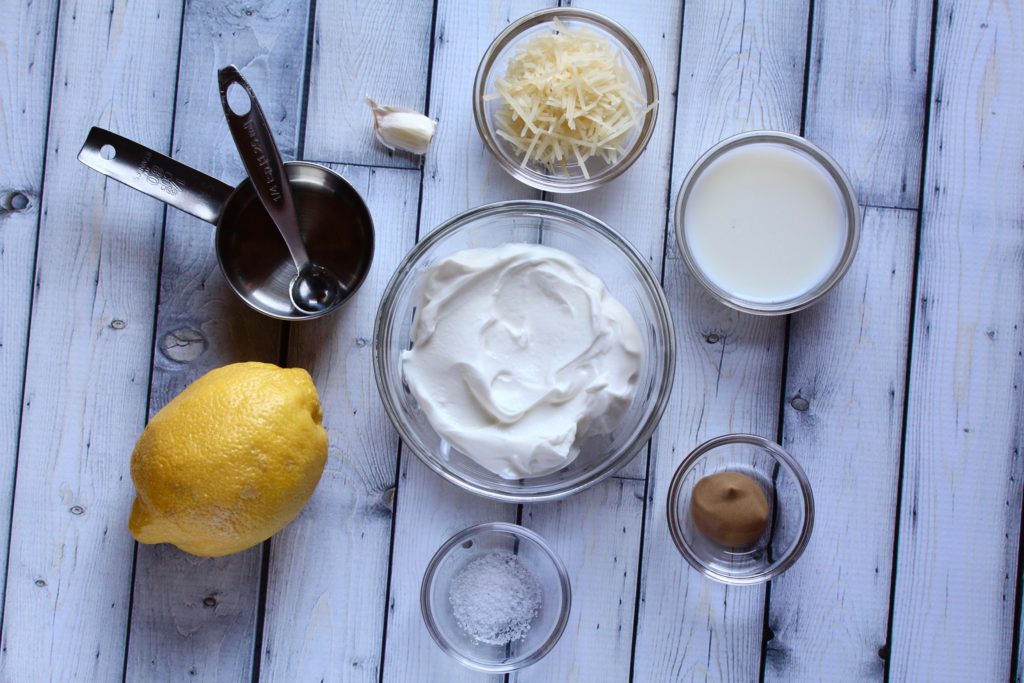 Bring Back the Fat!
Well, now I know better, for real! And besides knowing that fat is "ok," I also know that it's a matter of choosing mostly the healthy, unsaturated fats over the saturated fats. And not feeling guilty about enjoying the full-fat stuff every once in a while too.
So, now I enjoy my creamy salad dressings and when I want to make one that I can feel REALLY good about, I make it myself. This is how my Creamy Caesar Salad Dressing was born. I ate a lot of Caesar salad growing up. My parents were pretty obsessed with it. I loved it too, but always yearned for the creamy kind of dressing that you bought in a bottle. We never had that. And for good reason, those things are gross. Seriously, pick up a bottle and read the ingredient list, it's quite scary. Last week I did just that and decided I was going to make my own. And the result was YUMMY! So yummy in, fact, that I had to share it with you.
Besides tasting great, this Creamy Caesar Salad Dressing is also super easy to make. So easy a toddler can help (mine did!). It's awesome on lettuce, but makes a great dip or a spread for a wrap or sandwich too. Enjoy and remember, a little fat is good for you!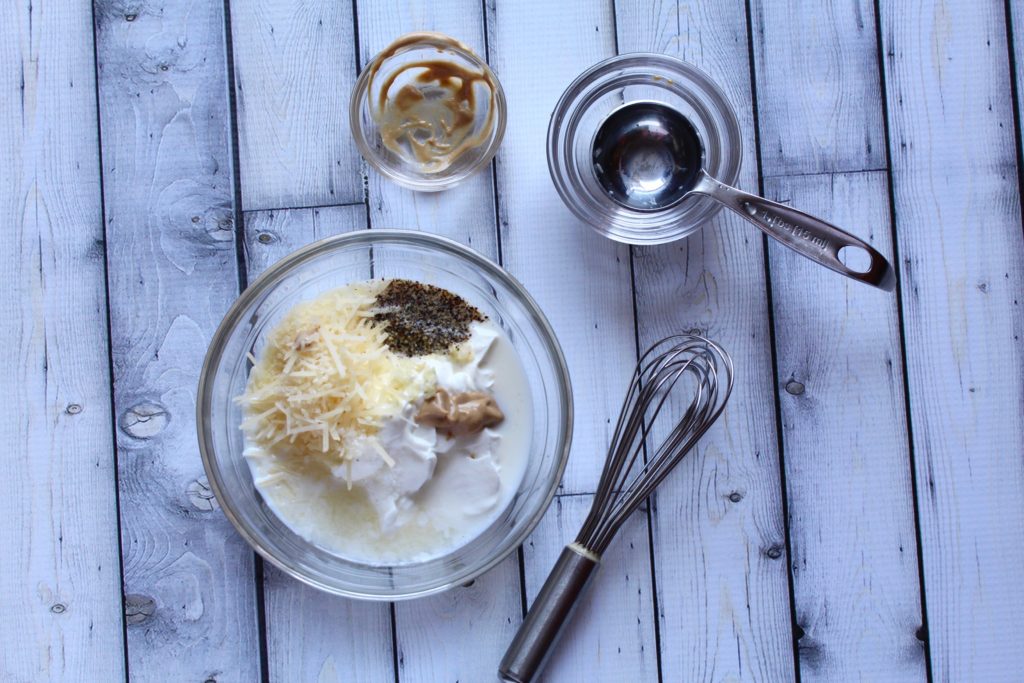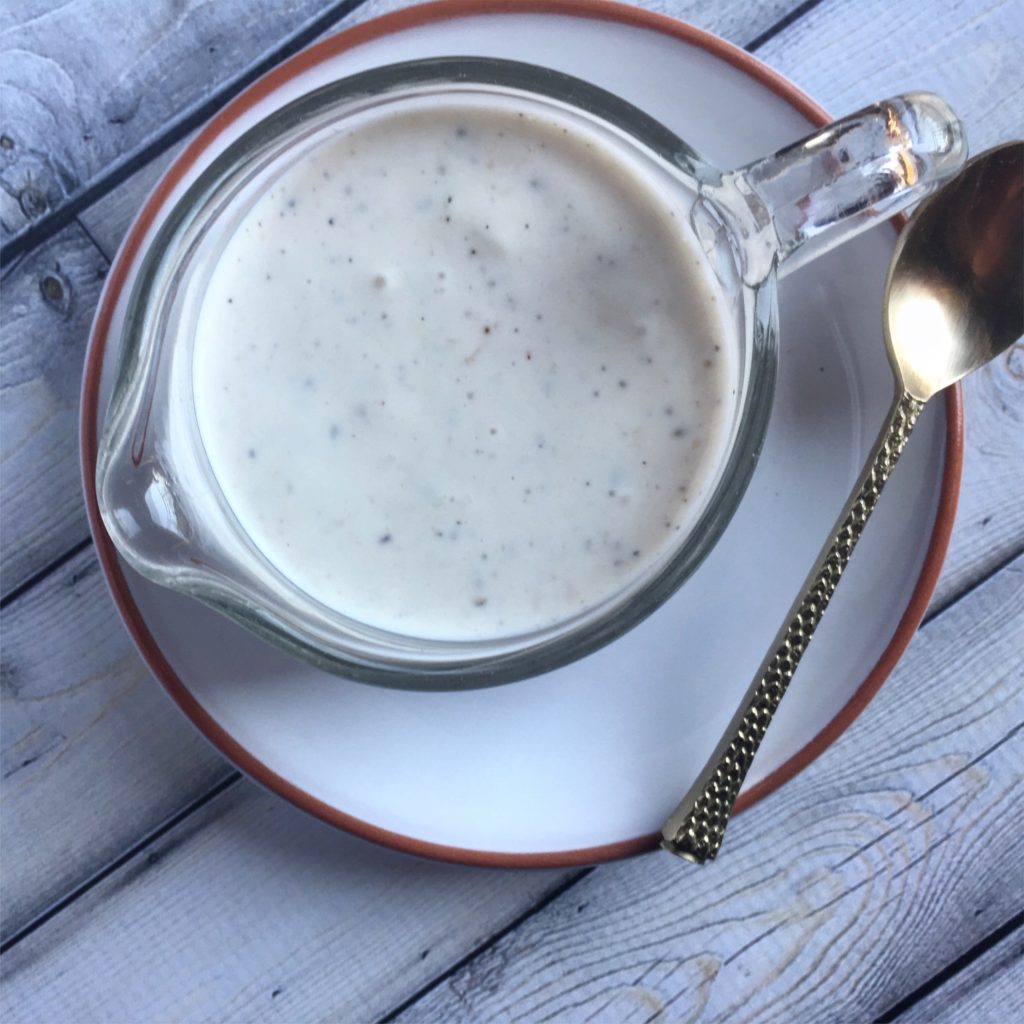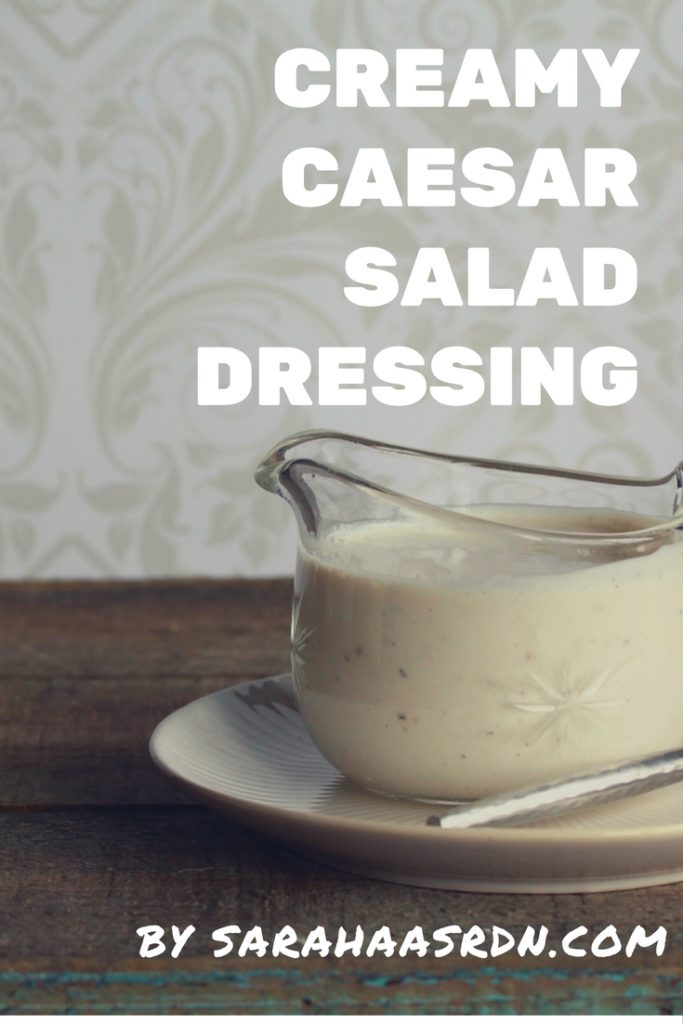 Print
Creamy Caesar Salad Dressing
---
Description
Creamy, but not loaded with calories, this Caesar Salad Dressing made with Greek yogurt is the perfect topper to any salad!
---
1

garlic clove, smashed and minced

2 tablespoons

milk

1/2 cup

4% Greek yogurt

1 teaspoon

Dijon mustard

1 tablespoon

lemon juice

2 tablespoons

shredded parmesan cheese

1/4 teaspoon

kosher salt

1/4 teaspoon

black pepper
---
Instructions
Place all of the dressing ingredients in a mixing bowl and whisk until well-combined. Done!
Notes
If not using immediately, cover and refrigerate. Enjoy within 2 days.
Makes 3/4 cup salad dressing.
Nutrition
Serving Size:

6

Calories:

24

Sugar:

1

Sodium:

149

Fat:

1

Saturated Fat:

1

Unsaturated Fat:

0

Trans Fat:

0

Carbohydrates:

2

Protein:

2

Cholesterol:

4