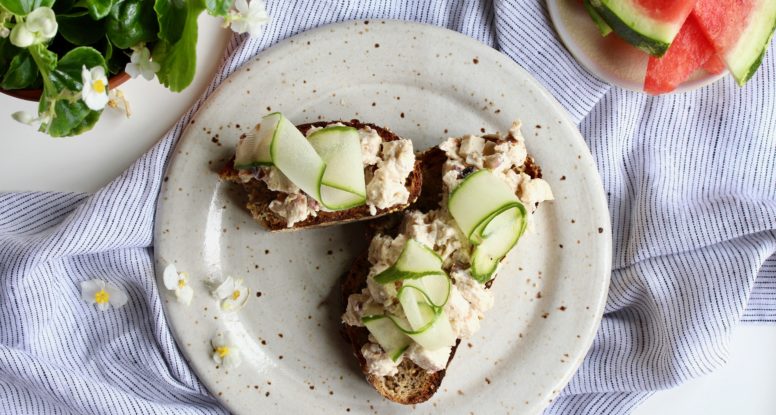 Creamy Greek Chicken Salad
There's something lovely about chicken salad, am I right? But not that chicken salad in that plastic container at the gas station convenience store. That's the opposite of lovely. I'm talking about the homemade stuff that has big chunks of chicken, just the right touch of creaminess and the perfect amount of "stuff" to make it taste like perfection. You like that too? Great, than you'll love this CREAMY GREEK CHICKEN SALAD!
Too Much MAYO!
Fun fact about me, growing up I did NOT like chicken salad. I'm not sure exactly why either. Because I loved tuna salad, which yeah, can be pretty gross. Maybe it was because the chicken salad I had was loaded with mayonnaise. Something about all of that white gook saturating the food was off-putting to me. So when it showed up at the table, it was alway a hard pass from me.
Opa! A Greek Twist On Chicken Salad
Luckily, i didn't give up on the stuff. I found out that creamy chicken salad wasn't the only kind of chicken salad. That, in fact, you can make chicken salad with oil and vinegar! Say what!? Yep, and that's actually my preferred way to enjoy it. HOWEVER, there are times, when I crave a hint of creaminess and only a combo of yogurt/mayo will do. And as you may or may not know, I ADORE the flavors of Greek food. So, why not combine those flavors with chicken salad?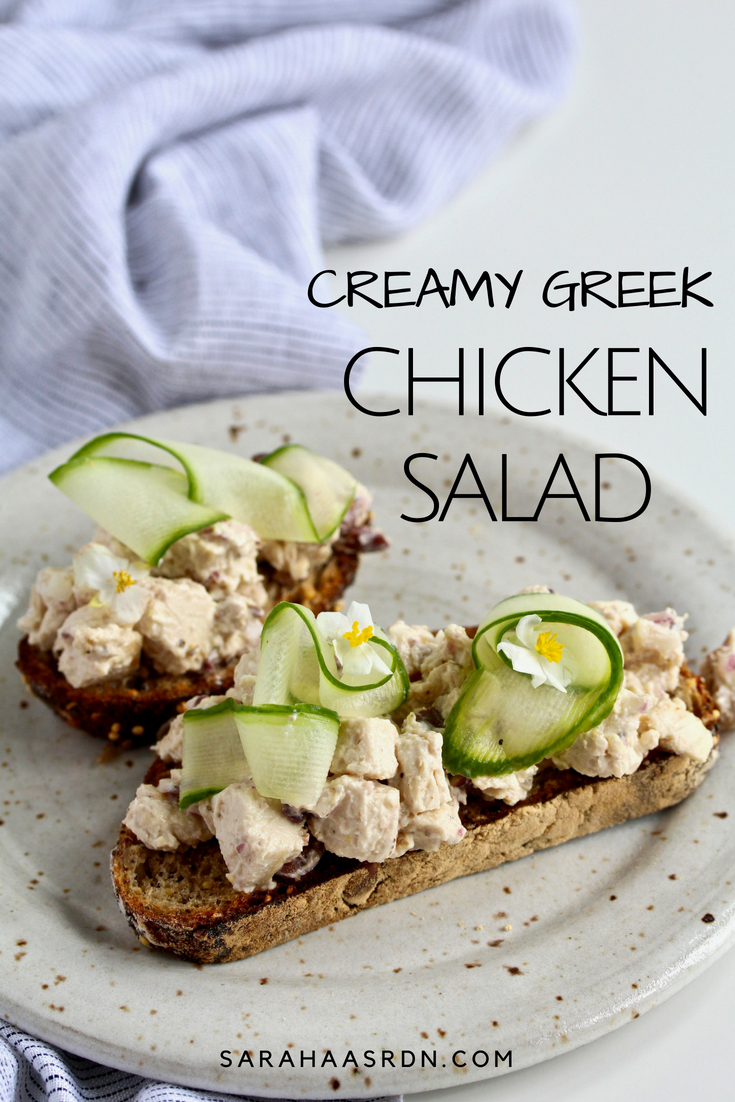 It Works!
And you know what? It works! This salad is super easy to make and can be enjoyed in so many different ways. I love it on toast, but it's also great in a wrap or served on top of your favorite bed of lettuces. The little sous chef likes it on crackers and to be honest, I'm happy just eating it right out of the bowl. Now it's your turn! Make this yummy stuff and tell me how YOU like to enjoy it!
Print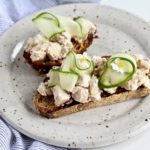 Creamy Greek Chicken Salad
---
Description
Looking for an easy, creamy chicken salad? How about one with a Greek twist? This Creamy Greek Chicken Salad is for YOU!
---
¼ cup

plain Greek yogurt

¼ cup

olive oil mayonnaise

1 tablespoon

fresh lemon juice

½ teaspoon

lemon zest

1/8 teaspoon

kosher salt

¼ teaspoon

freshly cracked black pepper

1

clove garlic, minced

½ teaspoon

dried oregano

¼

 

cup finely chopped red onion

¼

 

cup (about

14

) kalamata olives, roughly chopped

¼ cup

crumbled feta cheese

3 cups

cooked, shredded chicken
To serve: whole grain toast, romaine lettuce, cucumber, tomatoes
---
Instructions
To the bottom of a large bowl, add the yogurt, mayonnaise, lemon juice, lemon zest, salt, black pepper, garlic and oregano. Whisk to combine then add the onion, olives, feta cheese and chicken. Toss to combine.
Serve on slices of whole grain toast or inside whole grain wraps with shredded lettuce, thinly sliced cucumber, and sliced tomatoes. Or serve on top of a big green salad or a bed of whole grains.
Notes
Make up to 1 day in advance.