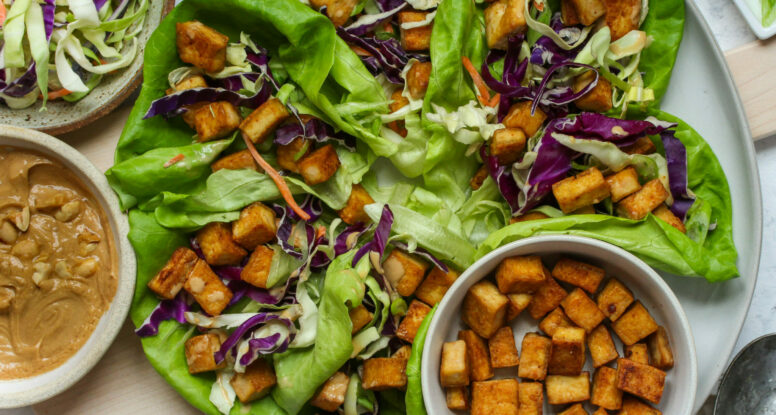 Crispy Tofu Lettuce Wraps
I love when I meet like-minded people on Instagram – amazing people like Luis Gonzalez of @nutritionbyphoto! He's the guy behind these yummy Crispy Tofu Lettuce Wraps. AND he's got a super cool sense of style when it comes to photography!
Instagram is a Funny Place
It sure is. And my "feed" on Instagram is a pretty funny place because it's literally food picture after food picture. I'm pretty much always looking at food. It's what makes me happy. It also makes me happy when I find people that I don't know who love food as much as I do. Luis is one of those people. I met him on Instagram. And I'm so glad I did.
Food Photography
I'm glad because Luis, like myself, is a dietitian who also loves….food, yes, we've established that…he also loves PHOTOGRAPHY! Specifically food photography. Just like me! Yay! So we connected and he came up with a brilliant idea to collaborate. So that's what we did.
Crispy Tofu Lettuce Wraps
We decided we would each take one of the other person's recipes and re-create it and photograph it! So he made my Cumin Chickepea Tacos from my Taco! Taco! Taco! Cookbook and I made these super yummy Crispy Tofu Lettuce Wraps. Which are so fun and easy to make! And he's kindly allowed me to share his recipe here! Woo hoo! So enjoy and get cooking!
Now, We Eat!
Yes, now it's your turn! Go grab your tofu and get cooking. But before you do, make sure you grab the book Luis co-authored with Andy De Santis titled, "30-Minute DASH Diet Cookbook." It's got this recipe and so many more equally delicious recipes in it! Okay, now you can go make it, but don't forget to tell me what you think!
Don't forget to follow me on Instagram! Find me there at @cookinRD!
Print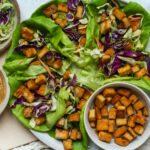 Crispy Tofu Lettuce Wraps
---
Description
These Crispy Tofu Lettuce Wraps are a fun weeknight dinner solution! Plust they come together quickly!
---
1

(14-oz) package extra-firm tofu, drained

1 tablespoon

canola oil

1 tablespoon

onion powder

2 teaspoons

garlic powder

1 tablespoon

reduced-sodium soy sauce

1 teaspoon

packed light brown sugar

8

butter lettuce leaves

2 cups

coleslaw mix

8 tablespoons

Peanut Sauce

2

scallions, white and green parts, sliced
For the peanut sauce
1/2 cup

creamy peanut butter

2

garlic cloves, minced

2 tablespoons

rice vinegar

2 tablespoons

honey

1 tablespoon

reduced-sodium soy sauce

1 tablespoon

fresh lime juice

1/2 teaspoon

red pepper flakes
warm water, as needed
---
Instructions
To Make the Wraps:
Lightly press the tofu with paper towels to remove some, but not all, of the moisture. Cut the tofu into 1/2-inch cubes. (Note – I like to really drain my tofu to get it super crispy. So I'll stack paper towels on a plate, then top with the tofu, and then another layer of paper towels and then set something heavy on top (I like to use my cast iron pan or a big bag of sugar/flour) and let it sit for 20-30 minutes.
Heat the oil in a large skillet over medium heat. Carefully add the tofu, season with the onion powder and garlic powder, and cook for 10 minutes, stirring frequently and flipping, until all sides of the tofu are browned. Add the soy sauce and brown sugar and cook 1 additional minute.
Spoon tofu among lettuce leaves. Top each with 1/4 cup coleslaw mix and drizzle with 2 tablespoons of peanut sauce (BELOW). Top with scallions.
To make the peanut sauce:
Makes 1 cup sauce
Combine the peanut butter, garlic, rice vinegar, honey, soy sauce, liume juice and red pepper flakes in a small bowl. Add warm water, 1 tablespoon at a time until mixture reaches a thick, yet pourable consistency.
Store in a sealed container in the fridge for up to 1 week.