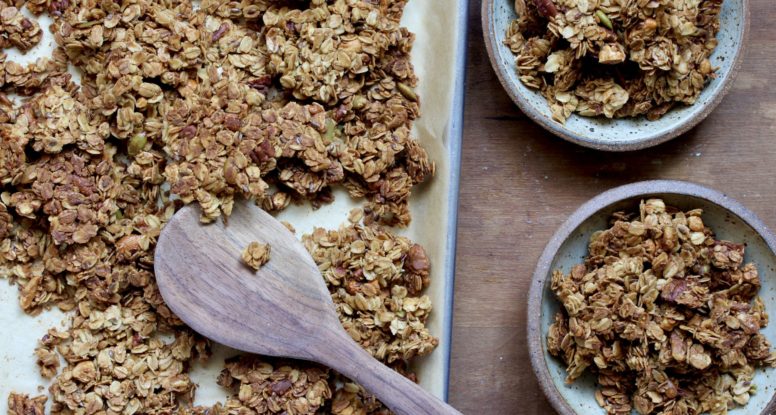 Crunchy Chunky Granola
Can we all agree that granola is awesome? Can we also all agree that Crunchy Chunky Granola is awesome? Well, I love a good crunchy granola that's loaded with big clumps. Want to learn how to make it? Read on friends!
The Secret Ingredients
They really aren't that secret, but here they are…oil, honey/maple syrup and egg whites. Why do you need these? Oil keeps things from getting too dry, honey/syrup adds sweetness, but also acts as a binder. That egg white? It's the key to those fabulous chunks!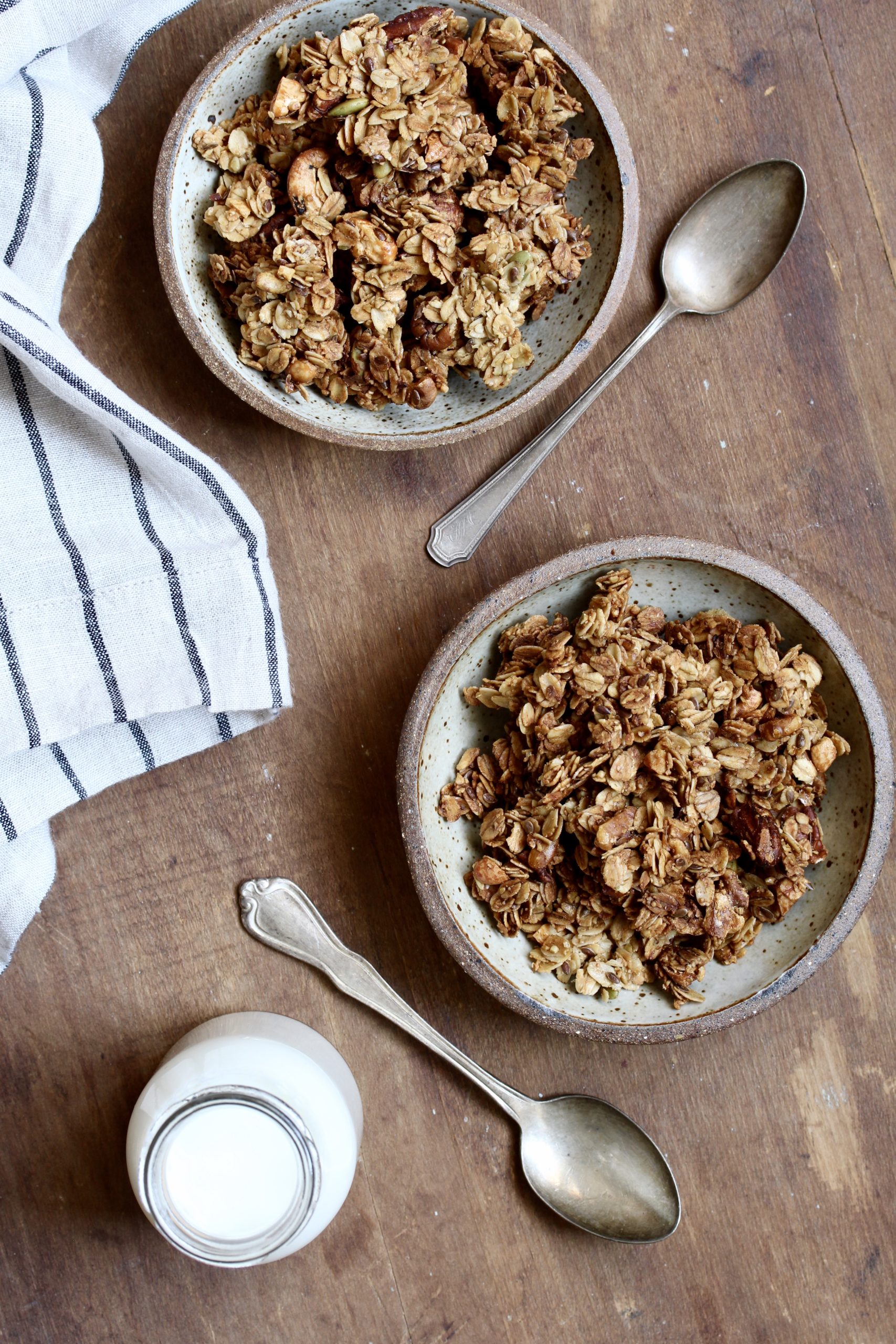 Crunchy Chunky Granola Tips & Tricks
Getting this right isn't hard, especially if you know a few things before you get started. So here are some tips and tricks to help you achieve success.
Don't skip the blending of those oats & seeds. The also act as a binder for those big chunks.
Make sure you coat the ingredeints with both the oil/sweetener mixture and the egg white. Take a few extra seconds to do this, it's worth it!
Resist the urge to stir those oats when you rotate the pan. You'll lose super-chunk-dom!
Keep your eye on that pan! You can go from good to burnt fast! So check it after 20 minutes and then check every couple of minutes.
Now You Make It!
Print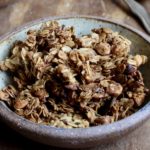 Crunchy Chunky Granola
---
Description
Break-apart, chunky deliciousness! This Crunchy Chunky Granola is a totally satisfying snack or makes for a brilliant breakfast!
---
3 cups

+

1 cup

rolled oats

2 tablespoons

flax seeds, divided

¼

 

cup pumpkin seeds, divided

1 ¼

 

cup nuts, chopped (pecans, walnuts, almonds, etc)

½ teaspoon

kosher salt

2 teaspoons

vanilla extract

6 tablespoons

canola, avocado, coconut oil (or any mild-flavored oil)

1/3 cup

honey or maple syrup (or combination)

1

large egg white, beaten

1/3 cup

dried fruit, chopped
---
Instructions
Preheat oven to 325'F and line a large, rimmed baking sheet with parchment paper. (I like to use my jelly roll pan.)
Take ½ cup of oats, 1 Tbsp flax and ¼ cup pumpkin seeds and pulse for a few seconds in a small food processor, until almost a flour consistency. Transfer to a large mixing bowl then add the remaining oats along with the seeds, nuts and saltl and stir to combine.
Heat the vanilla, oil and honey in a microwave-safe measuring cup for 30 seconds at medium heat. Stir then pour over the dry ingredients. Stir to combine, making sure oat mixture is well coated. Add the egg white and stir again to combine.
Spread the oat mixture onto a baking sheet in an even layer and bake about 25-30 minutes or until golden, rotating pan once halfway through baking time. If using coconut, add during the last 5 minutes of cooking.
Remove granola from the oven and allow to cool. Once cool, break into clumps and add any dried fruit.
Notes
Cool completely before storing in an air-tight container.
Want to Watch Me Make It?
Well, you're in luck! You can do just that! Head on over to Instgram and check it out now! And let me know if you end up making some!