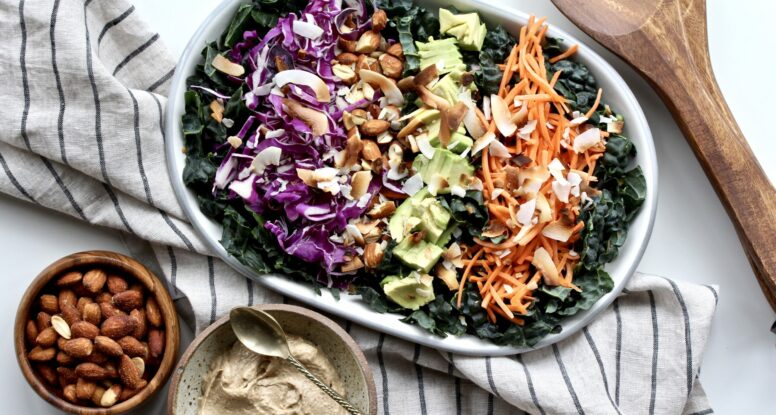 Crunchy Coconut Kale Salad
A new year means a new salad! And I've got just the recipe for you! My Crunchy Kale Salad with Tahini Dressing! Interested? Yeah you are!
Kale'n It
Is that phrase getting old? Sure it is, but you have to admit, it's still kind of funny. At least in the world of food humor. And I still love kale, even if it's already had it's "moment." There's something fun about the texture of it, the earthiness of it and the color of it. I'm smitten. And I think I always will be.
Winter Salads
Now, on to the salad. Some people don't belive in eating salad in the winter. I am not one of those people. I fully endorse winter salads. In fact, I often find them more enjoyable than their summer counterparts. Full of hearty stuff that satsifies.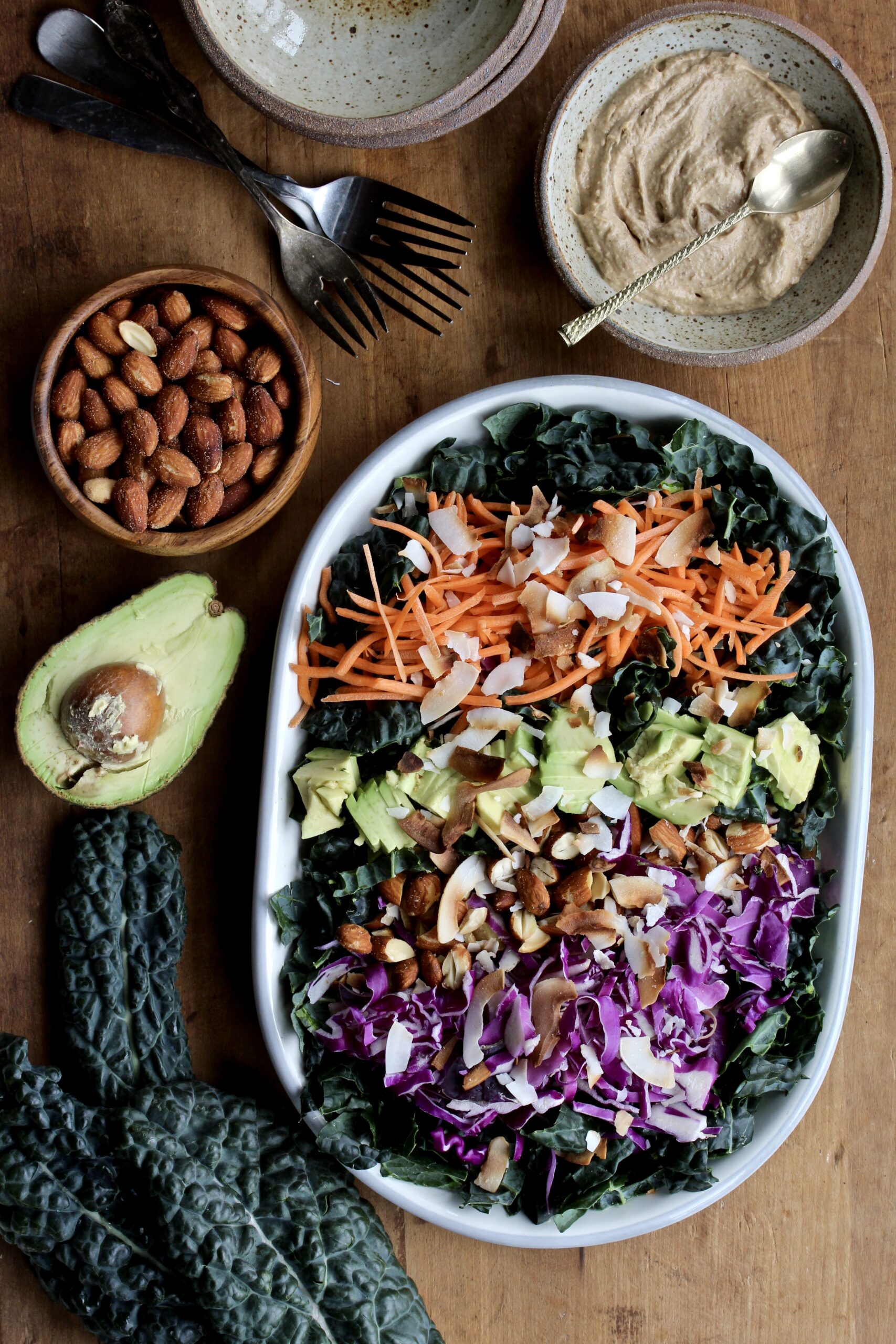 Make This Crunchy Kale Salad
I promise you'll love it! As the name implies, there are plenty of crunchy elements in here to make you happy. I've got some toasted coconut, almonds, kale, carrots and cabbage! Whew! So much crunchy fabulousness! And here's the good news – this salad is SUPER easy to make! Because I don't believe in recipes that take forever to get on the table. Grab the recipe below and get in the kitchen!
Print
Crunchy Coconut Kale Salad
---
Description
Give me a yummy salad full of crunchy elements that satisfy! You can find it all in this Crunchy Kale Salad!
---
1

bunch dinosaur kale, stemmed and chopped

2 cups

shredded carrot

2 cups

shredded red cabbage

1/2 cup

toasted almonds

1/4 cup

toasted unsweetened, shredded coconut

1

avocado, sliced

2 tablespoons

tahini

2 teaspoons

low sodium soy sauce

1/4 cup

light coconut milk

1/2 teaspoon

lime zest

1 tablespoon

fresh lime juice

1 teaspoon

honey
salt and cracked black pepper, to taste
---
Instructions
Place the kale, carrots and cabbage in a large bowl.
Whisk the tahini, coconut milk, soy sauce, lime zest and lime juice together in a small bowl. Season to taste with salt and pepper.
Pour half of the dressing over the kale mixture and toss to coat. Portion among bowls and top with coconut, almonds and avocado. Drizzle with extra dressing. Serve immediately.