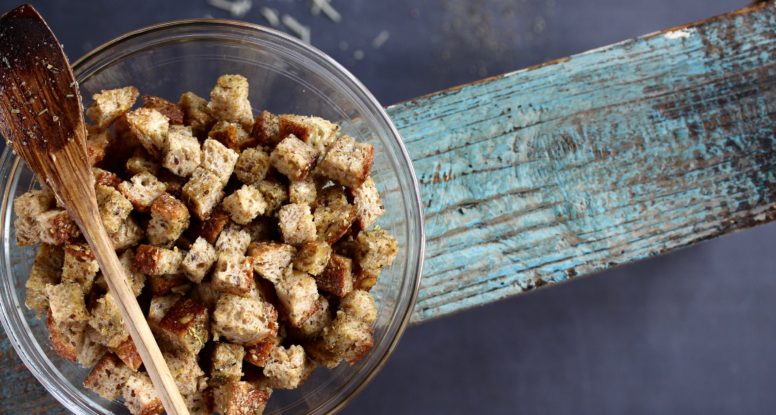 An Ode to Crunchy Herb Croutons
I am about to make you really uncomfortable. That's right. I'm going to force you to read my horrendous poetry. Perhaps not my best judgement to write an Ode to Crunchy Herb Croutons, but I did it anyway. Laugh, cry, weep, guffaw, let your emotions be what they may. And now, without further ado…
An Ode to Crunchy Herb Croutons
By: Sara Haas
I admiringly gaze at my bowl of salad and feel almost giddy,
until I take a closer look – panic strikes – "where are the croutons?" Oh, what a pity!
How could I have forgotten them? That crunch will certainly be missed.
Oh right, I didn't buy any, because they weren't on my grocery list.
But wait! That bread, over there! It's hearty, grainy and already 2 days old!
It's ripe and ready to be turned into crouton GOLD!
I'll dice that bread up and toss with some olive oil, seasonings, salt and pepper.
Then bake until crisp and crunchy, there isn't anything better.
I sprinkle them on my salad and let out a big, deep sigh,
All is right with the world now, my Crunchy Herb Croutons are here, no need to cry.
Now the Recipe!
Bravo! You made it through the ode. And hopefully it brought you joy (whether it's joy from being entertained or joy from the fact that you are not the author of that ode). The best part is now you get the pictures and recipe! Yay!
Don't forget to pair these bad boys with a big bowl of veggies and my Creamy Caesar Dressing. You can also give them a spin in your next bowl of tomato or butternut squash soup! Or why not enjoy them as a yummy, crunchy snack? That's how my toddler enjoys them!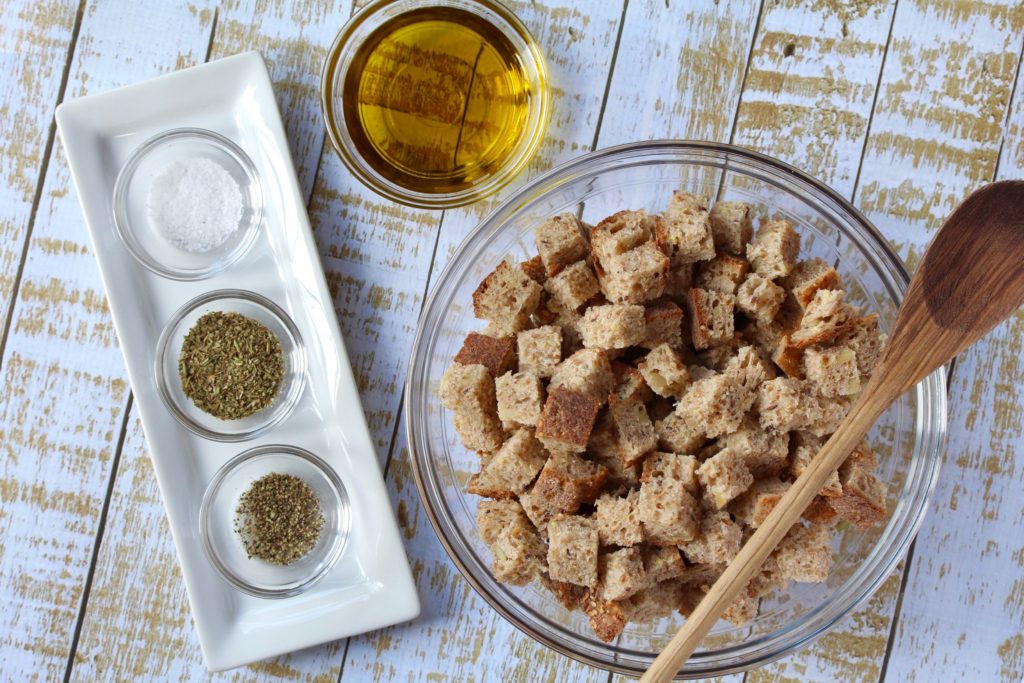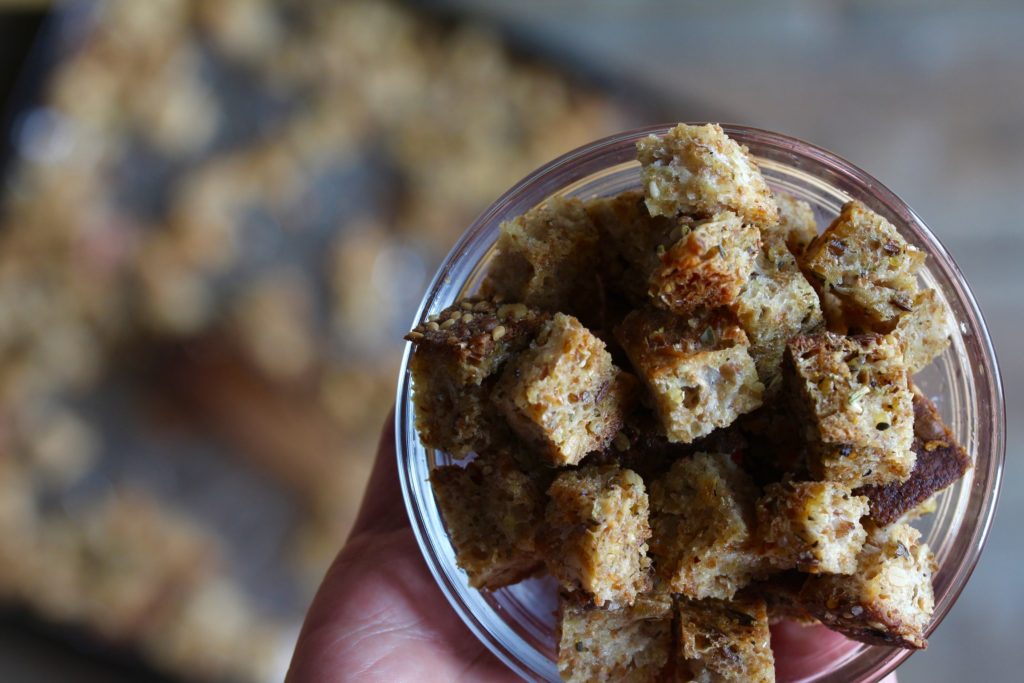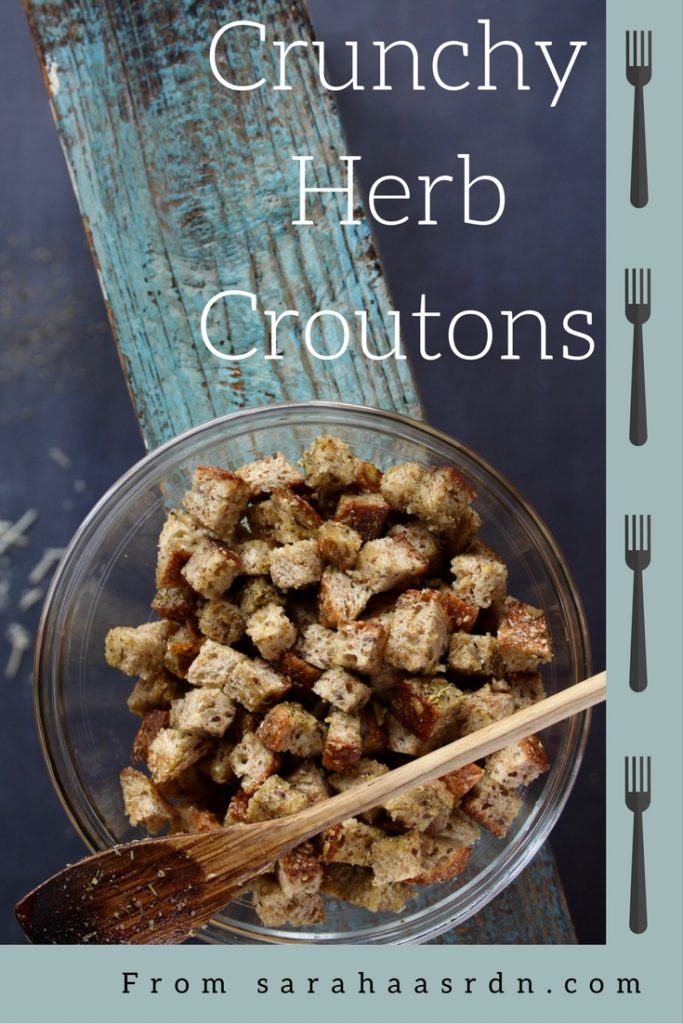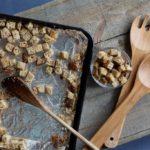 Crunchy Herb Croutons
---
Description
A perfect, whole grain topper for salads or soups!
---
10 ounces

rustic, whole grain bread of your choice

1/4 cup

olive oil

1

garlic clove, minced

1 teaspoon

Italian seasoning

1/4 teaspoon

kosher salt

1/4 teaspoon

black pepper
---
Instructions
Preheat the oven to 300'F and line a large sheet pan with parchment paper.
Cut the bread into 1/2-inch thick slices, then cut into 1/2-inch thick cubes and place in a large mixing bowl.
To a small saucepan, add the oil, garlic, Italian seasoning, salt and pepper. Set over medium heat until it comes to a simmer, then reduce heat to low and cook 5 minutes.
Pour the oil mixture over the bread cubes and toss to coat. Pour out onto the parchment-lined sheet pan and bake 15 minutes. Stir, then bake an additional 15 minutes or until lightly golden.
Cool before serving.
Nutrition
Calories:

1249

Sugar:

17

Sodium:

2062

Fat:

64

Saturated Fat:

10

Unsaturated Fat:

51

Trans Fat:

0

Carbohydrates:

142

Protein:

30

Cholesterol:

0
Other posts
I am about to make you really uncomfortable. That's right. I'm going to force you to read my horrendous poetry. […]
Read More

›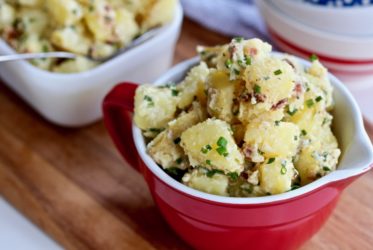 I am about to make you really uncomfortable. That's right. I'm going to force you to read my horrendous poetry. […]
Read More

›