Cumin Chickpea Tacos
If I could be a food, I would be a taco. I would, I really would. Tacos bring so much joy into this world and I would want to be part of that joy. Think about it, have you ever felt mad or sad after eating a taco? No! Just pure joy and happiness. What a life! I make a lot of tacos, and right now I'm loving them veggie style and loaded with beans. And right now these Cumin Chickpea Tacos make me really happy!
Vegetables, Again Sara?
I know, I know. I just keep throwing all of these veggie-loaded recipes at you. I'm sort of sorry about that, and I'm sort of not sorry, you know? Because here's the deal, I KNOW you are not eating enough veggies. I'm not mad at you, but I know you can do better. And I'm here to help. Because veggies are awesome and I need you to start eating more, because you should. 🙂
Tacos, Again Sara?
Ha! Yes, tacos again. And listen up, there will be a lot more tacos, so get pumped! You know I think tacos are the best. Talk about an awesome way to work more veggies into your life. No better platform in my opinion. And what a great and easy way to get other nutritious goodies in – beans, nuts, fruit, EVERYTHING – they all work in tacos!
Cumin Chickpea Tacos
I'm kind of constantly in love with chickpeas. I totally dig their meaty texture and yet I love their creaminess too. They are fabulous as a base in tacos and hold up wonderfully. Vegetarians will love them in this recipe and so will meat-eaters. And this taco recipe, although it seems like a lot of steps, actually comes together pretty quickly. The tomatillo salsa is divine here, but if you can't find tomatillos, feel free to substitute with your favorite salsa instead. Make the recipe work for you!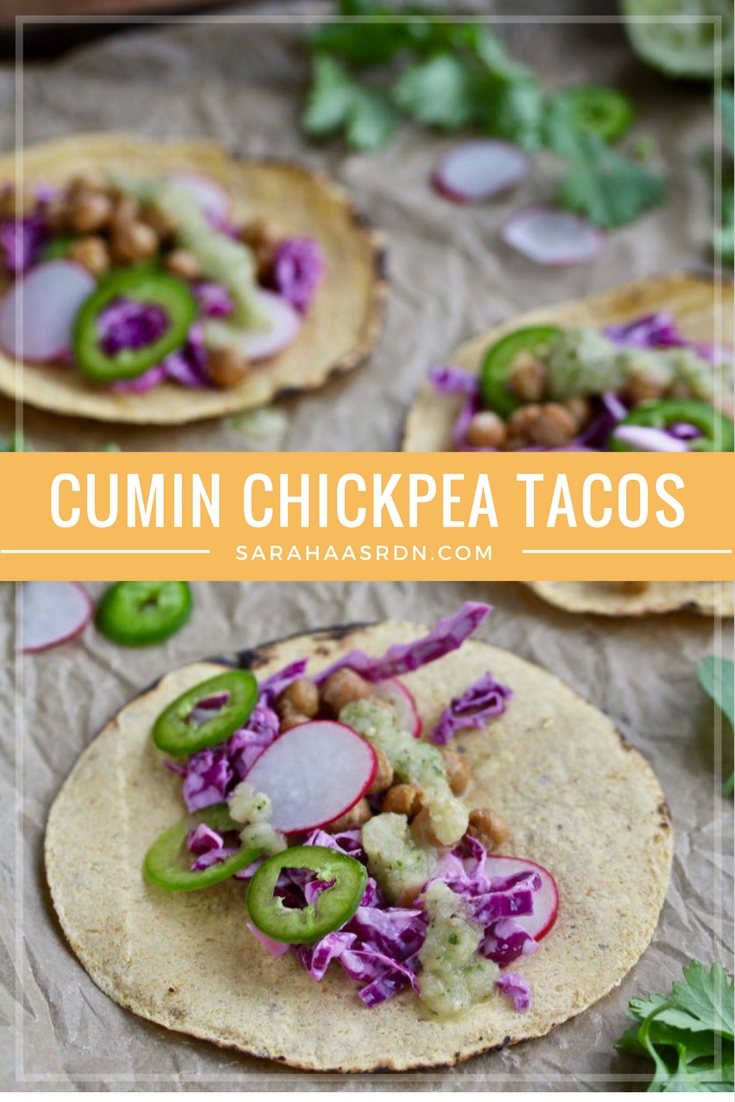 Get Cooking!
Have I convinced you yet that you'll love these tacos? I sure hope so! Give them a try and tell me what you think! And if you feel like it, tell my why you love tacos too! I'd love to hear from you! Bon Appetit!
Print
Cumin Chickpea Tacos
---
Description
Think chickpeas make for good tacos? Me too! These Cumin Chickpea Tacos are satisfying and delicious!
---
For the Salsa:
1

pound tomatillos, skins removed and washed

5 1/2 ounces

, about

1 cup

, chopped white onion

2

garlic cloves, skins removed

2 teaspoons

olive oil

1/2

lime, juiced

1/4 cup

cilantro
salt, to taste
For the Chickpeas:
1

15 1/2 ounce can chickpeas, drained, rinsed and patted dry

1 tablespoon

olive oil

1 teaspoon

ground cumin

1/4 teaspoon

salt

1 teaspoon

lime juice
For the Slaw:
1/4 cup

plain Greek yogurt
zest and juice of 1 lime

1/4 teaspoon

salt

1/2

head purple cabbage, thinly sliced

1

jalapeño, thinly sliced
For the Tacos:
16

corn tortillas (

4

–

6

inch)
---
Instructions
For the Salsa:
Preheat the oven to broil and line a sheet pan with foil that has been coated in non-stick cooking spray.
Quarter the tomatillos and add them to a bowl along with the onion, garlic and olive oil. Toss to coat. Pour mixture out onto prepared baking sheet.
Broil 4 minutes, stir, then broil 2 more minutes. Stir again and broil an additional 2 minutes or until tomatillos and onion are blistered and browned. Remove and cool slightly before transferring to a blender or the bowl of a food processor. Add the jalapeño, lime juice and cilantro and puree until smooth. Season with salt to taste, if desired.
For the Chickpeas:
Set a large, non-stick pan over medium-high heat. Add the chickpeas and cook, stirring often, until toasted, about 2-3 minutes. Add the cumin and cook 1 more minute.
Remove from heat and stir in the salt and lime juice.
*Can also be roasted – Preheat the oven to 400'F and line a baking sheet with foil. Spray with non-stick cooking spray. Toss the chickpeas with the oil, cumin and salt and bake for 15-20 minutes, stirring once halfway through cooking time.
For the Cabbage Slaw:
Combine the yogurt, lime juice and zest and salt in the bottom of a mixing bowl. Add the cabbage and jalapeño and toss to combine.
To make the Tacos:
Portion chickpeas onto tortillas, then top with salsa and cabbage slaw.