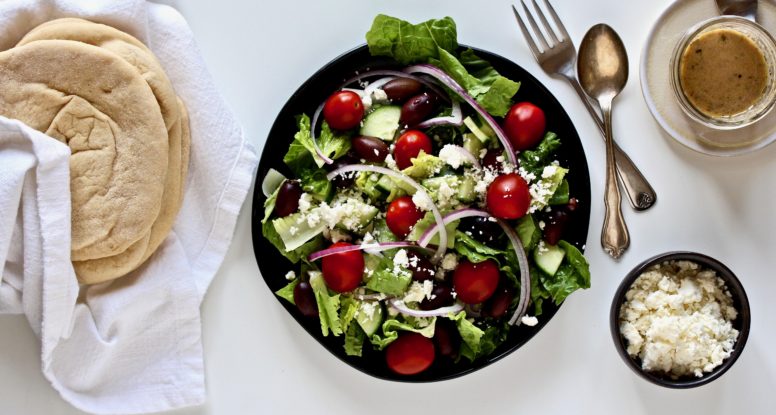 Delicious Greek Salad Pitas
I freaking LOVE Greek salad! Anyone else? I don't know if it's all of those delicious veggies or those salty olives, but it's a salad I never get tired of. And when you turn that salad into a pita, well, it's pretty darn fabulous! Want to learn how to make Greek Salad Pitas? Thought so! Keep reading!
Let's Reinvent the Wheel.
Yes, I know that's not exactly the way that phrase gets said, but in this circumstance, it's not a typo. You read it right, let's reinvent the wheel, at least when it comes to what we do with this Greek salad. Sure, it's delicious on it's own. And as you can see from my pics, you can totally enjoy it that way. But why leave it at that? Why NOT put your salad in a pita? That's edible reinvention that I can get behind!
Gimme that Greek Salad Pita!
That's right, I said give it to me! Because honestly, Greek salad is darn good, but when you put it in a pita, it's FANTASTIC! You'll be getting all your veggies and whole grains in one. What's not to love about that? Easy food that tastes good and you can eat with one hand. Yeah, you want one too!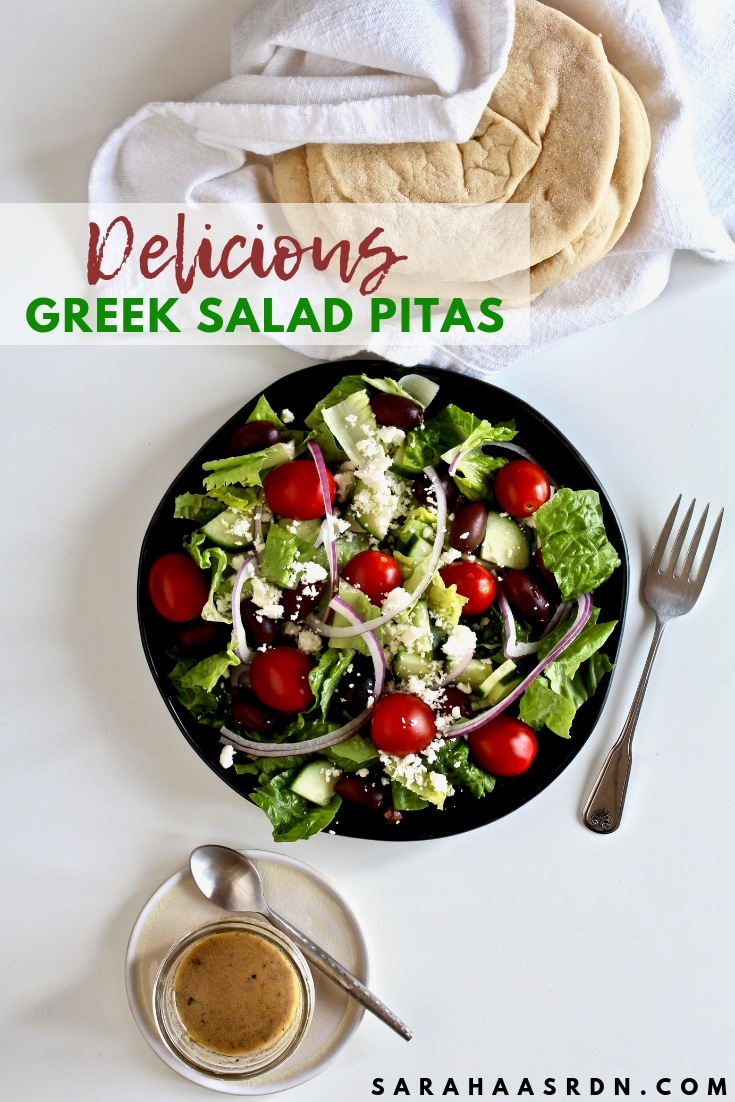 But I want Protein.
Oh geez, okay. I hear ya. That would've been nice if I had added some protein. Well, guess what!? I DID put protein in there! Yep, this recipe can be adjusted to include chicken. All you do is double the salad dressing and POOF, it becomes a marinade. Marinate the chicken in the fridge for a bit and then while you're prepping your salad ingredients, you can be cooking your chicken and voila! Dinner is made!
Print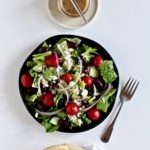 Greek Salad Pitas
---
Description
You CAN eat your salad in a pita! Proving it with these Greek Salad Pitas!
---
For the dressing/marinade:
2 teaspoons

Dijon mustard

1/4 cup

red wine vinegar

1/2 cup

extra virgin olive oil

1 teaspoon

dried oregano

1/2 teaspoon

kosher salt

1/2 teaspoon

freshly cracked black pepper
For the chicken (if making):
1 1/4

pound boneless, skinless chicken breast
For the salad pitas:
4 cups

chopped romaine lettuce

2 cups

cherry tomatoes, halved

1/2 cup

sliced red onion

2 cups

sliced cucumbers

1/4 cup

crumbled feta cheese

1/4 cup

pitted kalamata olives, halved

4

pitas, warmed and halved
---
Instructions
For the dressing/marinade:
Whisk the dijon mustard and red wine together in a small mixing bowl. Whisk in the olive oil then add the oregano, salt and black pepper. Remove half of the mixture and place in a zip-top bag, add the chicken, remove the air from the bag, seal the bag and turn it to coat the chicken. Refrigerate for at least 1 hour and up to 24 hours. Cover the remaining dressing and refrigerate.
To cook the chicken:
Set a grill pan over medium-high heat and coat lightly with avocado or vegetable oil.
Remove chicken from the marinade and blot dry with paper towel. Once pan is hot, add the chicken and cook, undisturbed for 10 minutes. Flip chicken over, turn heat to medium and cover with a piece of foil. Cook for another 10 minutes or until chicken reaches 165'F. (Timing depends on thickness of chicken)
Remove chicken from the pan and wrap in foil. Let it rest 5 minutes before chopping.
To make the salad:
Combine all of the salad ingredients in a large bowl. Add the cooked chicken and reserved salad dressing and toss to combine.
Portion salad among pita halves and serve.
Have your Salad and a Sandwich!
So you see, it's the perfect marriage. Salad meets sandwich. Make it. Love it. Tell me if you love it! Need more sandwich recipes? Check out what else I've got!
Fast Veggie And Hummus Sandwich