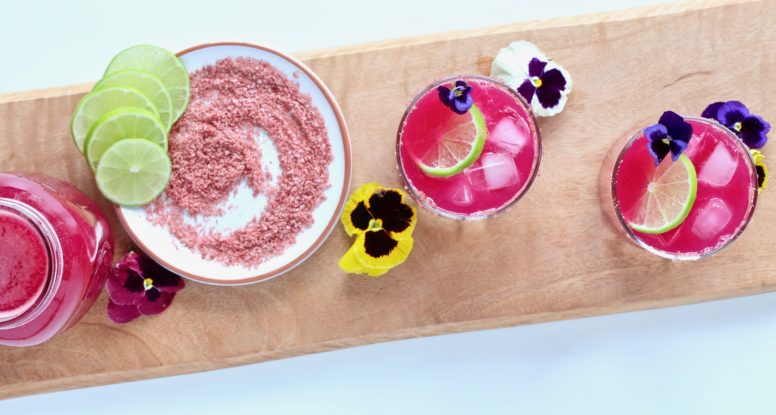 Dragonfruit Mango Agua Fresca-Rita
Besides loving tacos and Mexican food, in general, I love a great margarita. Not the super sweet, frozen kind, but the kind where you can taste the tequila and lime juice. I also happen to really love a good agua fresca. Have you had one? Talk about yummy and refreshing! Yep, so I did just what you're thinking – combined the two to make this Dragonfruit Mango Agua Fresca-rita!
It's Celebration Time!
Okay, so not every day is a celebration, but maybe it should be. And maybe, just maybe, you should celebrate with this super fun adult beverage? The reason I like this pairing is because it's just sweet enough and it feels refreshing and light. That makes it a perfect beverage pairing for so many foods, especially tacos.
Have You Had Agua Fresca?
I hadn't experienced the joy of an agua fresca until a few years back. I'm fortunate to live in a city that has such a diverse population. Because of that, the streets are literally bursting with delicious, culturally-diverse food. I can remember going into this tiny Mexican restaurant and seeing the agua fresca on the counter. It was so pretty and looked so tasty (it was a really stinking hot day here). I didn't know what the heck it was, but I ordered it anyway. It was so freaking good that I had to control myself – literally stop myself from drinking it down in two seconds. I had to know what it was!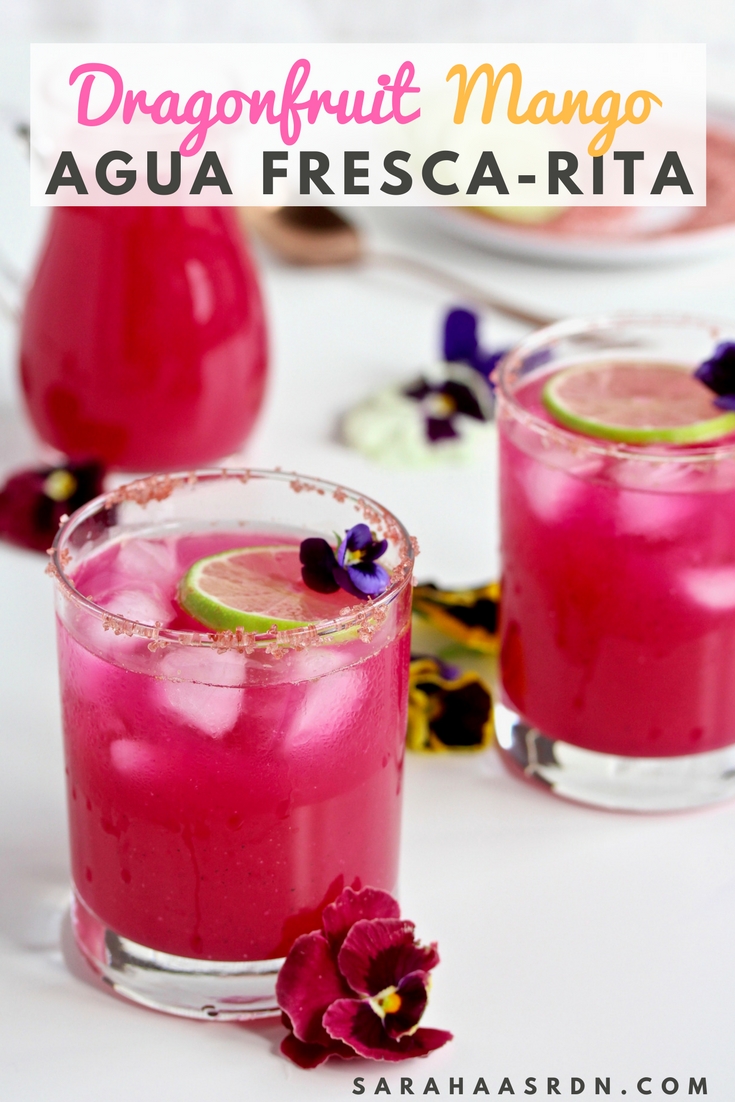 Well, that Seems Easy!
It was agua fresca and it was fantastic. From that point on, I vowed to always order it when I saw it anywhere. And now, I make it at home because it's EASY! All it takes is a few ingredients and bam, delicious, flavored water can be yours too. You'll see my recipe below. In this one I use dragonfruit and mango. Why? Well, because it's pretty. Ha! Could you use other fruit? Um, YES! And please do! There's really no right or wrong with this. Use your favorite fruit, make sure it's ripe and sweet, puree it up with some water and then strain (if desired). Then it's up to you, add a splash of lime juice, a little sugar or agave nectar or even some fresh muddled herbs. And yeah, a little tequila! 😉
Print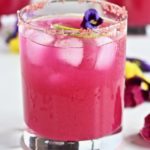 Dragonfruit Mango Agua Fresca-Rita
---
Description
Refreshing margarita alert! There's no better way to enjoy a plate full of tacos than with this tequila and fruit-infused beverage! Make a pitcher of these Dragonfruit Mango Agua Fresca-Ritas for your next fiesta!
---
½ cup

chopped, ripe dragon fruit

½ cup

chopped, ripe mango

½ cup

+

1 ½ cups

water

 

2 tablespoons

granulated sugar or agave nectar

3 tablespoons

fresh lime juice

 

6

fluid ounces tequila
lime wedges
kosher salt, if desired
---
Instructions
To a blender, add the fruit and ½ cup of water. Blend until smooth. Using a strainer with small holes, strain the puree into a pitcher or large ball jar. Add remaining water to the strained liquid along with the sugar, lime juice, and tequila, stirring to dissolve and combine.
Rub lime wedge around rims of glasses. Dip rims in salt, if desired. Fill cups full with ice. Pour Fresca-rita into glasses. Enjoy.

 
Looking for more great margarita recipes? I thought so! Check out this amazing list of recipes from my fellow margarita-loving friends! Big thanks to @holajalepeno for including my recipe!