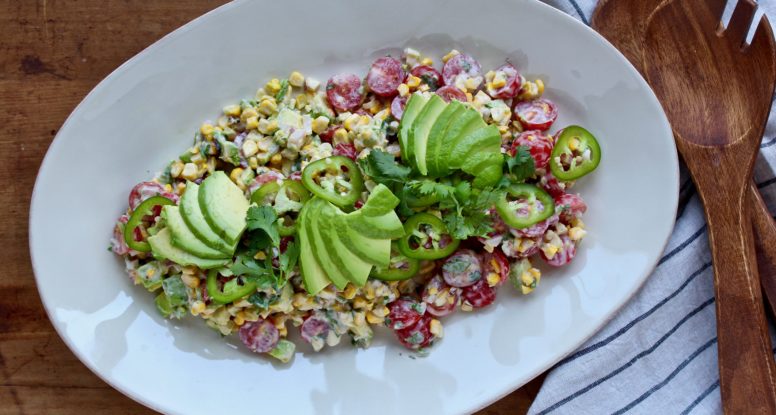 Grilled Sweet Corn Salad
Ahhh, the food of summer. It makes me so incredibly happy. Take corn, for example. In the winter, at least here in the midwest, you can't find it. Well, you can, but it's in the freezer section. That's fine and good, but give me that sweet summer corn! I long for it and I am beyond joyful when it shows up in my store!
Good, sweet corn
The corn here in the midwest is the BEST! At least I think so. It's super sweet and on a hot summer day, eating a big ear of it slathered in good butter, well, it's just good food. Besides being sweet, it's also remarkably juicy and soft. And that's a big deal. Because that's the difference between decent corn and AWESOME corn. So yeah, if you don't live in the midwest, come on over for a visit and try out this summer treat!
Make a salad
I'm all about cooking, but I'm also all about grilling. And grilling corn is fun and easy. You can leave the husks on, but I like to remove them before grilling for this recipe. I enjoy that little bit of char and caramelization that happens. The rest of the salad requires ZERO cooking. It's all about fresh veggies and a tasty salad dressing. That's it! It's literally the perfect summer salad.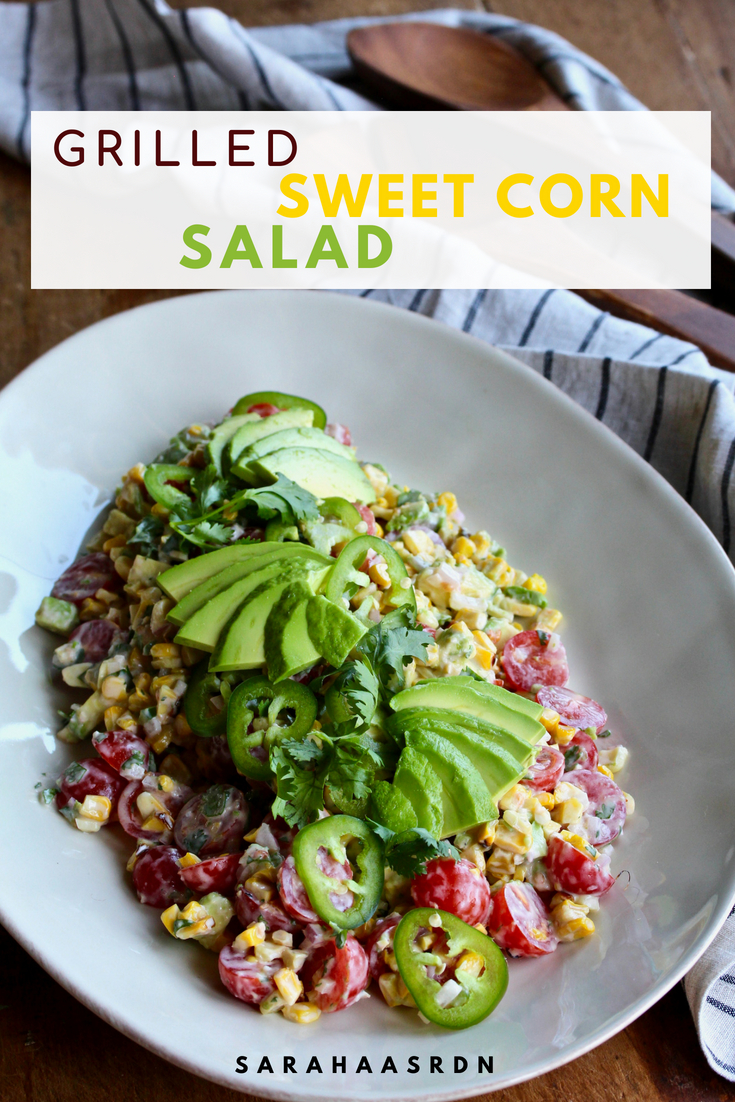 Tell me about your corn creations
I know you like corn too, so I want to hear how you enjoy corn! Drop your creations in the comments section below! I'd love to hear all about them. Don't have one? Well, why not make this Grilled Sweet Corn Salad a new favorite!?
Print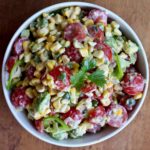 Grilled Sweet Corn Salad
---
For the corn
2

ears sweet corn, husks and silks removed

1 teaspoon

extra virgin olive oil
For the dressing and salad
¼ cup

plain Greek yogurt

1 tablespoon

extra virgin olive oil

2 tablespoons

fresh lime juice

½ teaspoon

fresh lime zest

1

garlic clove, minced

¼ cup

chopped red onion

¼ cup

cilantro, roughly chopped

1 pint

cherry tomatoes, halved

1

avocado, peeled, seeded and diced

2 tablespoons

finely chopped jalapeno

1/8 teaspoon

freshly ground black pepper

¼ teaspoon

kosher salt
---
Instructions
Preheat the grill to medium-high heat or set a grill pan over medium-high heat. If grilling, clean and oil the grates. Brush the corn with oil and grill, turning corn often, to cook and char, about 10 minutes. Remove from the grill and set on a plate to cool. Once cooled, cut the corn from the cob (see tip) and set aside.

 

To a large bowl, add the yogurt, olive oil, lime juice, lime zest and garlic. Whisk until combined. Add the onion, cilantro, tomatoes, corn, avocado, jalapeño, pepper and salt and toss to combine.

 
Notes
TIP: Remove the corn from the cob by holding the cob upright inside a shallow bowl. The smaller end should be facing the ceiling and the large end should be resting on the bottom of the bowl. Using a sharp knife, cut downwards on the cob to remove the kernels. Continue around the cob until all of the corn kernels have been removed.