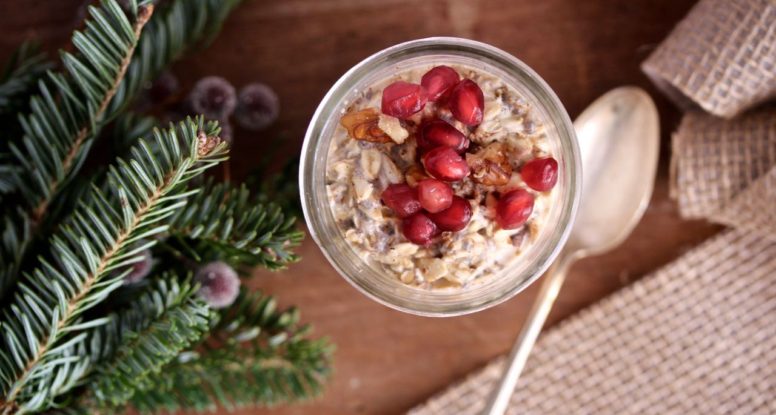 Holiday Eggnog Overnight Oats
Are you an eggnog fan? I sure am. For me, eggnog elicits so many wonderful childhood Christmas memories. Ironically, it does the same for my husband. There's just something special about this festive holiday drink! And because of that, I used it to make overnight oats! Oh yes I did! I made Eggnog Overnight Oats and they're the perfect way to make your breakfast "merry!"
Eggnog Memories
One of things I love to do with my husband is swap childhood stories. In fact, some of my favorite stories of his childhood include eggnog. They're so good that I've decided to share them with you, as well as my own.
The Husband's Eggnog Memories
While my husband claims to have played only a small role in one of my favorite stories of his, it's still a worthy story to share. One night, when he was in high school, he and his friends were heading to a "get-together" (his words, not mine). A few of his good friends were driving to get there and on the way, made a stop at the grocery store to pick up some eggnog (because that's what you do, right?). My husband thought it would be hilarious to put it in a brown paper bag and so naturally, they wrapped it up in a brown paper bag. Being high schoolers, they thought they were pretty funny passing around a brown paper bag of eggnog. Just as they were about to approach the party, they were stopped at a police check point. The officer of course asked what was in the brown paper bag and one of his friends responded, "eggnog." Then the officer asked, "and what else?" Boy was he shocked to find that these boys really were just drinking eggnog and out of a paper bag, no less! So, off they went to the party, paper bag of nog in hand.
My Eggnog Memories
In my house we always celebrated Christmas (aka "Santa's arrival) with my mom and dad Christmas morning. We would rip open presents while sipping eggnog and giggling with glee. It was awesome, until…with a heavy heart we would have to leave our new beautiful toys, put dress-up clothes on and head to my Grandma's (my dad's mom's) house. Don't get me wrong, I LOVED my grandma. She was a rock star and fun, but her house was full of antiques and she expected us to sit still and be civilized. Which, was so boring! But we endured because she also served up a big, warm pot of eggnog and she served it in these awesome little holly mugs with a little bit of cinnamon sprinkled on top. If I close my eyes, I can see the whole scene…sipping eggnog and praying my brother wouldn't pull some stunt to get me or us in trouble. Isn't it amazing how food can transport us back in time like that?
Eggnog Overnight Oats and Nostalgia
See? So many fun and great memories! To this day, I always get excited when I can put eggnog in my cart, because I know it will remind me of all of my fun Christmas memories! But these days, I find just a little is enough. And while I always buy the smallest container, it always seems like too much. That's what got me thinking, "how about I use the extra nog for overnight oats?" I tried it and as you can expect, it was AMAZING! It tasted just like Christmas morning! Yahoo! And that's why I'm so excited to share this recipe with you!
Your Turn!
What are YOUR Christmas or holiday traditions? I would love to hear about them! Drop a few lines in the comment section and tell me all about your fun, crazy, awesome holiday traditions!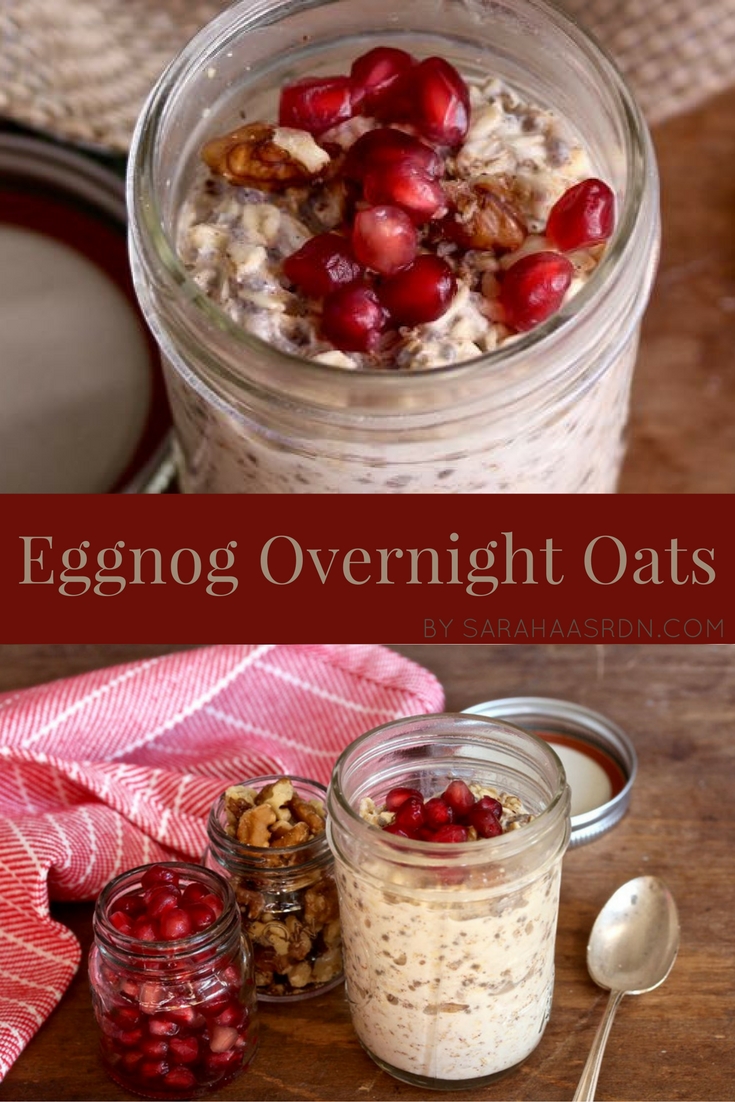 Print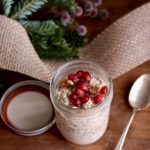 Eggnog Overnight Oats
---
Description
Celebrate the holidays at breakfast with these easy and delicious eggnog-infused overnight oats!
---
1/3 cup

old fashioned oats

1/4 teaspoon

ground cinnamon

1 teaspoon

chia seeds

1/4 cup

egg nog

1/3 cup

milk
pinch salt

1 tablespoon

chopped walnuts

1 tablespoon

pomegranate arils
---
Instructions
Stir oats, cinnamon and chia seeds together in the bottom of a jar. Top with egg nog and milk. Stir and cover with a lid and refrigerate overnight.
Then next morning, give everything a stir and top with chopped walnuts and pomegranate arils.
Can be enjoyed warm or cold.
Nutrition
Serving Size:

1

Calories:

365

Sugar:

11

Sodium:

220

Fat:

13

Saturated Fat:

4

Unsaturated Fat:

8

Trans Fat:

0

Carbohydrates:

48

Protein:

16

Cholesterol:

44