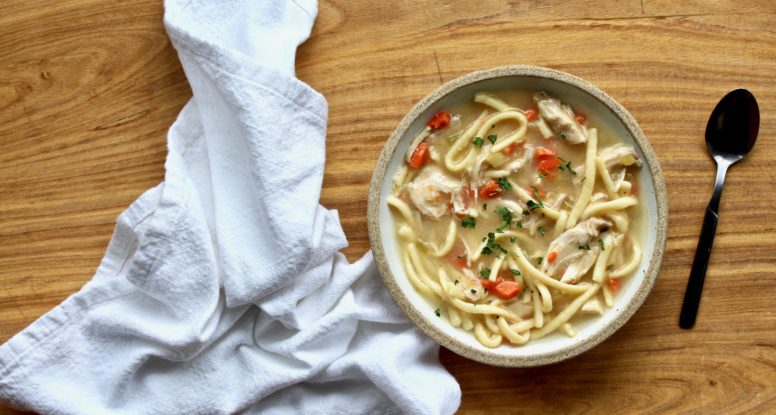 Homemade Chicken Noodle Soup
You can certainly buy chicken noodle soup from a can. And it's certainly going to taste "okay." And that's totally fine when you're feeling sick and don't care about taste. But what about when you crave chicken noodle soup and you're not sick? If you're me, that canned stuff just won't do. That's why I created my version of Homemade Chicken Noodle Soup. Because we all deserve delicious soup! Want to see me make it!? Head over to my feedfeed tv channel, Lunch & Learn, to watch!
Make My Own Soup? Come on Sara!
You guys, I know. I know that your lives are busy and that many of you don't LOVE cooking like I do. I KNOW this. But if you want tasty food, making it yourself is the best way to get it. Case in point, this Chicken Noodle Soup. I've had the canned version at least a million times in my life. We all have. And it's always more depressing than awesome. Too few noodles, hardly any chicken and so much salt or not enough salt. Bottom line, it's meh. And I won't settle for "meh" and neither should you!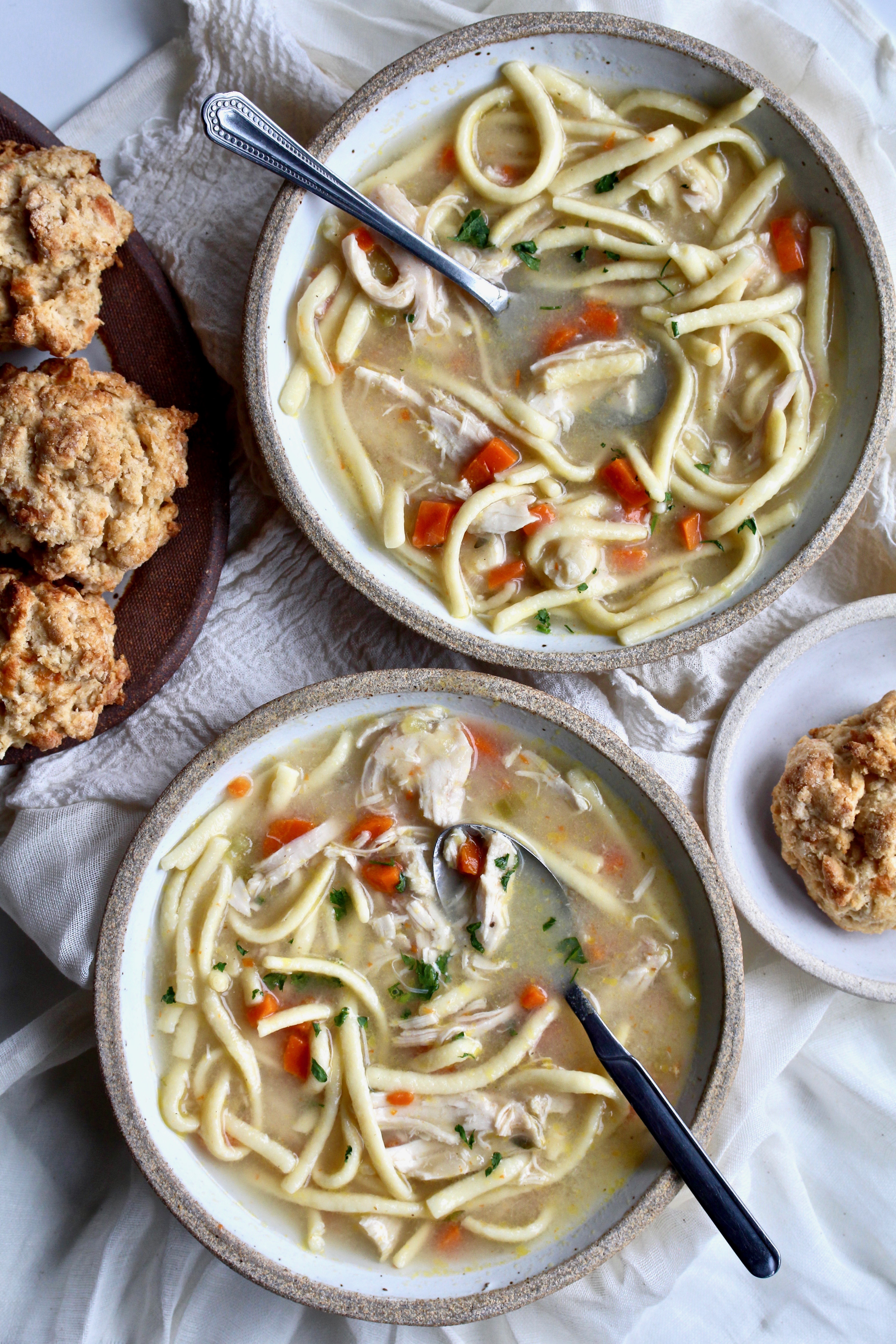 Chicken Noodle Soup on YOUR Terms!
The reason the canned stuff isn't so great is because it's mass produced and that compromises the cooking method and also the flavor. Read – there's NO LOVE! So how do you make awesome chicken noodle soup? Here are my tips:
Tip 1 – Start with bone-in chicken. Don't use the boneless, skinless stuff. That skin helps develop flavor and the bone keeps your chicken moist and tender!
Tip 2 – Use breast and thighs and don't skimp! Remember how sad you are when there are only 2 pieces of chicken in your canned stuff? Really sad, right? Well, don't skimp on the chicken and use both dark and light meat for tons of flavor!
Tip 3 – Use a good chicken stock/broth and choose low-sodium to control salt. Don't buy the cheap stuff that tastes like dirt water. Spend an extra dollar and get a good broth or stock. And choose one that's low in sodium because YOU should be in control of the salt level!
Tip 4 – Use as much vegetable as you want. I'm a traditionalist when it comes to my chicken noodle soup. I like onion, carrots and celery…and lots of it. But if you want different veggies, go for it and add as many as you heart desires!
Tip 5 – Choose yummy noodles. There are so many kinds of noodles out there and so many work well in this soup. I personally love spatzle noodles. That doughy-ness adds a little bit of thickness to the soup that makes it feel rich and filling.
Let's See What You've Got!
Alright, now that you've got my tips, it's time to get cooking. I promise that you'll love this soup and agree it's totally worth the time (it doesn't take that long, I promise!) and effort (it doesn't take that much effort, I promise!). So whip up a batch and let me know what you think! Drop your comments below! Wishing you many happy bowls of soup!
Print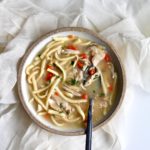 Homemade Chicken Noodle Soup
---
Author:

Total Time:

45-50

Yield:

10 cups

1

x
Description
Forget the canned stuff, Homemade Chicken Noodle Soup is where it's at! So much chicken, vegetables & yummy noodles. And it's easier to make than you might think!
---
1 tablespoon

vegetable oil

2

skin-on, bone-in chicken thighs (about

3/4

pound)

2

skin-on, bone-in chicken breasts (about

1 1/4

pound)

1/2

medium onion, diced (about

1 1/3 cups

)

2

medium carrots, peeled and diced (about

1 cup

)

2

medium celery stalks, diced

1/4 cup

all-purpose flour

4 cups

low-sodium chicken broth

3

–

4

stems fresh thyme

1

dried bay leaf

8 ounces

egg noodles

 

2 tablespoons

fresh parsley, for garnish
lemon wedge, for serving, if desired
---
Instructions
Heat the oil in a pot or dutch oven over medium-high heat until shimmering. Season the chicken with salt then arrange, skin-side down in the pot. Cook about 6-7 minutes, until skin is golden brown. Move to a plate.
Add the onion, carrots and celery and a pinch of salt to the pot and cook until softened, about 6-7 minutes. Scraping off any browned bits on the bottom of the pan. Stir in the flour and cook and stir for 1 more minute. Add the chicken broth, stirring to scrape any bits off the bottom of the pan. Bring mixture to a simmer then add the chicken, pressing it into the liquid to fully submerge it. Add the thyme and bay leaf. Reduce the heat to medium-low, simmer partially covered, until chicken is cooked (has reached an internal temperature of 165'F), about 25 minutes. Check occasionally during cooking to ensure that chicken is still submerged. Add water, 1/2 cup at a time to keep chicken in the cooking liquid.
Remove the chicken to a cutting board and let it cool 5 minutes. (At this point you can also skim the surface of the soup to remove any scum or excess oil/fat.)
While chicken is cooling, cook the noodles. Bring cooking liquid to a boil and stir in noodles. Cook until al dente, about 5 minutes.

 

While noodles are cooking, carefully remove and discard chicken skin, if desired. Using a fork, remove the meat from the bones. Discard bones. Roughly chop the chicken and add it back to the pot.

 

Portion into bowls and garnish with fresh parsley. Serve with lemon wedge, if desired.
Prep Time:

15 minutes

Cook Time:

30-35