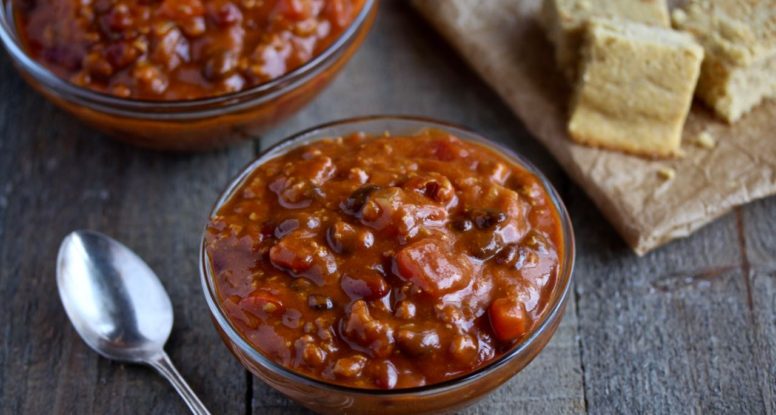 Comforting Homemade Turkey Chili
Comfort can come in a lot of different forms – a hug, kind words, a fuzzy blanket, or a warm bowl of chili. Chili? Yes, for me chili is comfort. It's a warm bowl of pure happiness. Why is that? I think I've figured it out and guess what – it has everything to do with emotions and memories and that's what makes it a perfect Fertility Friday food!
Chili Memories
You know I love to reminisce, especially if it entails a food memory. When I was little, my mom made chili a lot. No really, a lot. I mean, we ate chili probably once a week. And you know what's crazy? I loved it! Her chili was (and still is!) one of my favorite foods. I can remember how awesome the kitchen smelled when it was cooking and I loved that she always set out sweet pickles (to cut the heat!) and that we got to top our bowls with plenty of oyster crackers and cheese, which made for some seriously messy consumption. It was perfection – cheesy spoons and warm bellies.
Recreating Chili Memories
When I grew up and moved out of my house to the big city of Chicago, I didn't know how to cook a single thing. Hilarious, right? Yes, I could whip up a mean bowl of canned soup and maybe a grilled cheese, but cooking wasn't something I knew much about. I remember my first winter in Chicago – it was cold and I wanted comfort and I needed some chili soup! So, I called up my mom and she patiently explained everything that went in it (including her special secret beans) and how to cook it. Lo and behold, after hours spent at the store locating all of those ingredients and after numerous (and completely unnecessary dirty dishes), I had made COMFORT! Was it as good as hers? No way! But, it was close enough and I enjoyed every. single. bite!
Recreating Comfort
Ever since that day, I've been making my own rendition of that comforting chili. Every batch is different (just ask my husband), but it always conjures up the warm, happy feelings of my childhood and I love that. As an adult, life can throw you some unexpected challenges. You think you're tough and can handle them, but really, you long to be that kid again sometimes. And if I've learned anything through my journey with infertility, it's that it's ok to seek out the things that comfort you. Dealing with the emotional roller coaster of infertility is tough and sometimes isolating. And I have decided that comfort is the perfect way to manage that constant range of emotions. So, as I'm writing this, I'm warming up my big bowl of comforting chili, pulling out my fuzzy blanket, then grabbing a huge hug from my daughter and husband and showering them with love and admiration.
Print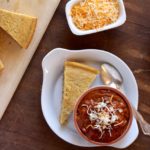 Homemade Turkey Chili
---
Description
A warm, comforting bowl made with spices, tomatoes, ground turkey and plenty of beans!
---
1

pound lean ground turkey

1 cup

diced white or yellow onion

1

red bell pepper, seeded and diced

2

cloves garlic, minced

1

–

2

tablespoons chili powder (add more for a spicier chili)

2 teaspoons

ground cumin

1 teaspoon

ground turmeric

1 teaspoon

unsweetened cocoa powder

1/2 teaspoon

ground cinnamon

1

28 ounce can no-salt-added diced tomatoes

1 quart

light sodium tomato soup

1

15 1/2 ounce can no-salt-added red kidney beans, drained and rinsed

1

15 1/2 pound can no-salt-added black beans, drained and rinsed
salt, to taste
---
Instructions
Set a large pot or Dutch oven over medium-high heat. Add the ground turkey and cook, stirring to crumble, until browned. Drain excess fat. Add onion and red pepper and cook 5-8 minutes, or until softened. Add garlic and cook 1 minute, then add the spices, stirring and cooking an additional minute. Pour in the diced tomatoes, the tomato soup and the beans and stir to combine. Bring to a low boil. Reduce heat to a simmer, cover and cook at least 30 minutes and up to 1 hour.
Season with salt to taste (if necessary) and serve topped with shredded cheese, diced onion, Greek yogurt or any of your favorite chili mix-ins!
Nutrition
Serving Size:

8

Calories:

1171

Sugar:

15

Sodium:

303

Fat:

14

Saturated Fat:

4

Unsaturated Fat:

8

Trans Fat:

0

Carbohydrates:

188

Protein:

79

Cholesterol:

60