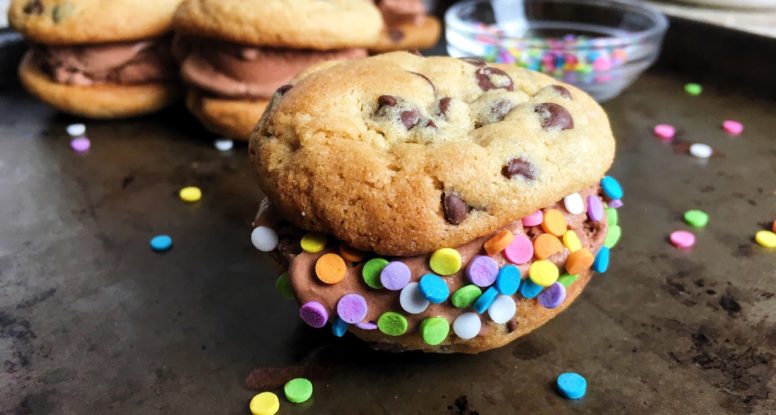 Ice Cream Cookie Sandwich Bites
I love little bites of things. I remember in culinary school we had a class called garde manger. This fancy French phrase refers to the cook or chef who works on the "cold" side of the kitchen – making the appetizers, pate, terrines, salads and other awesome, high-maintenance foods. I actually really detested this class. Why spend so much time creating those crazy layered things or pureeing all of that meat? It seemed weird and fussy.
But, what does this have to do with ice cream cookie sandwiches?
Hold on, I'll get there. Those foods were weird and fussy, but also fascinating. We worked hard in this class making perfect bites of things. So much blood, sweat and tears in that class just to put out 5 stinking bites of food. But those little guys were works of art – in essence, the perfect bite.
When I heard the Recipe Redux challenge this month was about bite-sized food, I thought of my garde manger class. I thought about the crazy, cross-eyed moments making those beautiful bites…then I considered re-creating that…
And then, I thought of chocolate chip cookies!
Whoops! That wasn't intentional, I was just thinking of my "to-do" list and baking chocolate chip cookies was on there. 🙂 Then, that got me thinking, we need some ice cream. So I went and got ice cream. And when I was at our local ice cream shop, I saw ice cream sandwiches. And then, it just all came together – I was going to make Ice Cream Cookie Sandwich Bites. (I'm getting somewhere, I promise!)
Whew, such a long-winded story. But those small bites of my culinary days taught me that flavor matters. Sure, you can make a huge, American-style dessert or appetizer and it might be good, but why not make the PERFECT BITE instead? So these little Ice Cream Cookie Sandwich Bites are just that – the perfect bite (or two). A nice little portion that totally satisfies!
Besides being small, these guys are also a wee-bit more nutritious. I reduced the sugar in the cookie recipe and swapped some of the all-purpose flour with whole wheat pastry flour. The amount of ice cream is small, but it's all you need. You'll be satisfied, I promise!
Pretty Pictures of Ice Cream Cookie Sandwich Bites: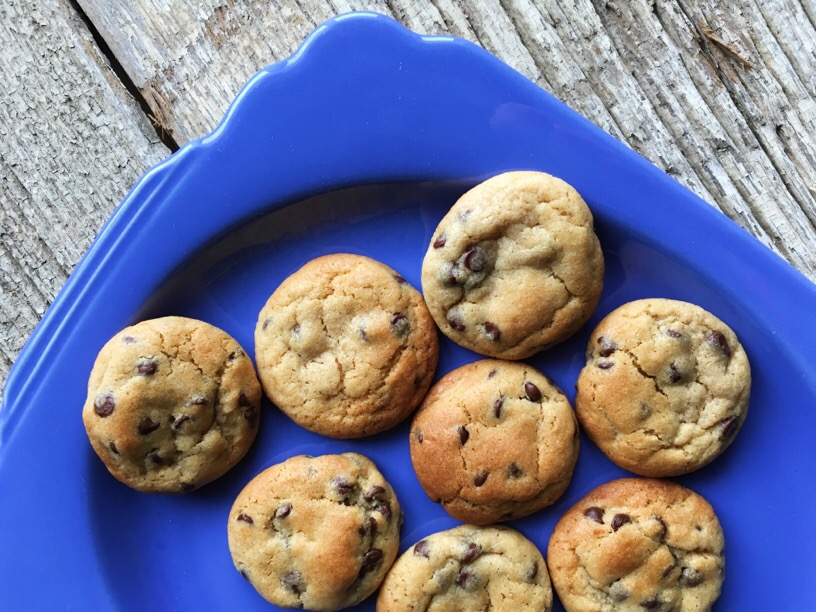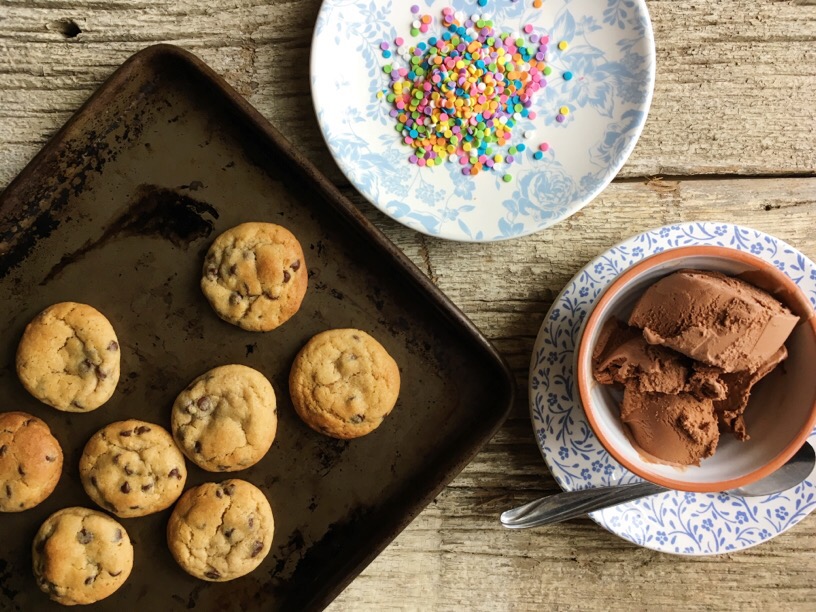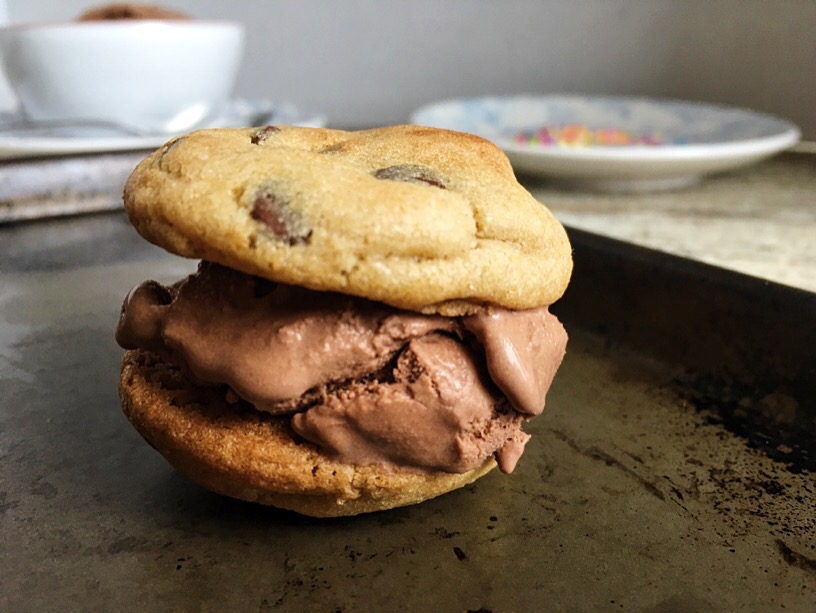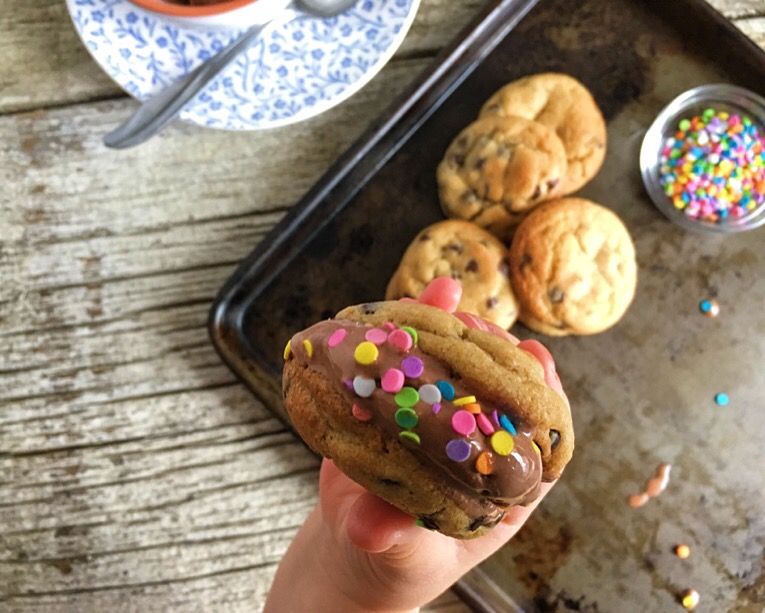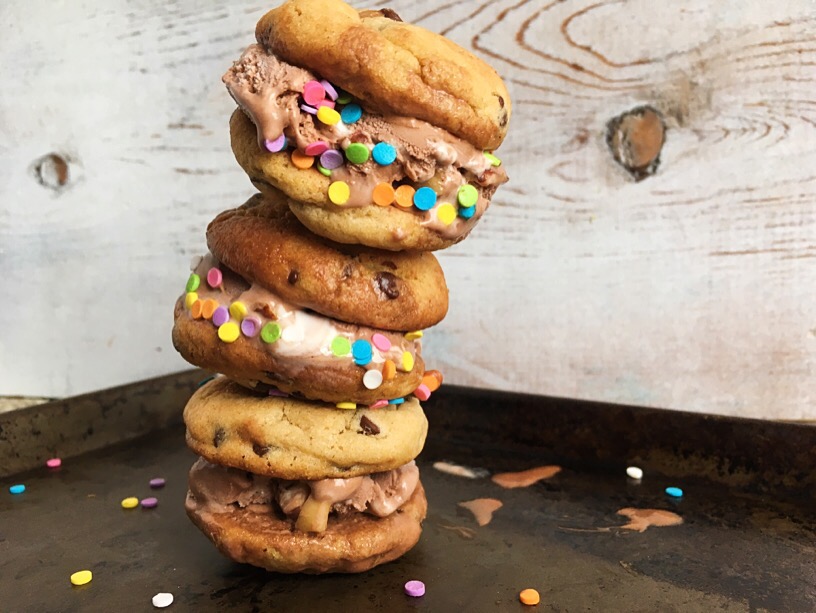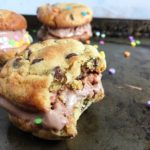 Ice Cream Cookie Sandwich Bites
---
Description
The perfect bite-sized way to end a meal. These Ice Cream Cookie Sandwich Bites are small, but delicious!
---
3/4 cup

all purpose flour (

110g

)

3/4 cup

whole wheat pastry flour (

95g

)

1/2 teaspoon

baking soda

1/4 teaspoon

salt

1

stick salted butter, softened

1/3 cup

packed brown sugar (

80g

)

1/3 cup

granulated sugar (

80g

)

1

egg

1 teaspoon

pure vanilla extract

4 ounces

mini chocolate chips (bonus for dark chocolate chips!)

1 1/4 cup

ice cream flavor of your choice
optional: sprinkles, chopped nuts, toasted coconut
---
Instructions
Preheat the oven to 350'F and line 2 large sheet pans with parchment paper.
In a medium bowl combine the flours, baking soda and salt.
To the bowl of a stand mixer, add the softened butter. Mix for about 1 minute on medium speed. Scrape down the sides of the bowl and add the sugars. Mix for another 2 minutes on high speed, until the mixture is light and fluffy. Add the egg and vanilla extract and mix just until combined, about 30 seconds or so. Scrape down the bowl.
Reduce the mixer speed to low and add the flour, mix until combined. Scrape down the bowl and stir in the chocolate chips.
Roll 1/2 ounce portions (about a tablespoon) of cookie dough into balls. Place them on the baking sheets and bake until lightly browned, about 8-11 minutes. Remove from the pans and cool on a rack.
When cookies are cool, make the sandwiches. Lay out half of the cookies on a sheet pan and top each with about 1 tablespoon ice cream. Top with the remaining cookies. Add sprinkles or other goodies to the sides and enjoy immediately.
Notes
Feel free to swap out the ice cream for another frozen treat – soy milk ice cream, coconut milk ice cream and even frozen yogurt will work here!
You can freeze these too! Make as above, then wrap individually in plastic wrap and freeze.
Nutrition
Serving Size:

20

Calories:

163

Sugar:

12

Sodium:

117

Fat:

8

Saturated Fat:

5

Unsaturated Fat:

3

Trans Fat:

0

Carbohydrates:

20

Protein:

2

Cholesterol:

26