It's Redux Time: Whole Wheat Crackers with Currants and Granola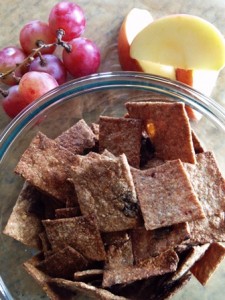 In my house, we eat a lot of crackers. It's almost slightly embarrassing the number of boxes of crackers we go through in a month. After buying a box at a time, I finally succumbed to buying in bulk. Ironically, even though we chow-down on them, I hadn't thought much about the crackers themselves until this month's Recipe Redux challenge. This month's theme is to take a recipe that we have already made and essentially "re-purpose" it. I was excited and decided my first step should include a quick trip through my blog.
You know where that landed me? Right on the granola recipe I use and make at least once a month. It's a great one, adapted from a recipe I found on Martha Stewart's website for Honey-Pecan Granola. At that moment, all I could think was, "wouldn't this be a yummy base for a cracker?" Which got me thinking even more which led me to wonder why I am buying all of these silly crackers at the store when I can make them at home?
Making crackers is super simple and requires very few ingredients. After a little tinkering, I came up with a recipe that has now become a household favorite. The best part about it is that it's a perfect way to get your kids involved in the kitchen. They can help roll out the dough and if they're old enough, they can help cut (using a pizza cutter with an adult close by!) the dough into crackers.
Use my recipe as a base, but feel free to experiment with your own additions. I topped mine with a little dusting of cinnamon and sugar, but you can also add spices and fresh herbs like thyme or rosemary. This is my gentle push, encouraging you to put that box of crackers down and make your own!

And here are some pics to guide you along the way!
Print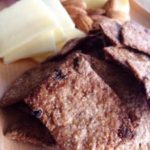 Whole Wheat Crackers with Currants and Granola
---
Description
A simple, homemade cracker recipe filled with plenty of flavor.
---
1 1/4 cup

whole wheat flour

1/4 teaspoon

salt

4 tablespoons

cold butter, cubed

2/3 cup

+

2 tablespoons

homemade granola

1/2 cup

water

1/4 cup

currants
---
Instructions
In the bowl of a food processor combine the whole wheat flour, salt and the butter and pulse until mixture resembles coarse sand. Add 2/3 cup of the granola and pulse 1-2 times. Add the water a little at a time and pulse until ingredients come together in a ball.
Remove the dough from the food processor and place on a lightly floured work surface. Gently knead in the currants and the 2 tablespoons granola and shape dough into a ball. Wrap in plastic and refrigerate for at least 30 minutes.
Preheat the oven to 400'F. Cut three large sheets of parchment paper, big enough so that each piece will fit on a large sheet pan.
Unwrap the dough and cut into quarters. Take one quarter of the dough and on a lightly floured work surface, roll the dough out into a circle, about 1/8″ thick. Transfer the circle to a piece of parchment and using a knife or a pizza wheel, cut into squares or other desired shape (I like 1 1/2 inch by 1 inch rectangles myself!). Continue the same process with the other 3 pieces of dough.
Move the parchment with crackers onto a large sheet pan and place in the oven. Cook 6-8 minutes or until browned.
Remove crackers from the pan and place them on a cooling rack. Continue the process with the remaining crackers.
Notes
These crackers are tasty by themselves, but also wonderful when sprinkled with a little cinnamon and sugar before baking. The recipe is a good base for trying other flavors too. Add a dash of cinnamon or nutmeg or cayenne. Or try adding more dried fruit or topping with parmesan cheese just before baking.
Nutrition
Calories:

1550

Sugar:

44

Sodium:

631

Fat:

71

Saturated Fat:

33

Unsaturated Fat:

33

Trans Fat:

2

Carbohydrates:

197

Protein:

32

Cholesterol:

122