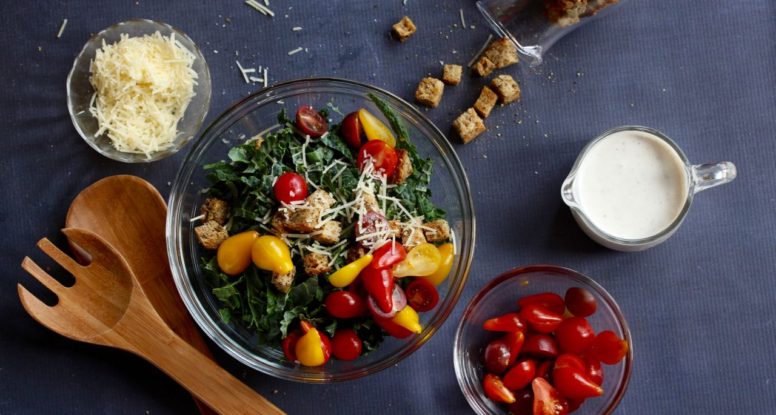 Kale. Caesar Salad Style.
All hail Caesar! So how many people have started a Caesar salad blog post this way? Probably far too many, but that sure didn't stop me. But seriously, I'm in love with this Kale Caesar salad right now. Why? Because it's so easy to make and just tastes so darn good. It's perfect for lunches or even makes a complete dinner when you add some grilled chicken or shrimp. But, why did I wait so long to post it?
Kale Caesar Salad, Where Are You?
Awhile back I posted recipes for my Creamy Caesar salad dressing and my Crunchy Herb Croutons. After that, I had fully intended to post a complete Caesar salad recipe. I mean, I had it all photographed and ready to go and then, it happened. My passion was calling and it declared, "Sara, it's time to  bake."
My (not so) Hidden Passion
Some people like to paint, others like to draw, some like to write poetry, skydive or travel. While I'd like to say those are all my passions, they are not. My passion is baking. Yes, you read that correctly, baking. To me, there is nothing better in the world than sweets and dough. I've loved baking since I was a little girl and I love it more today. Why do I love to bake? Oh, there are many reasons for this. First, as some of you know already, I have several sweet teeth that constantly need satisfying. And I prefer homemade baked goods to store-bought ones. Secondly, it just provides such good vibes. Baking is a fun, comfortable, zen-like experience for me. I like good vibes, so I like to bake. And lastly, as I've mentioned before, it's a great outlet for my stress and anxiety. Sure, I exercise and that works wonders for that too, but baking is just my g0-to. When life gets crazy, I bake.
But thankfully, my stress has ebbed a little and I found my Kale Caesar Salad again! Woo hoo!
Without Further Ado, I Introduce You to…The Kale Caesar Salad
And here it is! The Kale Caesar Salad as promised. It's a culmination of deliciousness – from the creamy Greek yogurt dressing to the crunchy croutons – it's everything you want a salad to be. Need some inspiration? Then check out the photos!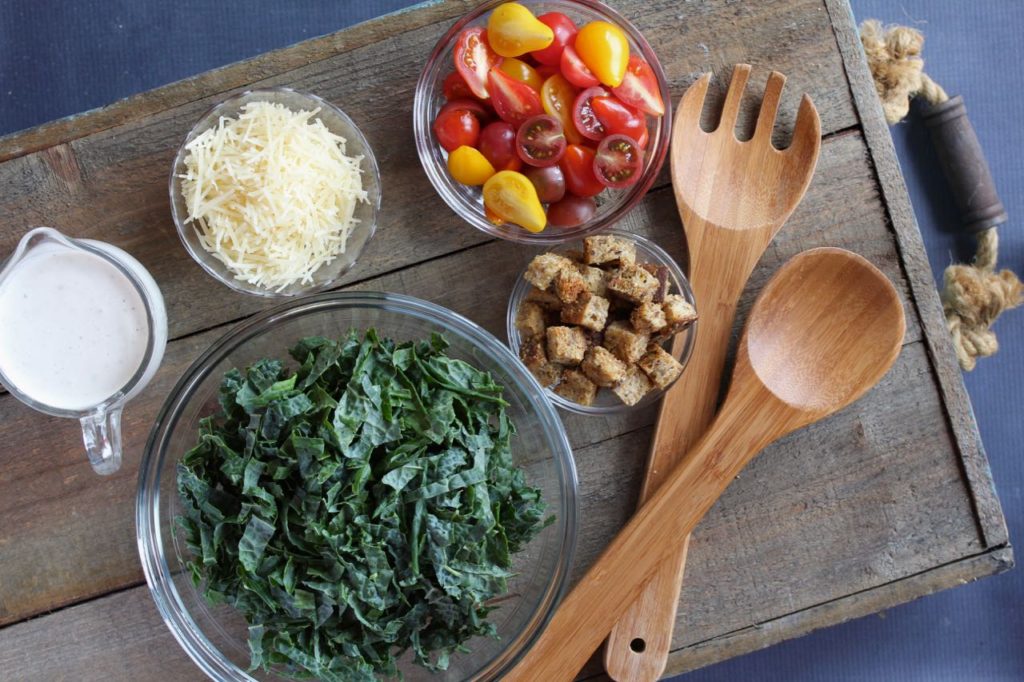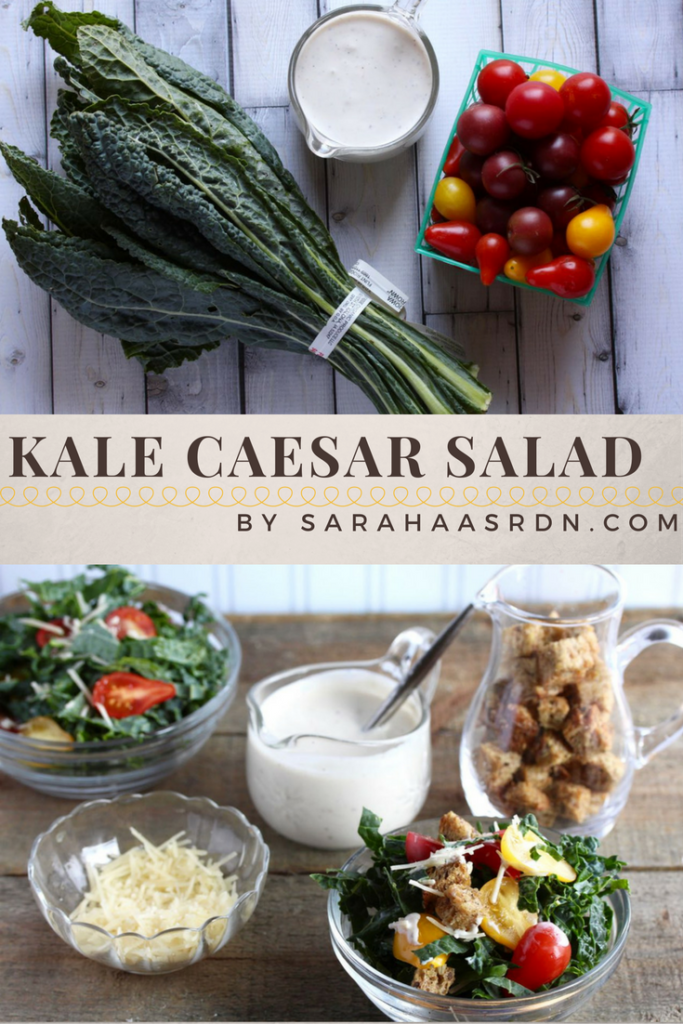 Before you get started…
You'll need to make a batch of the Creamy Caesar Salad Dressing and a 1/2 batch of my Crunchy Herb Croutons. Make these before proceeding with the recipe below. 🙂
Print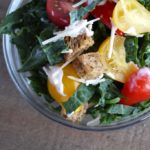 Kale Caesar Salad
---
Description
A nutritious twist on an old favorite! This kale Caesar is everything you want it to be – delicious, nutritious and loaded with croutons!
---
1

bunch lacinato (dinosaur) kale, washed and trimmed of stems

2 teaspoons

extra virgin olive oil

1 teaspoon

fresh lemon juice

1 pint

cherry tomatoes, halved

1/4 cup

shredded Parmesan cheese

1/2

batch Crunchy Herb Croutons

1

batch Creamy Caesar Salad Dressing
Freshly ground black pepper, to taste
---
Instructions
Thinly slice the kale and transfer to a large bowl. Add the olive oil and lemon juice and massage into kale until tender, about 1-2 minutes.  and toss to combine.
Just before serving, add the cherry tomatoes, Parmesan cheese, croutons and salad dressing and toss to coat. Portion into bowls or onto plates and garnish with freshly ground black pepper.
Notes
Links to Crunchy Herb Croutons and Creamy Caesar Salad Dressing can be found above recipe card.
Nutrition
Serving Size:

6

Calories:

53

Sugar:

2

Sodium:

120

Fat:

4

Saturated Fat:

1

Unsaturated Fat:

3

Trans Fat:

0

Carbohydrates:

3

Protein:

2

Cholesterol:

4