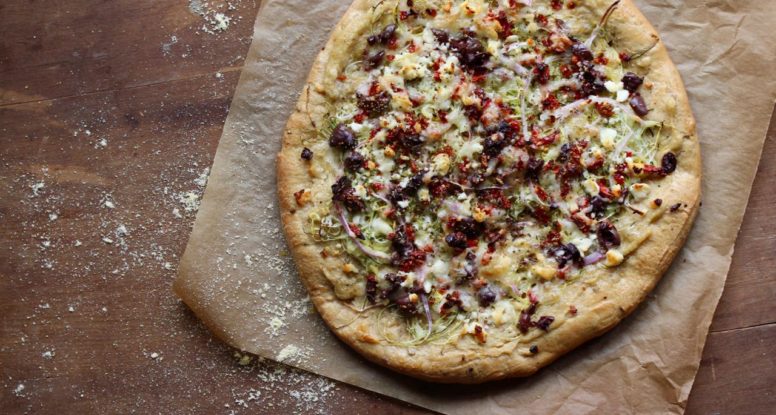 Mediterranean Pizza
Is hummus just a dip?  Is it merely the perfect accompaniment to your carrot sticks and pita wedges? If so, then I've got news for you! Hummus is more the dip and it's got me feeling all happy inside. So happy, that I made pizza – Mediterranean Pizza!
Hmmmm, Hummus?
You heard me, hummus is so much more than just a dip. Don't believe me? I figured as much. I'm out to convince you that hummus might just be the staple food you NEED to have in your fridge. What else can you do with it? So glad you asked!
Sara's top 5 ways non-traditional ways to use hummus:
1. Marinade  
That's right, turn it into a marinade! Add a little oil, lemon juice, garlic and oregano. A perfect fit for chicken or veggies!
2. Dressing 
Choose your fav flavor, thin with a little oil, water and/or citrus juice and you've got instant salad dressing! #gamechanger!
3. Coating 
Next time you make those baked chicken sticks, swap the milk/egg for a thin layer of hummus! Roll in your crunchy topping and bake.
4. Topping
Kind of like the coating, swipe some hummus on top of chicken or fish before baking. A delish and easy way to flavor food and keep it moist.
5. Sauce
Oh yeah! Sauce! Use it in place of some of your favorite sauces and see what happens! Like this pizza – I swap marinara for hummus and it's pretty darn tasty!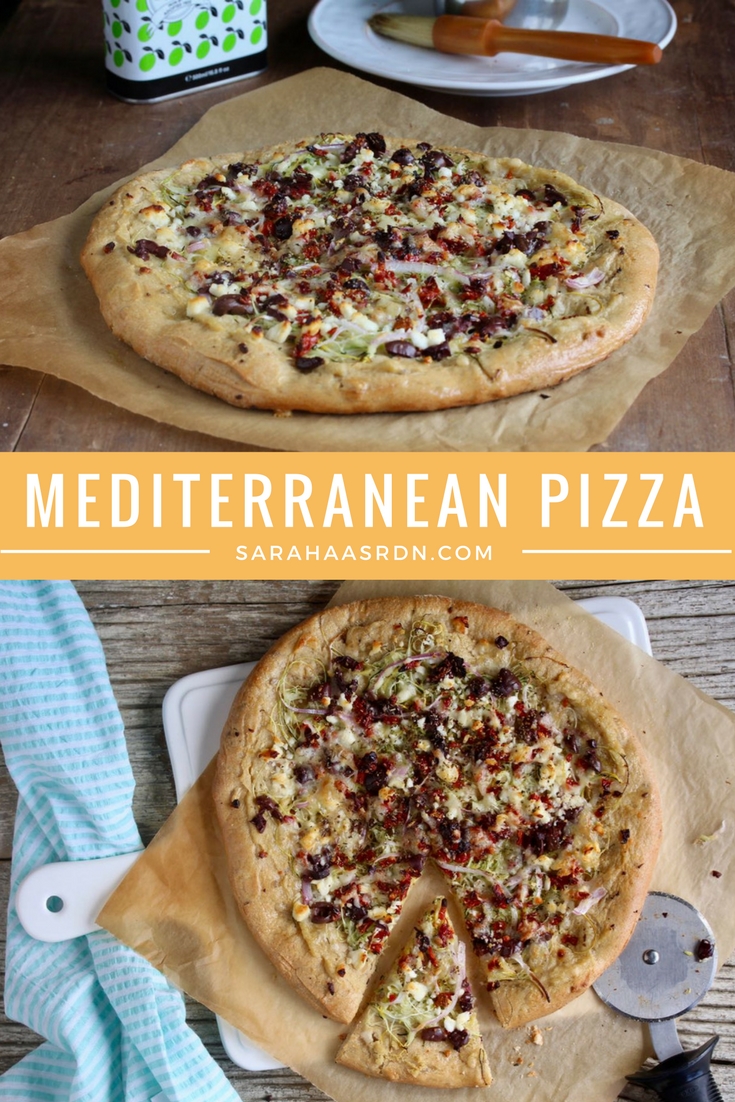 My Mediterranean Pizza
Yes, hummus still makes a great dip, but don't underestimate what it can do! Try my top 5 ideas – Go out and get yourself some hummus and get in the kitchen. And if you're up for it (I know you are) make this really fun and easy Mediterranean Pizza!
Print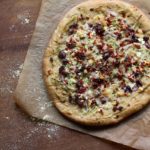 Mediterranean Pizza
---
Description
Looking for a fun, new way to enjoy pizza? Try this Mediterranean Pizza which starts with a layer of hummus and gets topped with tons of fresh veggies, feta cheese and olives!
---
1

pound whole wheat pizza dough

1/4 cup

plain hummus

1 1/2 cups

spiralized zucchini and/or yellow squash

1/4 cup

thinly sliced red onions

10

kalamata olives, chopped

3

sun dried tomatoes, packed in oil, finely chopped

1/4 cup

crumbled feta cheese

1/2 cup

shredded mozzarella cheese

1/2 teaspoon

Italian seasoning
---
Instructions
Preheat the oven to 425'F and move a rack to the bottom of the oven. If you have a pizza stone, place it on the rack.
While oven is preheating, prepare the pizza. Place a large sheet of parchment paper on an un-rimmed baking sheet and dust lightly with cornmeal. Shape dough into a 12-inch circle (I use my hands for this, but you could also roll it out.) and place on the parchment paper.
Spread the hummus over the pizza dough then top with the spiralized squash, red onions, olives, sun dried tomatoes and feta cheese. Sprinkle the mozzarella cheese over the top and dust with Italian seasoning.
Transfer pizza to the oven using the baking sheet. Carefully slide the pizza and parchment from the baking sheet onto the baking stone. Bake for 15 minutes or until crust is golden and cheese is bubbly.
Remove from oven using the same baking sheet or a large cutting board. Slice and serve.
Notes
Brush crust with a little olive oil before baking.