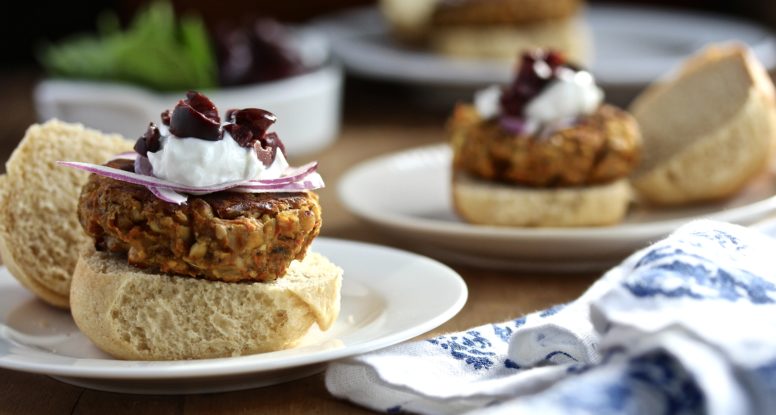 Mediterranean Veggie Burger
When life hands you lemons…
There was this time a few weeks ago when I really thought I had it together and then, poof, it all collapsed.
I felt great, I had this fantastic veggie burger recipe all queued up and then, life hit me. Not a literal punch in the face, more of like a "hey, stop biting off more than you can chew!" kind of way. Hence, the delayed post and hence why I have yet to update and face-lift my little blog here. But you're here and I'm here now, so let's celebrate that little victory, shall we?
You Make Lemonade…
Nothing prophetic here, I made this recipe because I simply wanted a "go-to" veggie burger.
I wanted one that didn't use black beans and one that was hearty and satisfying. With a few tweaks, I was satisfied and now I am happy to share my Mediterranean Veggie Burgers with you. They're easy to make and perfect for freezing. Keep some on hand for when you think you've got it together and then things happen to collapse…trust me on this one!
The Picture Montage!  Yummy Mediterranean Veggie Burgers: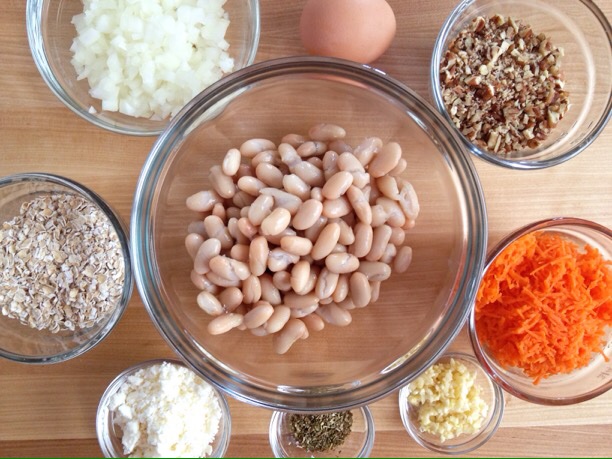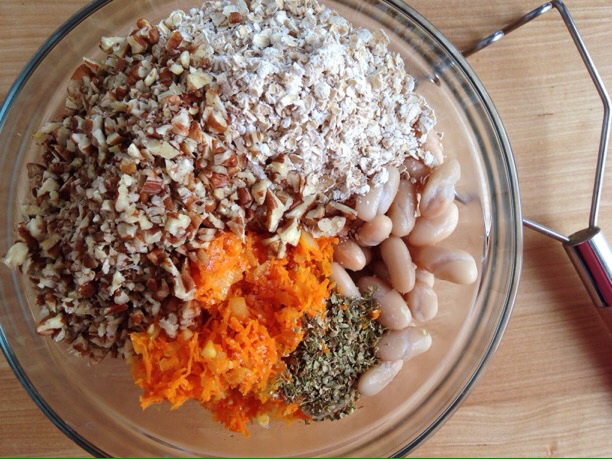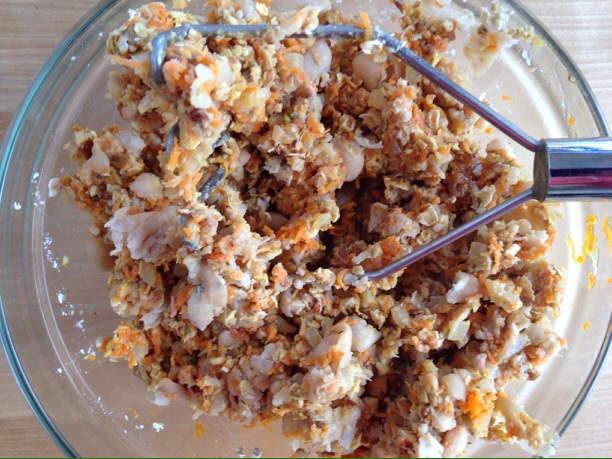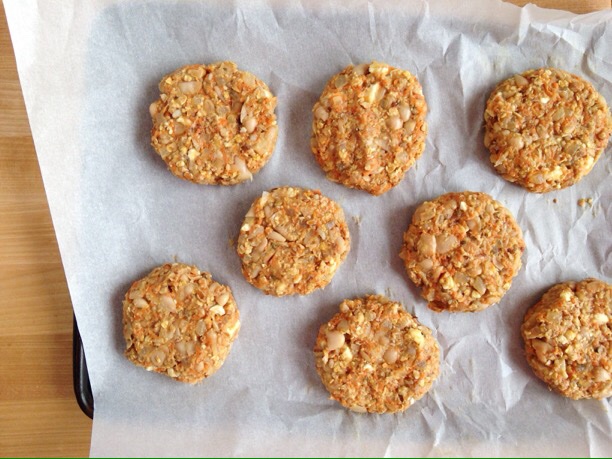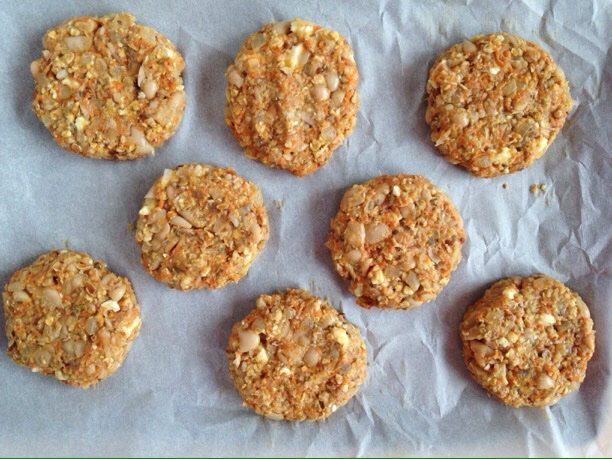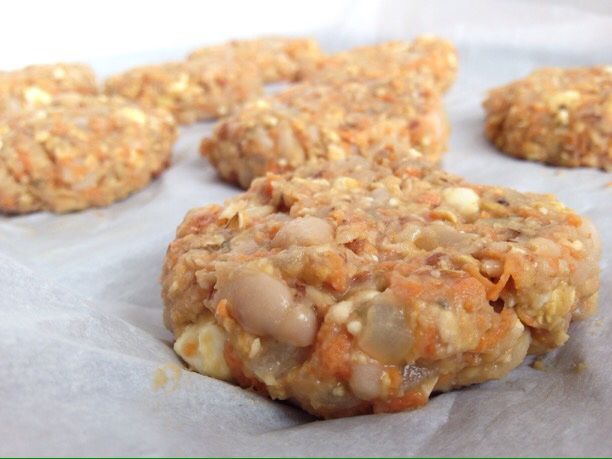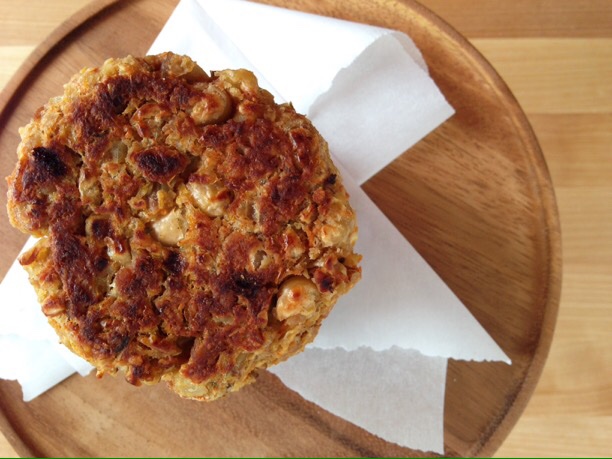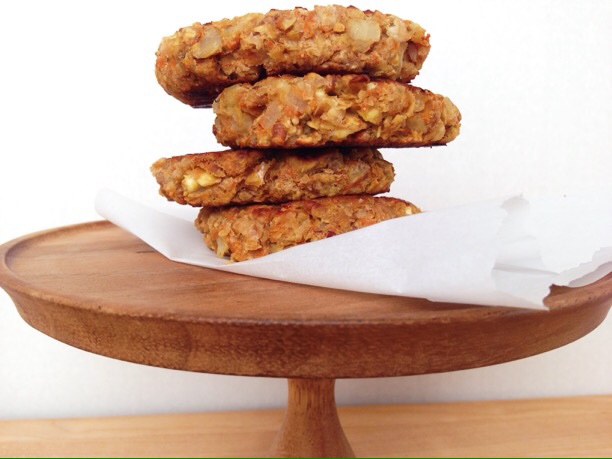 Print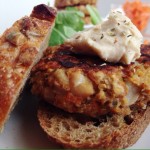 Mediterranean Veggie Burger
---
Description
A versatile veggie burger made with sweet carrots, nuts, beans, oregano and feta cheese.
---
1

can (15 ounces) no salt added cannellini beans, rinsed and drained 

1⁄2 cup

(2 ounces) walnuts or almonds, finely chopped 

1⁄4 teaspoon

kosher salt
1⁄4 teaspoon freshly ground black pepper
1⁄3 cup quick oats
1 teaspoon +

1 tablespoon

olive oil 1⁄2 medium (about

2⁄3 cup

or

3 ounces

) chopped onion 

2

cloves garlic, chopped
1 tablespoon Italian seasoning
1 medium carrot, grated (about

1 cup

or

3 ounces

)
1 large egg, lightly beaten
1⁄4 cup crumbled feta cheese, plus extra 
for garnish, if desired
1⁄4 cup whole milk Greek yogurt
5 Kalamata olives, chopped
8 small whole wheat hamburger buns or rolls
---
Instructions
In a large mixing bowl, combine the beans, nuts, salt, pepper, and oats.
Heat 1 teaspoon of olive oil in a skillet set over medium heat. Add onions and cook, stirring frequently, until softened, about 5 minutes. Add the garlic and Italian seasoning and cook until fragrant, about 1 minute. Take the skillet o the heat and stir in the carrots. Pour mixture into the bowl with the beans and, using a fork or avocado masher, mash 
and stir the mixture until combined.
Mix in the egg and feta cheese. Divide mixture into eight equal portions and shape 
into 21⁄2-inch round patties.
Wipe out the pan used to cook the onion and garlic mixture, then set over medium 

heat. Add half of the remaining olive oil and, once hot, add half of the veggie burgers, cooking 5 minutes on each side. Repeat with the remaining oil and burgers. 

Serve burgers on buns and top with a little Greek yogurt, feta cheese, and chopped olives. Or, go the traditional route and top with ketchup and mustard. 
Notes
For serving: These are delicious topped with hummus and a sprinkle of dried or fresh oregano. Or, you can go the traditional route and top with ketchup and mustard.
Nutrition
Serving Size:

8

Calories:

207

Sugar:

2

Sodium:

143

Fat:

9

Saturated Fat:

2

Unsaturated Fat:

6

Trans Fat:

0

Carbohydrates:

26

Protein:

7

Cholesterol:

27