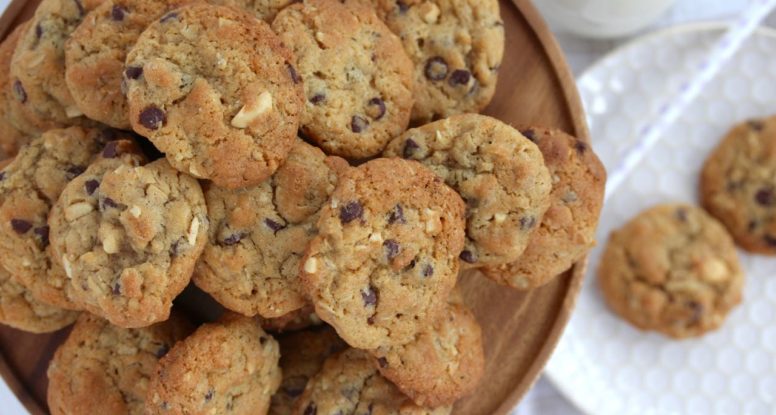 Oatmeal Chocolate Chip Cookies
When I'm hankering for something sweet, I turn to my tried and true recipe for Oatmeal Chocolate Chip Cookies.
After years of eating store-bought cookies, I have officially decided "no more!" In fact, I'm not even tempted to go down the cookie aisle in the grocery store anymore. Really, I'm not!
Why I Prefer Homemade Cookies – Especially these Oatmeal Chocolate Chip Cookies
As if I really need to explain this, but I will. So, in no certain order, here are my reasons for taking the time to MAKE my Oatmeal Chocolate Chip Cookies, rather than buy them.
They taste better! Oh yes, yes they do. So much better. No weird plastic or cardboard after-taste. Just cookie goodness.
They're better, nutritionally speaking! I use whole wheat flour along with less sugar than what's typically used in many store-bought brands and I use pronounceable ingredients.
They're just the right size! This is a big one for me. So many store-bought cookies are HUGE. How are you supposed to get portion size right when companies super-size everything? With my cookies, you don't have to guess. One rounded tablespoon of dough results in the perfect-sized cookie.
They're fun to make! Yes, I love to bake and for me, the process of making the cookies is part of the fun. There's something reassuring and cathartic about mixing the ingredients, then portioning them and baking them.
They can be made by little hands! As you know, I love cooking with my toddler. And go figure, she LOVES to help when I make cookies. This recipe is easy and fun for little ones. Just be sure to include plenty of adult supervision, when necessary.
So you see, making your own cookies just makes sense in so many ways. Don't believe me? Well, then I suggest you get in the kitchen so you can whip up a batch of these Oatmeal Chocolate Chip Cookies to see just what I mean.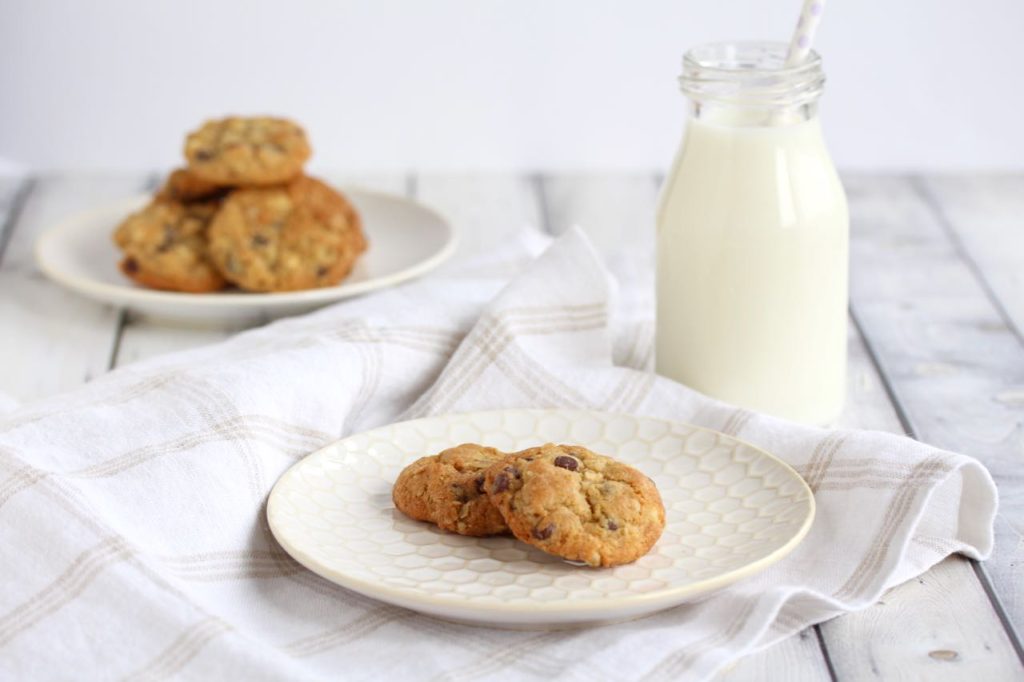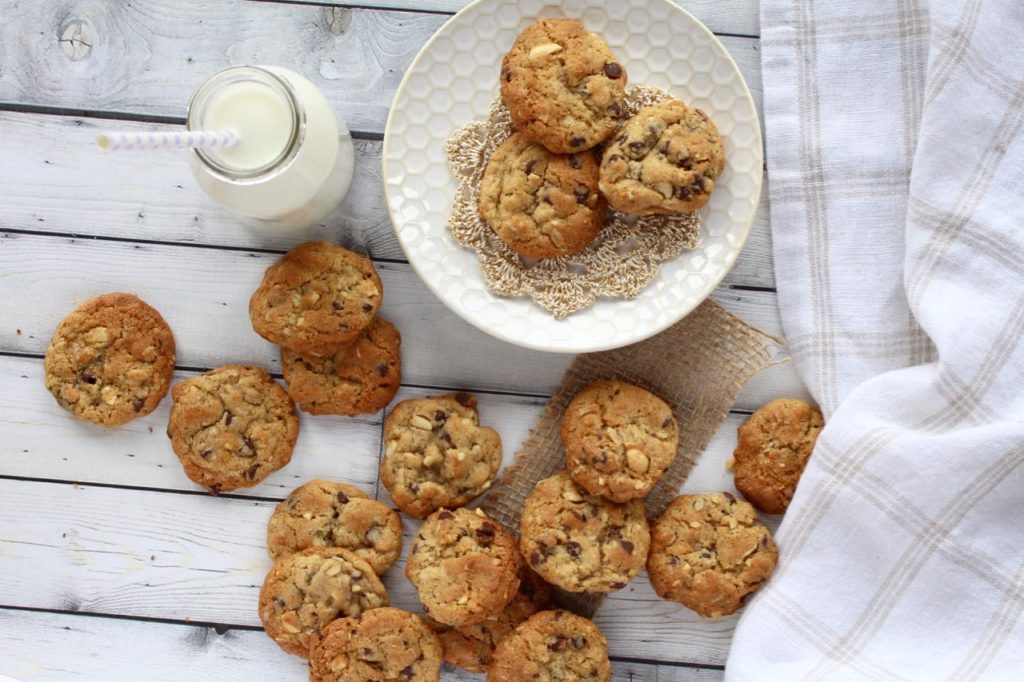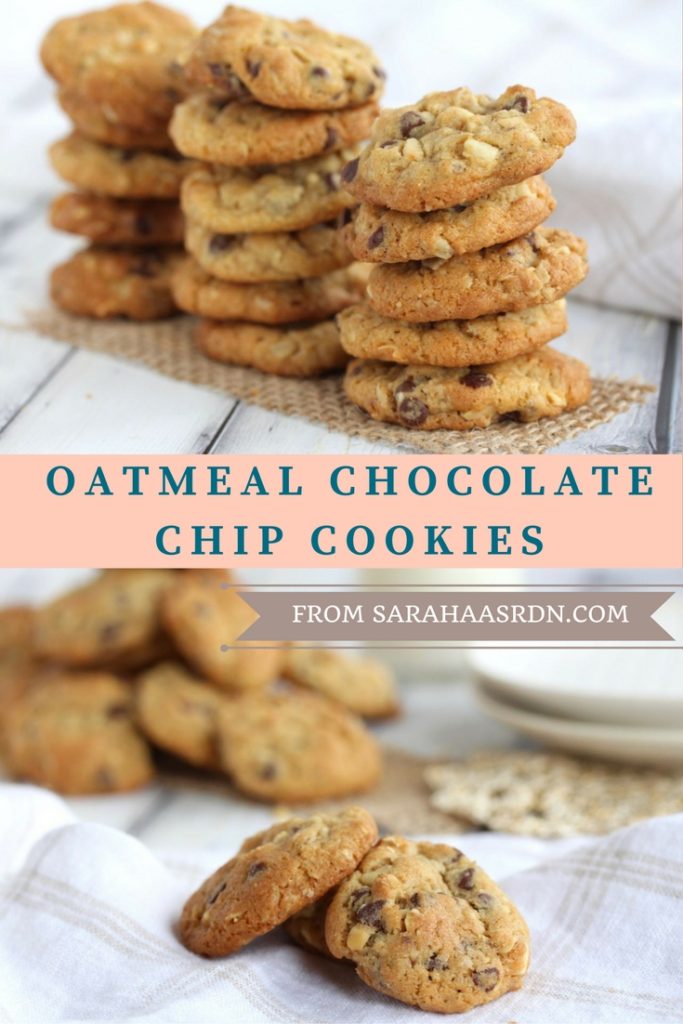 Print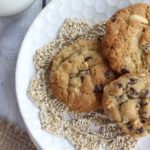 Oatmeal Chocolate Chip Cookies
---
1/2 cup

all purpose flour

1/2 cup

white whole wheat flour

1/2 teaspoon

baking soda

1/2 teaspoon

baking powder

1/4 teaspoon

Kosher salt

1/2 cup

butter, softened

1/3 cup

granulated sugar

1/3 cup

packed brown sugar

1

large egg

1 teaspoon

pure vanilla extract

3/4 cup

rolled old fashioned oats

1/4 cup

peanuts, chopped

1/2 cup

mini chocolate chips
---
Instructions
Preheat the oven to 350'F and line cookie sheets with parchment paper.
In medium bowl, whisk together the flours, baking soda, baking powder and salt.
In the bowl of a stand mixer, using the paddle attachment, whip the butter until creamy, about 2-3 minutes. Scrape down the sides of the bowl and add the granulated sugar and the brown sugar. Blend about 1-2 minutes. Add the egg and vanilla and mix until combined, about 20 seconds. Scrape down the sides of the bowl again, then add the flour mixture. Blend on low speed until just combined. Add the oats, peanuts and chocolate chips and mix until just combined.
Drop dough using a tablespoon measuring spoon, on the prepared cookie sheets, a couple of inches apart from each other. Bake for 10-12 minutes or until golden. Allow to cool slightly on the pan before moving to a rack to cool. Repeat with remaining batter.
Notes
Makes 44 cookies
These cookies freeze well too. Let them cool completely before placing in a re-sealable freezer bag. Place in the freezer and store up to 2 months.
Nutrition
Calories:

3060

Sugar:

184

Sodium:

1703

Fat:

153

Saturated Fat:

80

Unsaturated Fat:

62

Trans Fat:

4

Carbohydrates:

373

Protein:

57

Cholesterol:

449