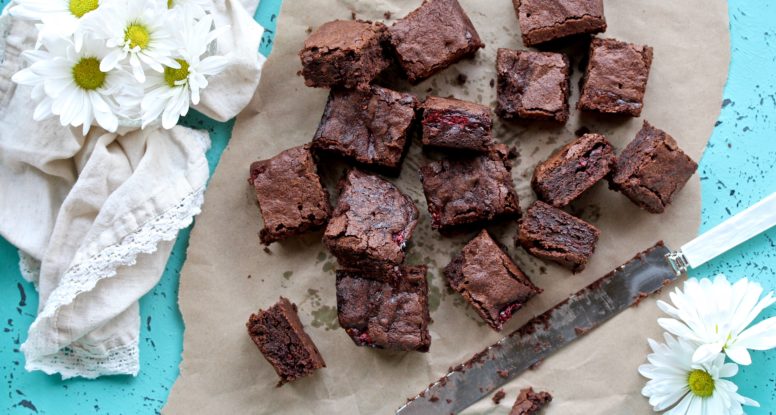 Outrageous Raspberry Brownies
Do you ever crave something? Wait, if you're human, I am certain that you do. Well, recently I've been craving chocolate and raspberries. It's a combination I've loved since I was a kid. And it all has to do with a guy named Ben and a guy named Jerry. And here's the story on how these Outrageous Raspberry Brownies were created!
The Good Old Days
When I was a kid I didn't give a care about calories (and I still don't!). What I cared about was riding my bike, playing with my Barbies and eating ice cream. And it was magical time. Can I go back? 🙂 Those really were the good old days. No responsibilities, just living life to the fullest. Ice cream was (and still is!) one of my favorite sweet treats, so imagine my excitement when…
Who Are Ben & Jerry?
That's right, when Ben & Jerry's made it's way to Indianapolis (where I grew up). The place was seriously the coolest thing to hit our city. Okay, maybe just to me and my friends. But seriously, I can even remember the feeling of going there, I remember the wallpaper, the smell, EVERYTHING! And when my dad told me all of the flavors, I just couldn't even contain myself! I mean, Chunky Monkey? Phish Food? Is this place for REAL? So you see where I'm going, I loved this place so much. Thank YOU Ben and Jerry, whoever you are!
Raspberries & Chocolate Meet. Introducing Outrageous Raspberry Brownies!
I didn't know what flavor to get. I mean, how do you choose when there are so many awesome choices? But, when my dad announced there was chocolate with raspberry swirl, well, I was intrigued. And let me tell you, that was one magical experience. The combination that I crave to this day. So, so good!
Brownies!
Sadly, they don't make that flavor anymore, but guess what!? I can make some brownies that taste just like that ice cream! Yep! And now I'm ready to share that recipe with you! And yeah, it's not a low-fat or low-calorie recipe…it's not made with black beans or avocado. It's straight-up brownies. And that's okay, okay? As I always say, treat yourself, just keep the portion small! Got it? Good! Now get baking!
Print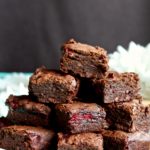 Outrageous Raspberry Brownies
---
Author:

Total Time:

50 minutes

Yield:

16

brownies

1

x
Description
Raspberries and chocolate are the ultimate sweet combination! Try these Outrageous Raspberry Brownies because you deserve to be happy!
---
1 cup

raspberries

1 teaspoon

granulated sugar

9 tablespoons

salted butter

3/4 cup

unsweetened cocoa powder

1/4 teaspoon

kosher salt

1 cup

granulated sugar

1/4 cup

packed brown sugar

1 1/2 teaspoons

vanilla extract

3

large eggs

3/4 cup

all-purpose flour

1/3 cup

mini chocolate chips
---
Instructions
Preheat the oven to 350'F. Coat a 9×9-inch pan with non-stick cooking spray then line with parchment paper. Allow for a bit of overhang to make for easy removal after cooking.
To a small bowl, add the raspberries and 1 teaspoon of sugar. Toss together then mash gently with the back of a fork. Set aside.
Melt the butter in a small sauce pot over medium heat. Remove from heat and transfer to a medium mixing bowl. Cool slightly, then whisk in the cocoa powder, salt, sugars and vanilla extract. Add eggs one at a time, mixing well after each addition. Stir in the flour, mixing until just combined. Fold in the chocolate chips.
Pour 1/2 of the batter into the prepared pan. Spread to cover the bottom. Top with the macerated raspberries. Then top with the remaining batter. Carefully spreading to cover the raspberries. Bake for 35 minutes or until baked through, when a toothpick inserted into the center of the pan comes out clean.
Cool on a wire rack before removing and slicing.
Notes
I use salted butter here because I personally like too. But feel free to try unsalted, you just may need to increase the kosher salt in the recipe.
Prep Time:

15 minutes

Cook Time:

35 minutes

Category:

Dessert