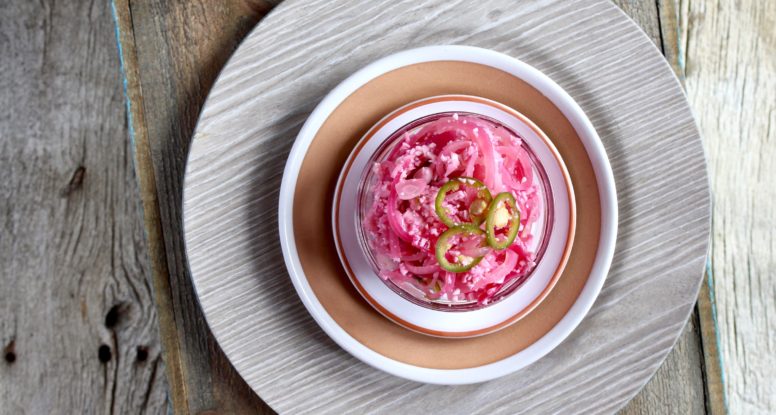 You Can Pickle That! Pickled Onions, Cauliflower & Jalapeño.
"You can pickle that!"
decree Fred Armisen and Carrie Brownstein – from the show Portlandia
Perhaps you haven't seen this episode of one of my favorite shows. If you haven't, Google it, because it's hilarious. The premise is that you can pickle anything. And they mean anything from dropped ice cream cones to parking tickets. The skit is genius and I love it.
Ok, so you can't really pickle anything, but you sure can pickle a lot of things. And pickled things taste AWESOME! Besides preserving foods, pickling also adds that touch of sour and salty that can really elevate a recipe. It's way more interesting to taste something that challenges your palate, and pickled foods do just that. And how do these foods fit with fulfilling the needs of Fertility Friday and the Recipe Redux? Let's tackle Fertility Friday first.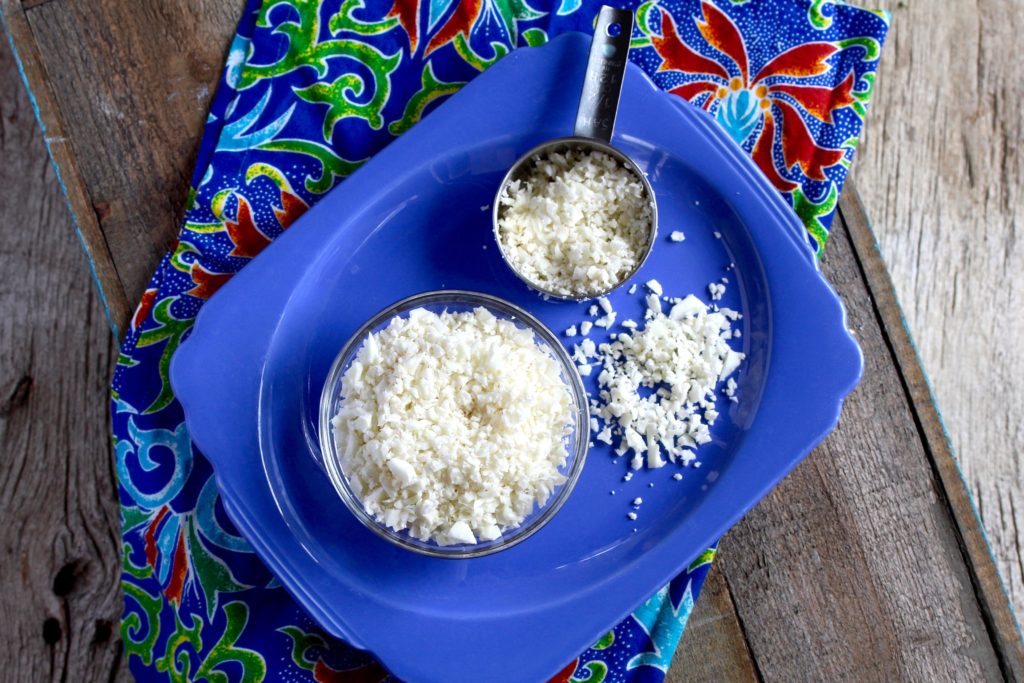 Pickled Onions, Cauliflower and Jalapeños & Fertility Friday:
Perhaps it's a stretch to combine these concepts, but I really don't think so. Here's why – sometimes you have to think "outside the box" when it comes to flavoring your food. Maybe you're trying to watch your sugar intake or avoid ingredients/food products that are overly-processed or have undesirable additives. I know that's something I personally am always trying to do. But when you do that, you may find your options start to dwindle. That's where creativity comes into play – by making your own condiments! No, it's not hard, and making your own is quite a satisfying experience! Case-in-point, these pickled onions, cauliflower and jalapeños. No weird ingredients here, just simple food that's super flavorful and delicious.

Pickled Onions, Cauliflower and Jalapeños & The Recipe Redux:
This month's Recipe Redux challenge was to creatively "cut" the bounty of produce we're finding right now and include it in a recipe. Since cauliflower "rice" is such a big deal right now, I decided to give it a try. The result? I loved it! I did! But I wanted to pickle something so badly – then I thought, well, why can't I pickle that? Ha! Thanks Portlandia! So, that's just what I did, I pickled some of that cauliflower rice with sliced onions and jalapeños and the result was AMAZING! So catch the recipe for my Pickled Onions, Cauliflower and Jalapeños which includes how to make cauliflower rice. THEN, stay tuned for fun ways to use my pickled onions. Hint – tacos, salads, sandwiches……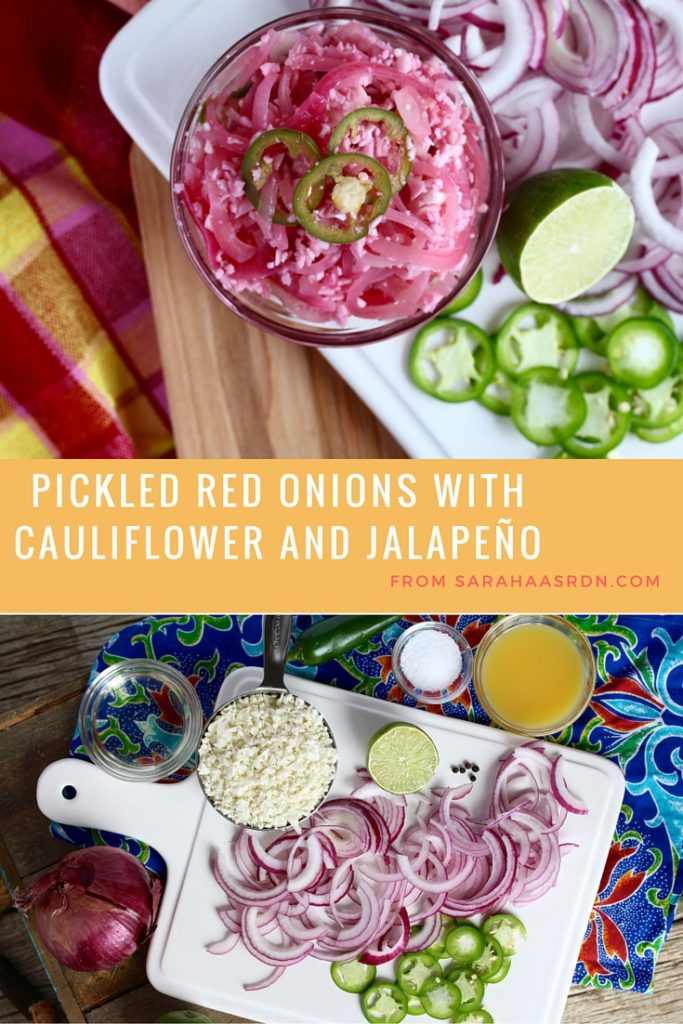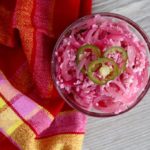 Pickled Onions, Cauliflower and Jalapeño
---
Description
This pickled veggie combination makes the perfect accompaniment to any of your favorite Mexican dishes!
---
1/2

medium red onion, sliced (about

1 1/2 cups

)

4 cups

water

1 cup

grated cauliflower florets (see Note)

1/2

jalapeno, sliced

1/3 cup

white wine vinegar

5

black peppercorns

2 tablespoons

lime juice

1/3 cup

orange juice

1 teaspoon

Kosher salt
---
Instructions
Place the sliced onions in a medium, non-reactive bowl. Heat the water on the stove until boiling. Once boiling, pour over onions. Let sit about 15 seconds then strain the onions in a colander or sieve set over the sink. Once drained, transfer the onions back to the non-reactive bowl and add the cauliflower and the jalapeños. Set aside.
To the now dry pot, add the vinegar, peppercorns, lime juice, orange juice, and salt. Set over medium heat and allow it to come to just a boil, about 5-6 minutes. Remove from the heat and pour over the onions. Stir, then pack mixture down with a spoon. Allow to cool about 20-30 minutes, pack down again, cover and refrigerate.
Let "pickle" in the fridge for at least 2 hours, but overnight is even better.
Remove from pickling liquid and enjoy!
Notes
To make grated cauliflower, or cauliflower rice – Wash and pat dry a head of cauliflower. Remove the leaves and large stems. Using a box grater (with medium grating holes) or a food processor with the chopping attachment, grate/pulse cauliflower until it's the size of rice. Note, one head of cauliflower will make about 4 cups of cauliflower rice.
Portion size: 4 each
Nutrition
Serving Size:

4

Calories:

35

Sugar:

3

Sodium:

611

Fat:

0

Saturated Fat:

0

Unsaturated Fat:

0

Trans Fat:

0

Carbohydrates:

7

Protein:

1

Cholesterol:

0