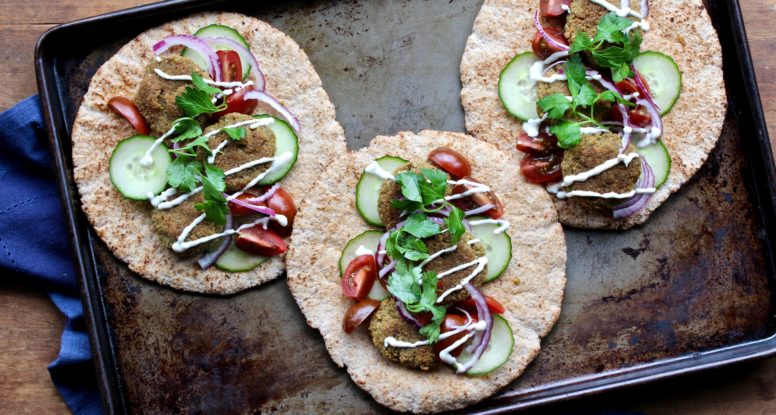 Pistachio Chickpea Falafel
"I received free samples of Wonderful Pistachios mentioned in this post. By posting this recipe I am entering a recipe contest sponsored by Wonderful Pistachios and am eligible to win prizes associated with the contest. I was not com- pensated for my time."
Never did I dream that I would ever be posting a falafel recipe on my website. Let's just say I had a bad falafel salad instance years ago. And I just couldn't get myself to try it again. Until THIS YEAR. Seriously, this has been the year of falafel and I'm glad I've given it a second chance, because it's AWESOME! And I'm really digging this version, loaded with pistachios!
Not Your Average Falafel
Falafel is an amazing culinary creation. Somehow, people figured out how to turn a bunch of dried chickpeas into something delicious and (likely unbeknownst to them) nutritious! Hats off to them for that accomplishment! Sure, oftentimes, falafel are fried, but relatively speaking, the amount of fat absorbed is usually not incredibly disastrous. And these little gems are super satisfying with all of those legumes and spices! And while the traditional versions, sometimes made with fava beans too, are amazing, I wanted to put my twist on them.
Pistachios, Meet Falafel. Falafel, Meet Pistachios.
Okay, so there really wasn't formal greeting between the two, but it was, it seemed to me, the perfect combination. Pistachios add some subtle texture, not too dissimilar from the ground, soaked chickpeas. And pistachios are the perfect, mildly sweet complement to all of the spices and garlic in falafel. It was destiny, you see, that they should meet.
Talk About a Satisfying Meal!
Here's why I love adding pistachios to my falafel. Besides the aforementioned texture and taste, I love that pistachios pack some serious nutrition as well. As someone who is constantly looking for satisfying, nutritious foods to keep me going throughout my day, I'm always turning to my stash of pistachios. And I love that the Wonderful Company calls them The Fit NutTM. Earning that distinction because they are one of the highest protein and fiber snack nuts. I mean, I'm pretty sure that if they could bench press, they totally would! They at least inspire me to bench press, which is pretty darn cool, right? So you see, pistachios IN your falafel = a satisfying meal!!!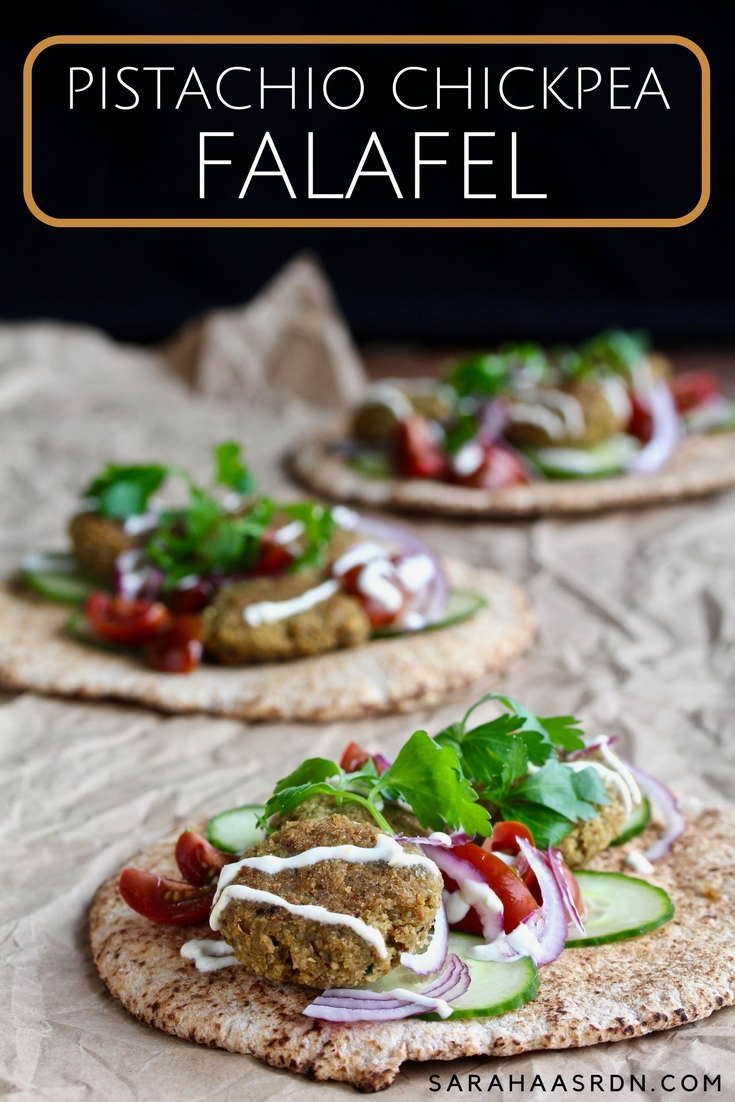 Make This! And then Try Some of My Other Recipes:
Chipotle Pumpkin Black Bean Burgers
Print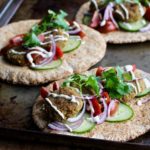 Pistachio Chickpea Falafel
---
Author:

Yield:

18

falafel

1

x
Description
If you haven't made falafel yet, now's the time. You'll love the addition of sweet pistachios in these Pistachio Chickpea Falafel.
---
For the falafel:
1 cup

dried chickpeas *(note these need to be soaked overnight, see below)

¾ cup

shelled Wonderful pistachios

2

cloves garlic

¼ cup

chopped onion

¼ teaspoon

ground cardamom

½ teaspoon

ground coriander

1 teaspoon

ground cumin

¾ teaspoon

kosher salt

¼ cup

parsley, chopped

1 teaspoon

baking soda

2 tablespoons

extra virgin olive oil
For the tahini-yogurt sauce:
1 tablespoon

tahini

1 teaspoon

lemon zest +

2 tablespoons

fresh lemon juice

¼ teaspoon

kosher salt

¼ cup

plain Greek yogurt

1

garlic clove, finely minced

1 teaspoon

water
pinch cayenne pepper
For serving:
3

whole grain pitas, toasted and halved
tomatoes, chopped
cucumber, thinly sliced
---
Instructions
To prepare the chickpeas:
Soak chickpeas in water overnight or up to 24 hours in the refrigerator.
To prepare the falafel:
The following day, drain and rinse chickpeas.
Add the chickpeas to the bowl of a large food processor, along with the pistachios, garlic, onion, cardamom, coriander, cumin and salt. Pulse a few times, scrape down the sides of the bowl, then add the parsley. Process until mixture is crumbly and fine, but not smooth like a paste. (It should be able to stick together when shaped into a patty.)
Shape the chickpea mixture into 18 small patties.
Set a large, non-stick skillet over medium-high heat and add half of the oil. Once hot, add half of the falafel and cook 5 minutes on each side, adjusting heat, if necessary, to prevent burning. Repeat with remaining oil and falafel.
While falafel are baking, make the sauce:
In a small mixing bowl, whisk together the tahini, lemon juice, lemon zest, salt, yogurt, garlic and water. Set aside.
To serve:
Place falafel in pitas, top with yogurt-tahini sauce, tomatoes and cucumber.
Notes
Don't have time to soak the chickpeas? Well, at least try to! 🙂 But you could also make the same recipe as above, but swap in two cans of garbanzo beans for the 1 cup of dried chickpeas.