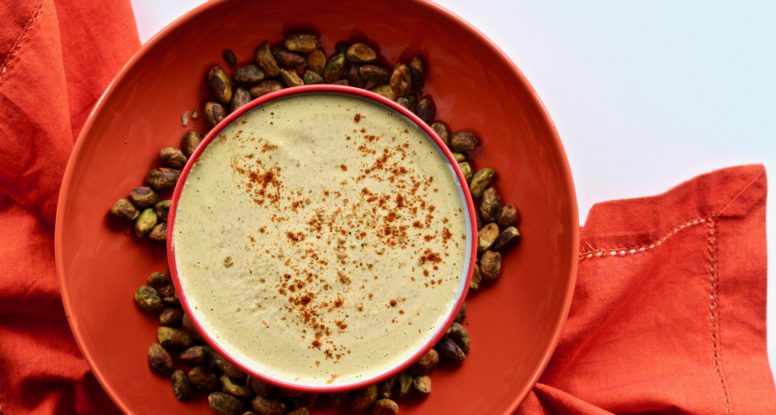 Pistachio Ras El Hanout Dip
It's a problem. I kind of spend most of my day dreaming about food. I dream about eating it and I dream about creating things with it. Well, maybe it's not a problem, considering I've chosen a career in food. I love a good food challenge too. I love when someone says, "well, I've got this and this and this, what can I make out of that?" They see a road block, but I see an awesome way to channel my food creativity. Case-in-point, this Pistachio Ras El Hanout Dip.
Channeling Food Creativity
It's like anything else, creating food dishes, that is. Most of your life you're told to color in the lines, you've got to sit up straight, you have to take the path most followed. That's annoying! Sure, rules are good, but sometimes you need space. Space to create and imagine! That's what channeling your food creativity is all about. It's about trying stuff and seeing if it works. It's about dreaming of flavors and combining them. Experimentation and freedom! And we aren't encouraged to follow it enough!
Bend the Rules
I've said it once, and I'll say it a million times, it's okay to bend the rules when it comes to food. We rely so heavily on recipes and meal kits and "bars," that we've essentially given up on the art of creating food. I know, I know, time is also an issue. But if that's the case, then how ever did you find the time to get those drinks with your friends? Or get your nails done? Yes, I know those are important things too, but so is cooking yourself some nourishing food. And here's the crazy part, you might actually enjoy it MORE this way!
Be a Leader!
So be a leader. Invite friends over and create some yummy food. Or take some time before you turn on the television to think about something yummy you'd like to try and make.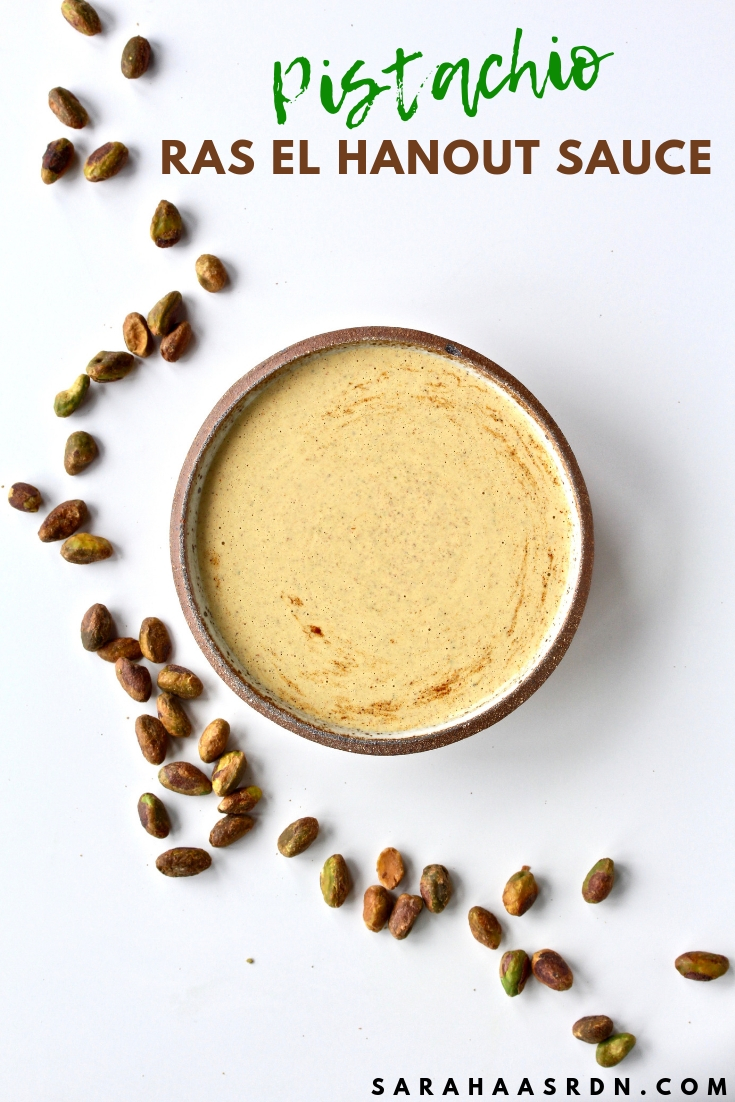 Use those Pistachios!
When you think outside the box, you'll see, it's pretty fun. That's how I came up with this Pistachio Ras El Hanout Sauce. I looked in my fridge and pantry and found first, the pistachios. Then I went to my fridge and found some Greek yogurt and thought, "that would be interesting." And then I found some lemon, but knew I needed more. How about a spice? YES! How about a spice I don't use often? YES! YES! So, yeah, then the Ras El Hanout came into play and the rest, as they say, is history! So you see, it's fun! And creative! And freeing! Now go make this sauce. It will change your life!
Print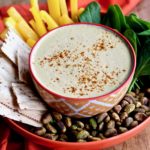 Pistachio Ras El Hanout Dip
---
Author:

Yield:

Makes about

2/3 cup

1

x
Description
Bust out of your sauce rut and try something new! You'll love the flavor and nutrition that comes with this Pistachio Ras El Hanout Sauce!
---
¼ cup

ground pistachios

2

garlic cloves, smashed

½ cup

plain Greek yogurt

2

tbsps lemon juice

1 tsp

lemon zest

1 tsp

Ras el Hanout* seasoning

¼ teaspoon

kosher salt
Water, as needed
---
Instructions
Place the pistachios, garlic, yogurt, lemon juice, lemon zest, Ras el Hanout and salt in a small food processor. Pulse to combine. Scrape down the sides of the bowl, then process until smooth, adding water as needed, 1 tablespoon at a time, until desired consistency is reached.
Serve with vegetables, pita bread, whole grain cracker or as a sauce for sandwiches, wraps or even pizza!
Tip – Want to amp up the flavor even more? Cook the Ras el hanout seasoning for about 1 minute in a small saucepan over medium heat in 2 teaspoons olive oil before adding to the sauce.
Notes
* Ras el Hanout is a blend of cinnamon, clove, coriander, cumin, nutmeg, pepper, cardamom, paprika and turmeric.