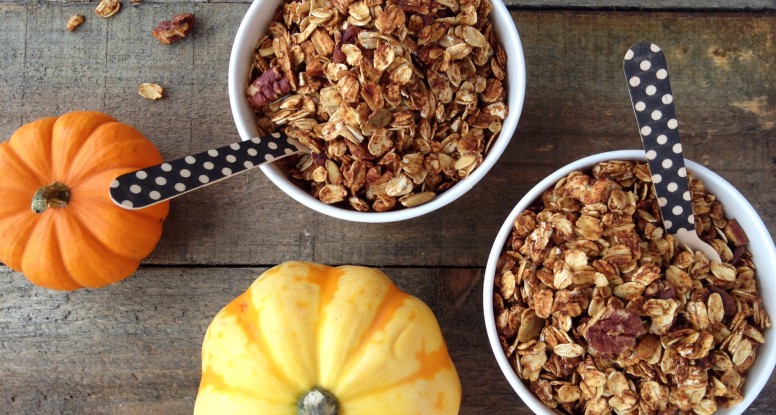 Pumpkin Spice Granola Recipe
I'm keeping this post simple because I feel it could easily get out of hand, fast!
Here's the deal, like the rest of America, I am in love with pumpkin.
For some people, this is just a trendy type of love, but for me, it's the real deal and it's got roots, people, serious roots. You see my love of pumpkin stems from my love of Halloween. And that love story began a long, long time ago, back when I was embarking on my first trick-or-treating experience. Long before I knew that candy was just the beginning of my beautiful (and believe it or not, healthy) relationship with all things sugar. Now that I have such an advanced palate (uh huh, yep, I do. Ha!) and a degree in Nutrition, I can take what I love and put a de"light"full spin on it. Enter, my pumpkin spice granola.
This granola recipe celebrates my love for pumpkin.
I want to put a cozy sweater on when I eat it and sit in a pile of leaves while I enjoy those warm heavenly spices like cinnamon and nutmeg, those toasty oats and pecans and that hint of pumpkin and honey. It's Fall in granola form. Make a batch and keep it in an air-tight container, in a nice cool, place and you'll have granola for the week. And the options are really endless when it comes to what do with it. I suggest adding a little pumpkin spice granola to your morning bowl of cereal or yogurt. Or use it as a topping for stewed apples or frozen yogurt. Or, just it as is, because it's just that yummy.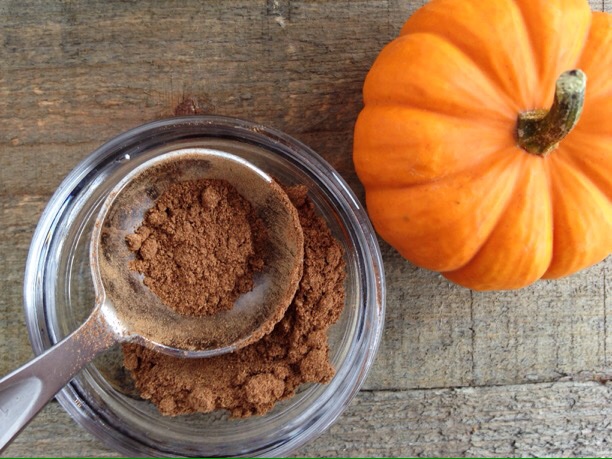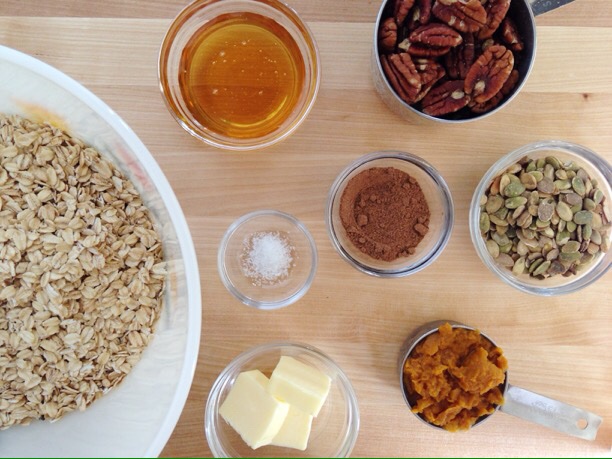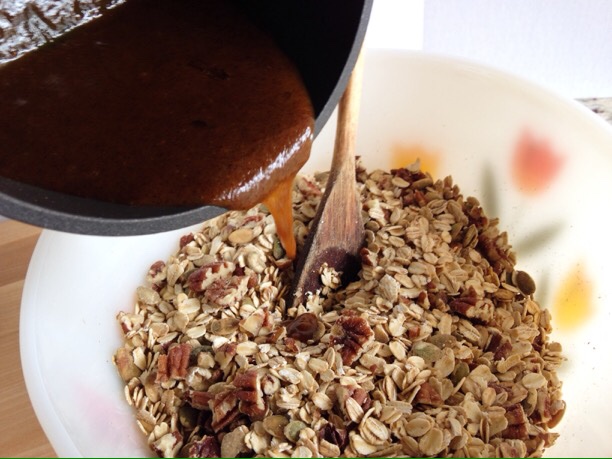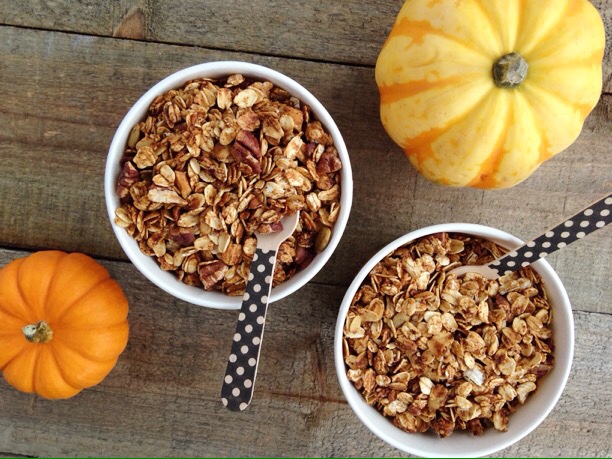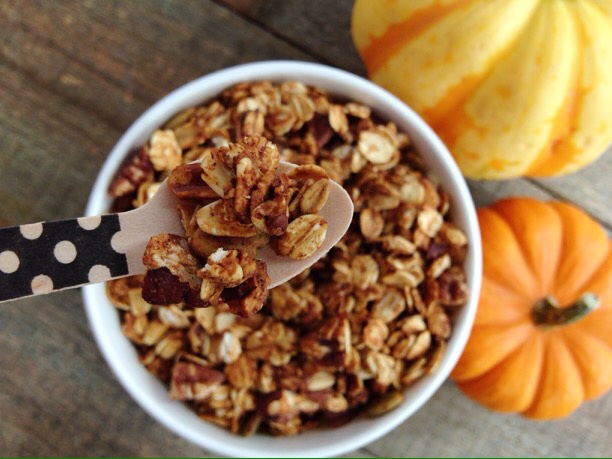 Print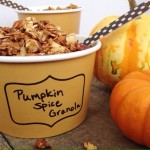 Pumpkin Spice Granola
---
Description
Delicious all year round, this pumpkin-infused granola is lovely on Greek yogurt, tossed into pancake batter or as a topping for baked apples.
---
1 cup

pecans, chopped

1/4 cup

pumpkin seeds

4 cups

rolled oats

1/4 teaspoon

sea salt or Kosher salt3 tablespoons butter

1/3 cup

pumpkin puree (not pumpkin pie mix)

1/4 cup

honey

1 tablespoon

pumpkin pie spice

1/2 cup

dried cranberries, optional
---
Instructions
Preheat the oven to 325'F and line a large sheet pan with parchment paper.
In a large mixing bowl, combine the pecans, pumpkin seeds, oats and salt. Set aside.
Heat a small pot over medium heat and add the butter. Once the butter has melted, add the pumpkin pie spice. Stir and cook for 1 minute. Add the pumpkin puree and the honey and stir, cooking an additional 1 minute. Remove from the heat and pour over the oat mixture, stirring to combine.
Pour oat mixture onto prepared sheet pan and place in the oven. Bake for about 22 minutes, stirring the mixture once halfway through cooking time to prevent uneven browning or burning.
Remove from the oven and allow granola cool on the pan. Stir in dried cranberries, if desired.
Notes
This recipe makes about 7 cups granola
Nutrition
Calories:

2475

Sugar:

119

Sodium:

624

Fat:

97

Saturated Fat:

11

Unsaturated Fat:

79

Trans Fat:

0

Carbohydrates:

372

Protein:

56

Cholesterol:

0