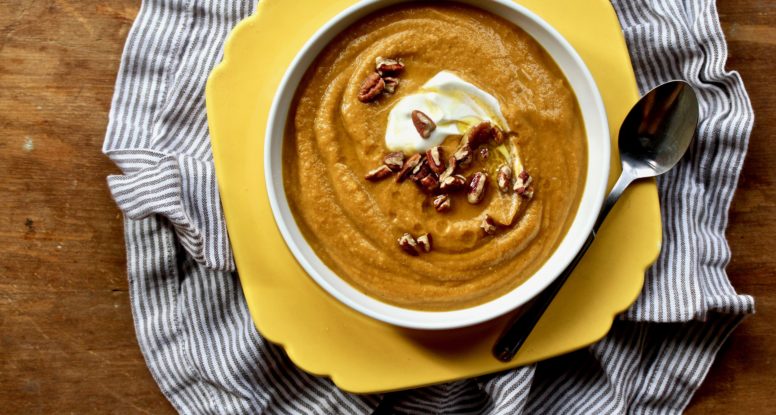 Pumpkin Spice Lentil Soup
I love pumpkins. There. I said it and now it's out of the way. I'm not sorry about it either. Because pumpkins are 100% awesome and they 100% make me happy. So happy that nearly all of the Halloween decorations in my house involve a pumpkin somehow. Beyond looking at them, I also love to eat them. And while I love a yummy sweet treat made with pumpkin, I also dig the savory stuff. Enter this Pumpkin Spice Lentil Soup!
Beyond The Bread
You can buy pre-made pumpkin spice at the store, but in case you didn't know it's usually a blend of cinnamon, nutmeg, cardamom and cloves. You've likely used it to make pumpkin pies, pumpkin mousse, pumpkin spice cake, and yeah, pumpkin spice lattes. But this blend of spices is SOLID! And by that I mean, it's a blend that tastes pretty awesome in several different applications…beyond the sweet stuff!
Pumpkin Spice Lentil Soup
Like soup! Who knew!? Well, I did and apparently lots of other people on Pinterest. Ha! But seriously, the earthy warmth this blend of spices provides makes it a natural pairing for not just pumpkin, but red lentils too! Too hard to believe? Trust me on this one. If you love pumpkin-flavored anything, you're going to love this soup!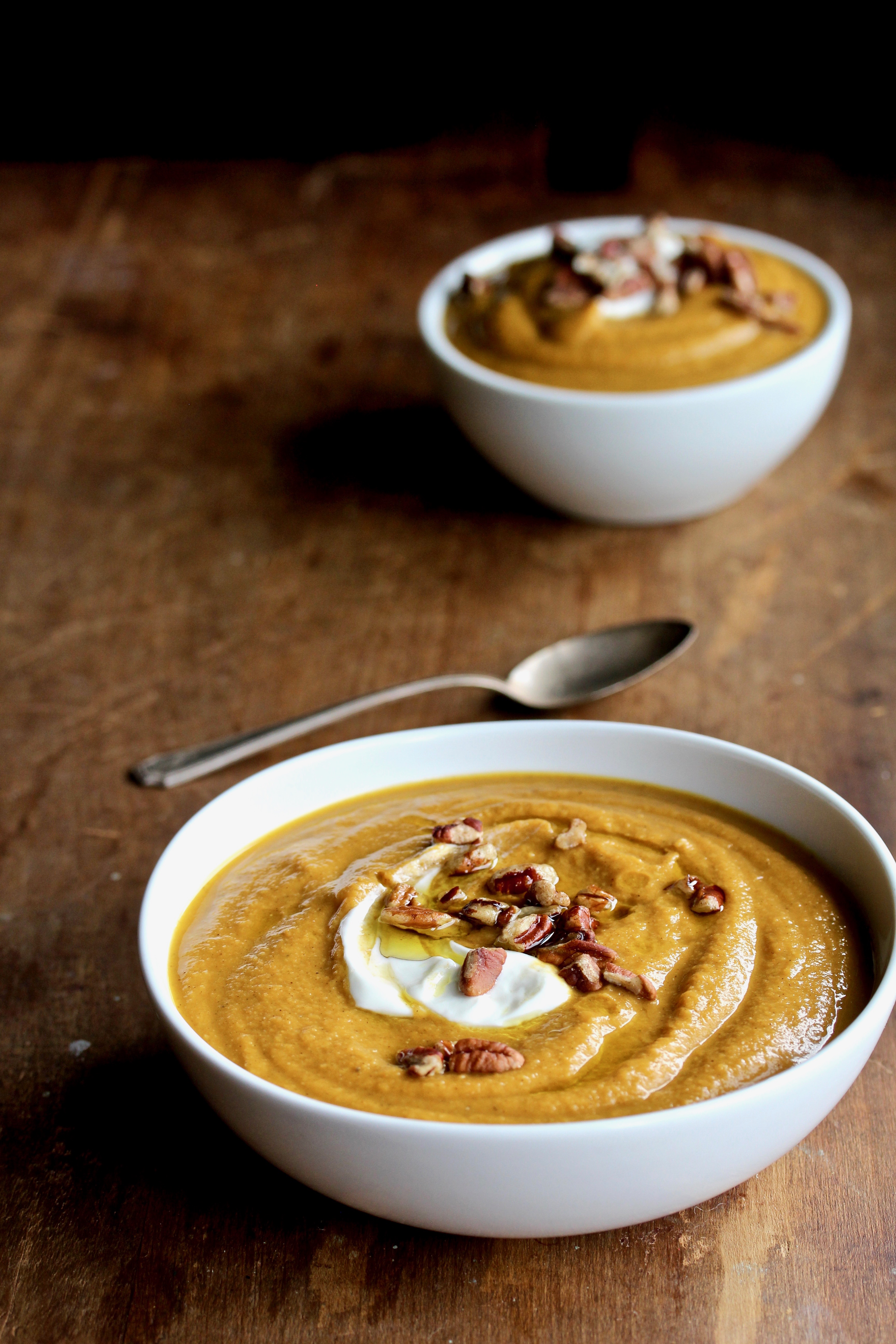 More Good News
Pumpkin and lentils are NUTRITIOUS! Yep, so that means this soup not only TASTES good, but it's GOOD FOR YOU! What's better than that? Oh well, since you asked, what's better than that is that it freezes well too. So you can make a batch, freeze it and enjoy all winter long! Such good news, right?
And now it's up to you! I want YOU to make this Pumpkin Lentil Soup! Tell me what you think — as long it's that you love it and worship the ground I walk on. LOL! Happy soup-ing friends!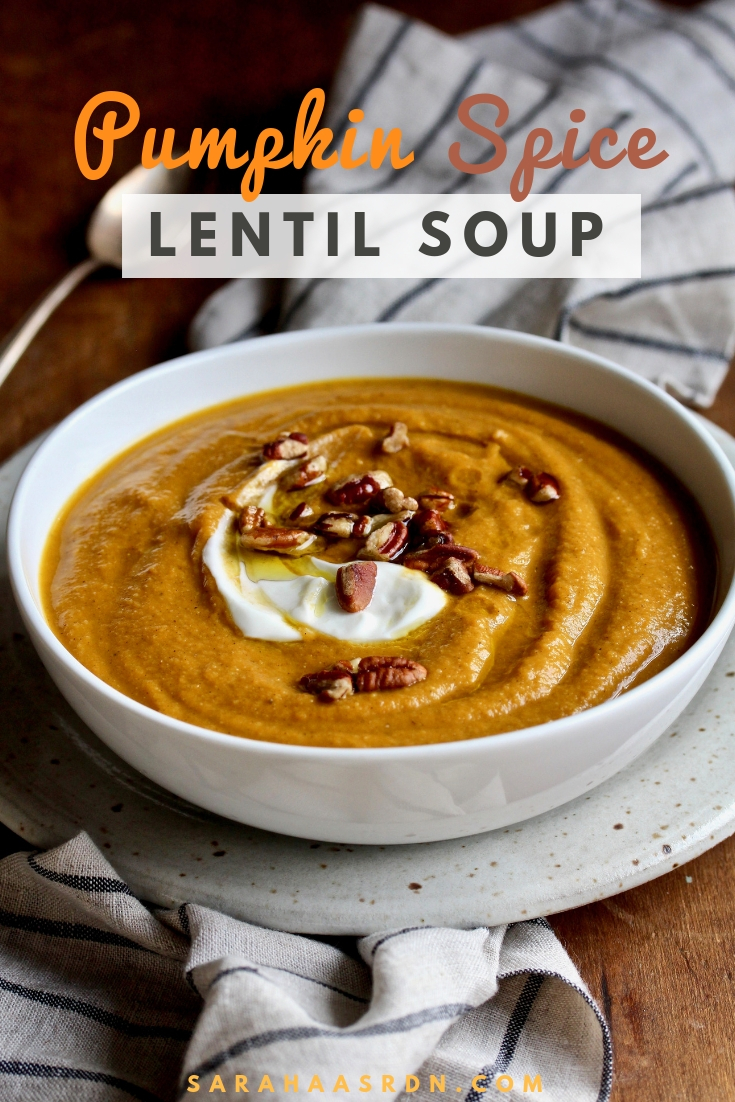 Print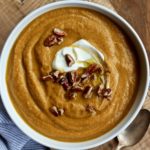 Pumpkin Spice Lentil Soup
---
Description
Pumpkin spice isn't just for sweet dishes! You'll love this blend of spices when cooked with red lentils, yummy aromatics and pumpkin to make this Pumpkin Spice Lentil Soup!
---
For the soup
1 tablespoon

extra virgin olive oil

½

white onion, diced

2

large carrots, peeled and diced

2

-inch knob ginger, peeled and minced

2

cloves garlic, minced

 

1 teaspoon

ground cinnamon

1/8 teaspoon

ground cardamom

1/8 teaspoon

ground cloves

¼ teaspoon

ground nutmeg

1 cup

red lentils, sorted and rinsed

1 cup

pumpkin puree

 

4 cups

low-sodium vegetable or chicken broth

1 tablespoon

apple cider vinegar

¾ teaspoon

kosher salt

2

packed teaspoons brown sugar
For garnishing
plain Greek yogurt, for serving
chopped pecans, for serving
---
Instructions
Set a medium saucepan over medium-high heat. Add the oil. Once hot, add the onion and carrots and cook until softened, about 8-10 minutes. Add the ginger and garlic, cook an additional minute, until fragrant. Add the spices and stirring constantly, cook for one minute. Stir in the lentils, pumpkin puree and broth and bring to a boil. Reduce heat to a simmer and cook, partially covered, until lentils are tender, about 40-45 minutes.
Working in batches, carefully puree the soup until smooth. Stir in the vinegar, salt and sugar and thin with extra broth or water, if desired. Serve garnished with yogurt and pecans.