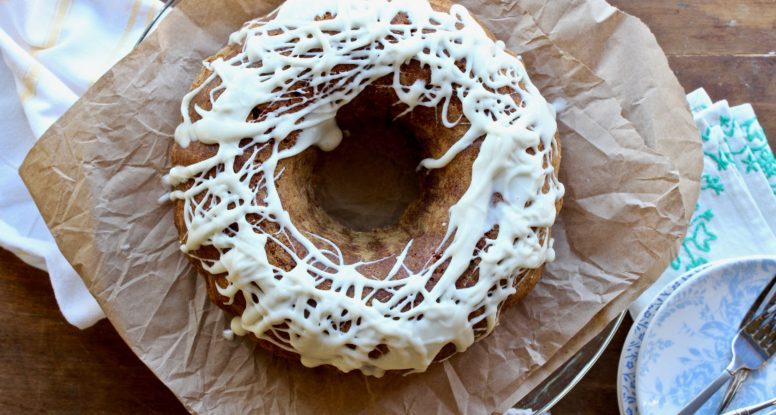 Rainbow Carrot Bundt Cake
Every Easter I always try to make some delicious dessert. It usually involves coconut, because, I for some reason, associate that with spring and Easter. This year I considered another coconut confection, but decided to break tradition and test out carrot cake. But not a layered carrot cake, I wanted a CARROT BUNDT CAKE!
Tell Me The Story Sara!
Well, here's the funny thing about life. Just when you think you've got things sort of figured out, you don't, and just when things seem to start going your way, they don't. Am I right? And that's life. And you just have to roll with that, no matter how hard that can be. What does that have to do with this Rainbow Carrot Bundt Cake? Well, everything!
Cake-tastrophe!
Here's what happened, I had just made this beautiful carrot bundt cake and put the pristine white icing all over it. I got it all set up so that I could take it's picture. And I got a few (that one up there is one of them)…until something bad happened. The board I was using as a prop behind it got knocked over (by yours truly, of course) and fell RIGHT ON TOP OF THE CAKE! Let's just say I wasn't happy and leave it at that. The cake was a mess…or so I thought.
The Little Sous Chef Saves The Day! Enter Rainbow Carrot Bundt Cake!
Enter, the little sous chef. She was standing by and I kid you not, she said, "mama, I can fix that." I looked at her, about to shoot her down, but then I really looked at her. She wanted to help, how could I possible say "no?" And boy am I glad I listened, because it was HER idea to turn this into a RAINBOW CARROT BUNDT CAKE! What could possibly be more fun and festive?

Moral of The Story
There's always a moral to a story, right? Well the moral here is (at least for me), listen and let other people help you. I know, it's a hard one for me, but whenever I do it, I feel better. I suggest you try it too! The other moral? Rainbow Carrot Bundt Cake is GOOD. So go and make it!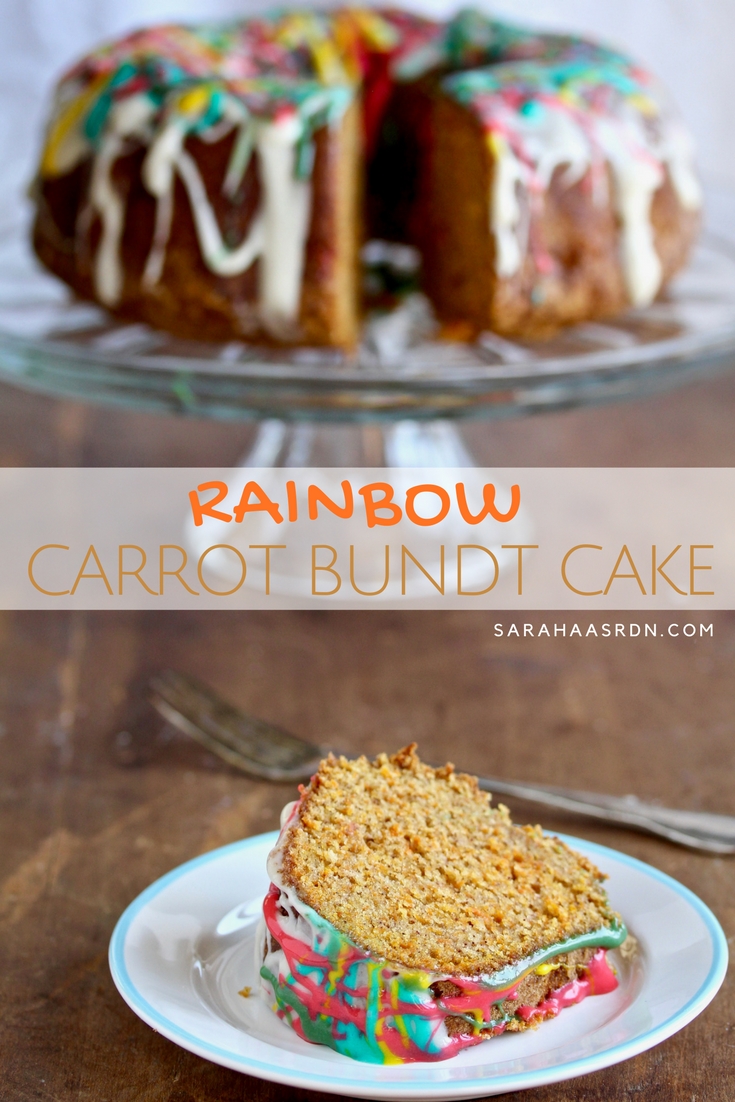 Print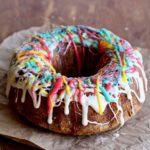 Rainbow Carrot Bundt Cake
---
Author:

Yield:

16

slices

1

x
Description
There's carrot cake and then there's CARROT BUNDT CAKE. I'm pretty sure you're going to love this delicious bundt version of a classic!
---
For the cake:
4

large eggs

1 1/4 cup

granulated sugar

3/4

vegetable or canola oil

1 teaspoon

vanilla extract

1 cup

all-purpose flour

1 cup

white whole wheat flour

2 teaspoons

ground cinnamon

1/4 teaspoon

ground nutmeg

2 teaspoons

baking powder

1 teaspoon

baking soda

1/2 teaspoon

kosher salt

3 cups

finely grated carrot (about

1

pound)

2 teaspoons

fresh orange zest

1/2 cup

toasted walnut pieces (optional)
For the Simple Syrup
2 tablespoons

water

2 tablespoons

sugar
For the Glaze
4 ounces

neufchâtel cheese

1 1/2 cups

powdered sugar, sifted

1/2 teaspoon

vanilla extract

2 tablespoons

milk (+ extra if needed for a thinner consistency)
---
Instructions
To Make the Cake:
Preheat the oven to 350'F. Butter and flour a 10-inch bundt cake pan. Set aside.
In a large mixing bowl, whisk together the eggs, sugar, oil and vanilla extract until fluffy. In a medium bowl, whisk together the flours, cinnamon, nutmeg, baking powder, baking soda and salt. Add the flour mixture to the egg mixture and blend until just combined. Fold in the carrots, zest and walnuts, if using. Don't over-mix. Bake cake for 45 to 55 minutes, or until a toothpick inserted in the center comes out clean.
Remove cake from the oven and allow to cool for 15 minutes on a rack. Run a toothpick or wooden skewer along the side of the pan gently, to help with removing the cake. Place the rack on top of the cake, then carefully flip over, invert the pan and pray that the cake comes out! Ha! Just kidding, it will!
Allow to cool to room temperature on the rack before adding simple syrup and glaze.
For the simple syrup:
To a small saucepan, add the water and the sugar. Set the pan over medium-low heat and stir until sugar is dissolved fully in the water.
Remove from the heat and let cool a few minutes.
Using a pastry brush or other food-safe brush, brush the cake with the simple syrup. Make sure you get the sides too! Let cool again for a few minutes before glazing.
To make the glaze:
To a medium mixing bowl, add the cream cheese and beat for about 1 minute. Add 1/2 cup of the powdered sugar at a time, fully incorporating it into the cream cheese before adding the next half cup. Once all of the sugar has been added, beat in the vanilla and milk. Thin with additional milk, if needed, to make a glaze that can be easily drizzled over the cake. If making rainbow glaze, divide glaze among 3 to 4 bowls. Add desired food coloring and mix until blended.
Drizzle glaze all over cake.
ENJOY!