Recipe Redux: English Muffin Bread
I absolutely love bread. I don't think I could possibly live without it, nor would I like to try. Bread finds its way into almost every one of my meals. Too much you say? Yes, perhaps, but you know I am a dietitian, so of course I am careful to always balance it with other healthful foods and try to choose whole grain versions.
My love of bread started at a young age, but that love grew even more once I attended culinary school. After my first baking class I realized that I could make bread! I had seen my grandmother do it, but never thought I was capable of such a daunting task. All of that yeast and kneading? Looked like a puzzling science project to me! But there I was, in class, making bread. Sure, it wasn't the best looking bread, but I made it myself. I was hooked and I wanted more! Well, you can imagine the joy in my heart then, the day I learned that the school had a monthly gathering of bread enthusiasts. This monthly gathering, fondly known as the Bread Guild, was where bread lovers got together and made bread under the careful direction of one passionate bread-baker-instructor named Chef Tom Beckman. So I went and I made bread and I failed more often than succeeded, but in that failure I learned. I learned that making bread is an art form. It requires patience for precisely measuring ingredients. It requires insight to know just when you're bread is properly proofed. It requires love to properly handle and knead it to perfectly work the gluten. And finally, it requires skill! And that skill comes from making bread over and over again.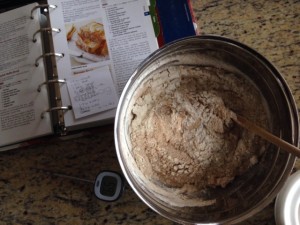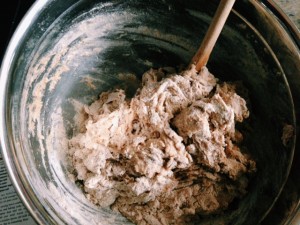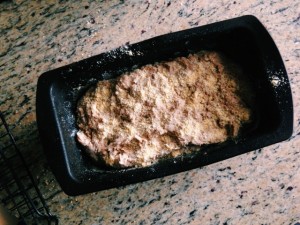 This month's Recipe Redux challenge was for us to open a cookbook and turn to page 42 or page 142 and make the recipe from either of those pages healthier. I went immediately to The Better Homes and Gardens Cookbook that was a wonderful gift from my in-law's for Christmas one year. I turned to page 42 and ironically, it was a page about reading the Nutrition Facts Panel. So, I turned to page 142 and I drew a sigh of relief because it was the bread section! English Muffin Bread lives on this page and boy do I love English Muffins, so I decided to Redux this recipe.
The original recipe is pretty simple, not requiring too many ingredients. Looking at it, I knew it could be amped-up nutritionally. So, I swapped out some all-purpose flour and replaced it with whole wheat pastry flour. Then I subbed honey for the sugar and added some ground flax seed. I felt like it was lacking a little salt, so I increased that to boost flavor. I love the results and am going to keep playing with this recipe to incorporate even more nutritious ingredients.
So, to make a long story, longer, I am so happy that this redux involved one of my favorite foods and one of my favorite cooking techniques. This bread recipe is a keeper and one I will be serving to friends and family. Heads-up, this is a fantastic bread for toast! Smear it with peanut butter and some slices of strawberry for a delicious breakfast or snack.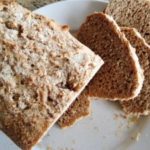 A Nutritious Redux of English Muffin Bread
---
Description
A more nutritious version of the original. Whole grain flour and flax seed is a perfect complement to this delicious hearty bread.
---
Cornmeal, as needed

1 1/2 cups

whole wheat pastry flour

1 1/2 cups

all-purpose flour

1

package active dry yeast

2 tablespoons

freshly ground flax seed

1/4 teaspoon

baking soda

1 cup

milk

1/4 cup

water

1 tablespoon

honey

1 teaspoon

salt
---
Instructions
Spray one 8x4x2-inch loaf pan with non-stick cooking spray. Lightly sprinkle pan with enough cornmeal to coat the bottom and sides; set pan aside.
In a large mixing bowl combine 3/4 cup whole wheat pastry flour, 3/4 cup all-purpose flour, yeast, flax seed and baking soda. In a medium saucepan heat and stir milk, water, honey and salt until just warm (120'F to 130'F). Using a wooden spoon, stir milk mixture into flour mixture. Stir in remaining flour.
Place dough in prepared pan. Sprinkle top with cornmeal. Cover and let rise in a warm place until double in size (about 45-60 minutes).
Bake in a 400'F oven about 25 minutes or until golden brown. Immediately remove bread from the pan. Cool on a wire rack.
Nutrition
Serving Size:

16

Calories:

118

Sugar:

2

Sodium:

176

Fat:

1

Saturated Fat:

0

Unsaturated Fat:

1

Trans Fat:

0

Carbohydrates:

23

Protein:

3

Cholesterol:

1