Red Lentil Soup with Toasted Cumin and Coriander
As a newly minted member of the Recipe Redux, I was overjoyed that my first recipe theme was "spooky" spices. "Great!" I thought, "I love Halloween and I love spices!" I had a million ideas, that was until I saw the complete description of the October theme. As I read on, it became clear that they were going with a different angle. It turns out that I had to find a spice that I was afraid of or one that I had used that turned out to be a total failure.
Embarrassingly, I have had plenty of total disasters involving spices. Let's see, there was the curried chicken dish that I served my husband that tasted like glue. Or the pot of 9 bean soup that had a flavor profile that likely resembled fresh dirt. How could I choose? I settled on cumin seed. Years ago I had made a recipe that called for toasting cumin seed. I was young and just out of college, trying to impress my friends. Thinking that I knew what I was doing, I set the cumin seed in the pan, turned the heat to high and walked away. Anyone who has toasted spices knows this is a huge mistake. Those cumin seeds went from smelling wonderful to smelling like a 5-alarm fire. It was a mess and without any back-up seeds, I had to serve a sub-par dish. So here I am, many years later, ready and willing to tackle the cumin seed again. This time, I would make soup and being older and wiser, I would stand-by, keeping an eye on those precious seeds so that they wouldn't burn.
Ironically, I now love toasting spices. It adds so much complexity and warmth to a dish. In this recipe I decided to use red lentils as a hearty neutral base because they accept spices so well. I included a trimmed and lightly macerated stalk of lemongrass to the cooking liquid to provide a refreshing hint of citrus. And to finish, I added light coconut milk which gives the soup a delightful creamy sweetness.
Fearful no more of toasting spices, I am instead grateful for the learning experience I got from those cooking disasters. I will continue to make mistakes, but from mistakes sometimes come the best results! Bon Appetit!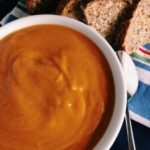 Red Lentil Soup with Toasted Cumin and Coriander
---
Description
Earthy red lentils cooked with toasted spices and lemongrass-infused broth then finished with a touch of light coconut milk.
---
1 tablespoon

olive oil

2

stalks celery, diced (about

1/2 cup

)

1/2

large yellow onion, chopped (about

1 cup

chopped onion)

1

large carrot, peeled and diced (about

3/4 cup

chopped)

1 teaspoon

whole cumin seed

1/2 teaspoon

ground coriander

1/8 teaspoon

cayenne

3/4 cup

red lentils, rinsed

2 1/2 cups

chicken or vegetable broth

1

stalk lemongrass, trimmed and smashed*

3/4 cup

light coconut milk

1 tablespoon

fresh lemon juice
---
Instructions
Set a pot over medium heat and add the oil. Once the oil is hot add the celery, onion and carrots and cook vegetables until softened, about 10 minutes.
Add the cumin seed, coriander and cayenne to the pot and cook, stirring frequently to toast the spices, about 1-2 minutes. Add lentils, broth and lemongrass and bring to a boil. Reduce the heat and simmer until lentils are cooked and tender, about 20 minutes.
Stir in the coconut milk and cook 5 minutes more. Add lemon juice, then remove pot from the heat.
Using a stick blender or regular blender, puree the soup to a smooth consistency. (Note: If using a regular blender, stay safe and prevent unwanted burns by blending in batches and allowing soup to cool slightly before pureeing.
Serve warm topped with a dollop of Greek yogurt.
Notes
To prepare the lemongrass for the soup, first remove the outer leaves from the stalk. Take off a few layers until you get to the more tender inner leaves. Trim off the root end and also cut off the top of the stalk, leaving about 5 inches of lemongrass. Gently smash the stalk using a meat mallet, the back of a large knife or rolling pin to release the oils and then add to the soup pot.
Portion is a generous 1/2 cup.
Nutrition
Serving Size:

6

Calories:

282

Sugar:

1

Sodium:

71

Fat:

13

Saturated Fat:

7

Unsaturated Fat:

5

Trans Fat:

0

Carbohydrates:

18

Protein:

24

Cholesterol:

52