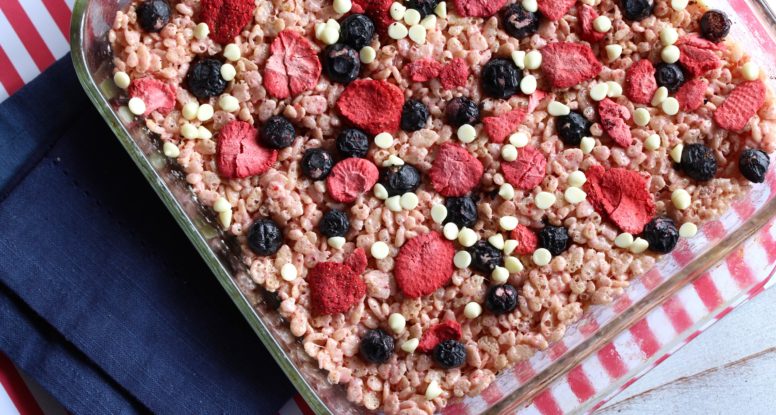 Red, White & Blue Crispy Rice Treats Recipe
Happy Fourth Of July!
In honor of this awesome day, I am sharing a recipe inspired by a recent conversation with my husband. Here's the backstory on why I created these Red, White and Blue Crispy Rice Treats.
I'm Tired, Let's Talk!
My husband and I have taken to having some kooky conversations after long days of work and parenthood. Mostly, they stem from the random thoughts that pop into our heads. Well, ok, mostly the random thoughts are coming from me. Likely because this is just how my brain works these days. It's literally an electric cloud of crazy up there. But the other night, he was the random one.
Fireworks! Parades! Crispy Rice Treats?
We were discussing fireworks and the Fourth of July and what we wanted to do to celebrate this great holiday. Amidst our excitement and talk of playgrounds, splash parks and farmer's markets (wow, we used to be cool, I swear!), my husband exclaims "and crispy rice treats!" Instead of being stupefied or confused, I exclaimed in return "YES!!!!" See, this is why our marriage works! Of course it makes sense to eat this iconic American food on this celebratory weekend. And yes, this is indeed the weekend we should introduce this awesome treat to our toddler! Immediately my brain started swirling (that electric cloud of crazy!) because of course, I wasn't going to make a plain old crispy rice treat bar. Nope, this one had to be different and fun!
Red, White and Blue!
So, with America's birthday as my inspiration, I created this layered crispy rice bar that just screams "U!S!A!" Simply mixing in crushed, freeze-dried fruit is the solution for "tinting" these patriotic bars. If you're feeling super inspired, you (or your kids, or whoever) can even cut these bars into shapes by using star or flag-shaped cookie cutters! My advice though? Just cut them in squares because if you're like my husband and me, you'll be too busy eating them!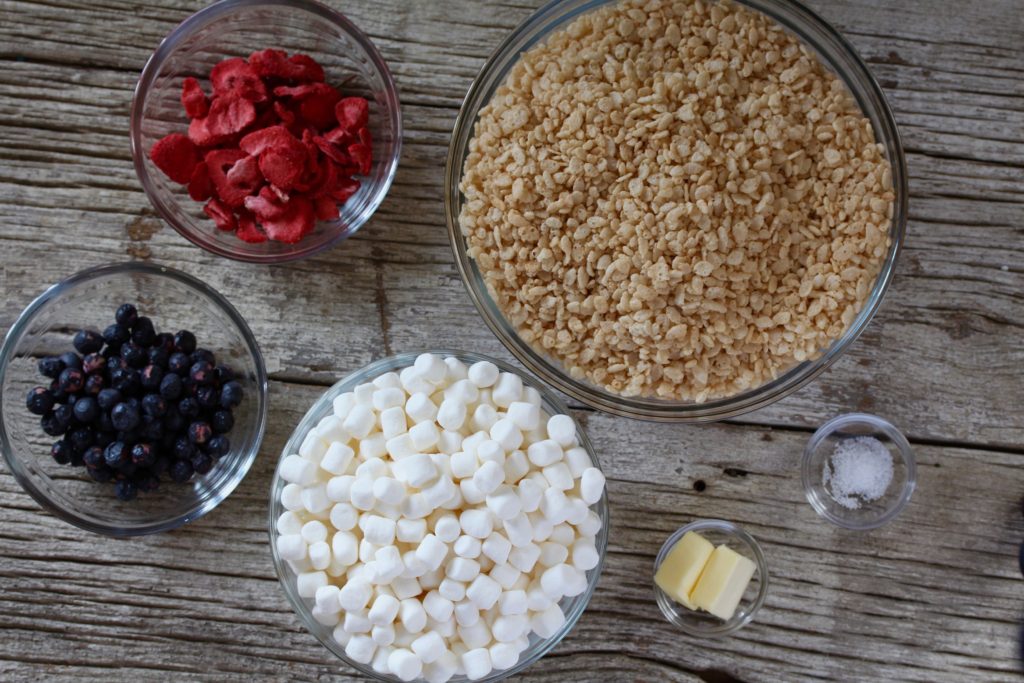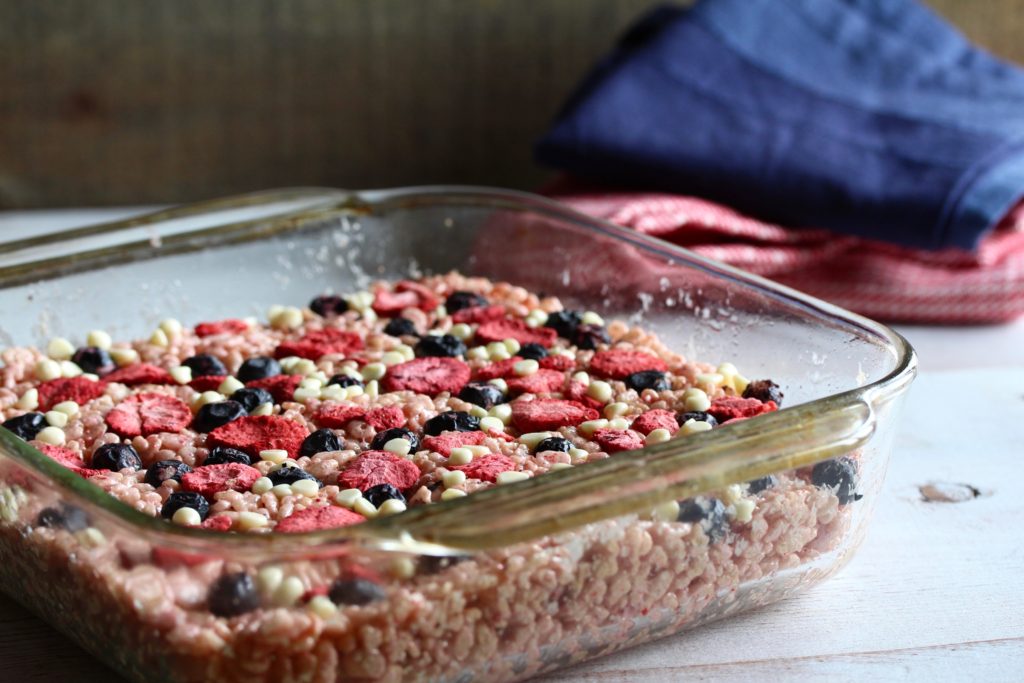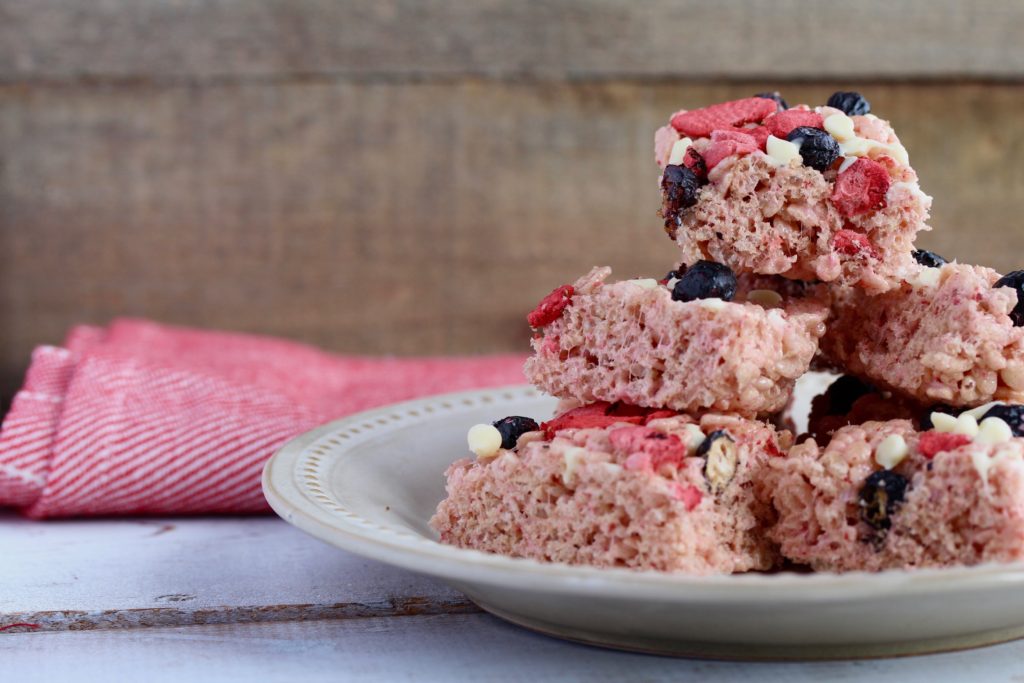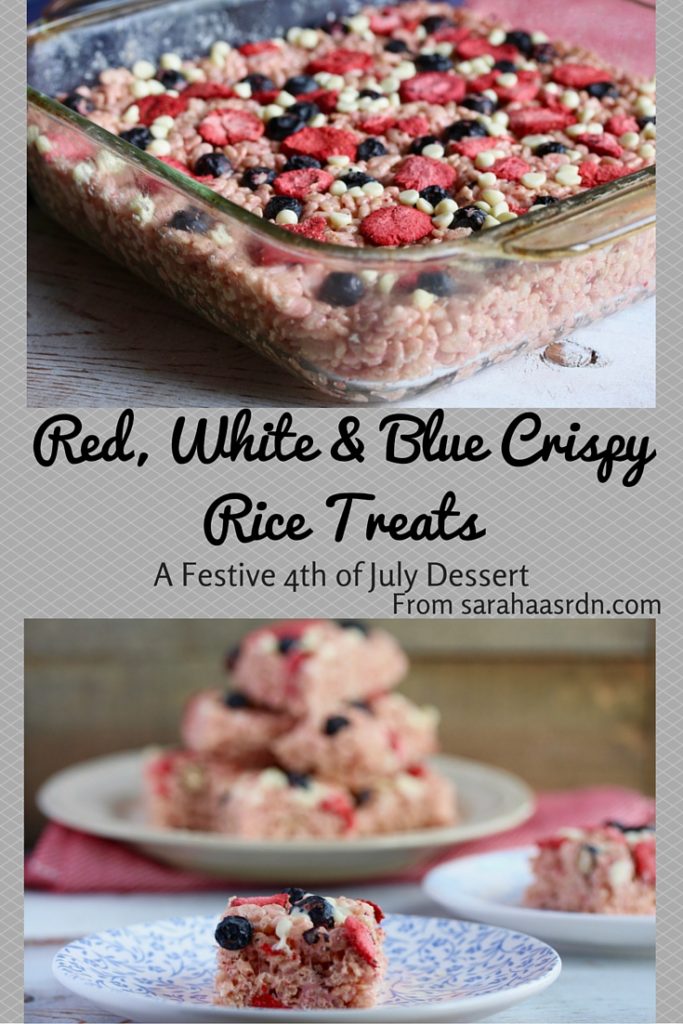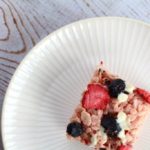 Red, White & Blue Crispy Rice Treats
---
Description
A Patriotic treat that you can enjoy anytime of the year!
---
1 tablespoon

butter

1/2 cup

freeze-dried strawberries, crushed

3 cups

mini marshmallows

1/4 cup

freeze-dried strawberries

1/2 cup

freeze-dried blueberries

4 cups

crispy rice cereal

1 tablespoon

mini white chocolate chips
---
Instructions
Coat a 9×9-inch baking dish with non-stick cooking spray.
Melt the butter in a pot set over medium-low heat. Once butter has melted, add crushed strawberries and mix until combined. Stir in the marshmallows and mix until melted. Add the rice cereal and mix until rice is coated with marshmallow mixture.
Transfer the mixture to the prepared pan and pat down firmly. Spread strawberries, blueberries and white chocolate chips evenly over the top and press down.
Allow to cool, then cut into 16 squares.
Notes
You can substitute any freeze-dried fruits for the strawberries and blueberries.
Freeze-dried fruits and chocolate can also be left-out if you prefer a plain crispy rice treat.
Nutrition
Serving Size:

16

Calories:

59

Sugar:

7

Sodium:

8

Fat:

1

Saturated Fat:

1

Unsaturated Fat:

0

Trans Fat:

0

Carbohydrates:

12

Protein:

1

Cholesterol:

2