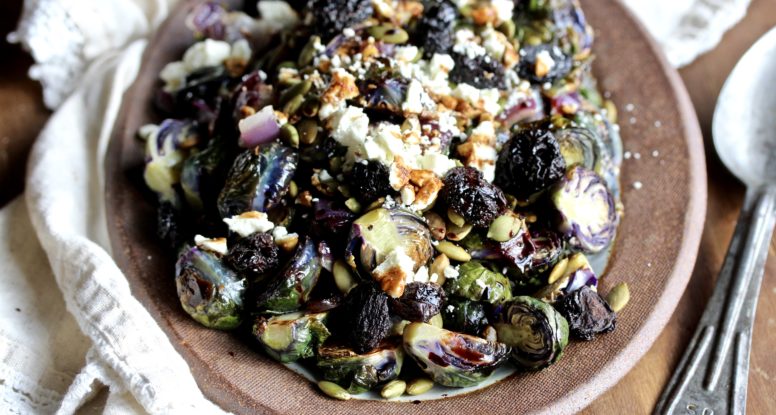 Roasted Brussels Sprouts
Sometimes the side dish is the main event. Has that ever been your experience? You sit down to a meal, looking forward to the main dish, only to be completely stunned then completely infatuated with the side dish instead? I love when that happens! I set out recently to make a really fabulous meal, but when all was said and done, the Roasted Brussels Sprouts stole the show. And honestly, I wasn't sad about it.
Side Dish Show Stopper
If you're looking for an easy, delicious side dish to serve at your next meal, then look no further than these Roasted Brussels Sprouts. If you're feeling really special, be sure to grab purple Brussels sprouts! They're a thing! Seriously, look at that pic below! This side dish show stopper starts with a simple roasting of Brussels sprouts with some red onion. Then, it's all about toppings – feta cheese, toasted pumpkin seeds and dried cherries. Then, to really make it a show stopper: a drizzle of balsamic reduction. Woo hoo!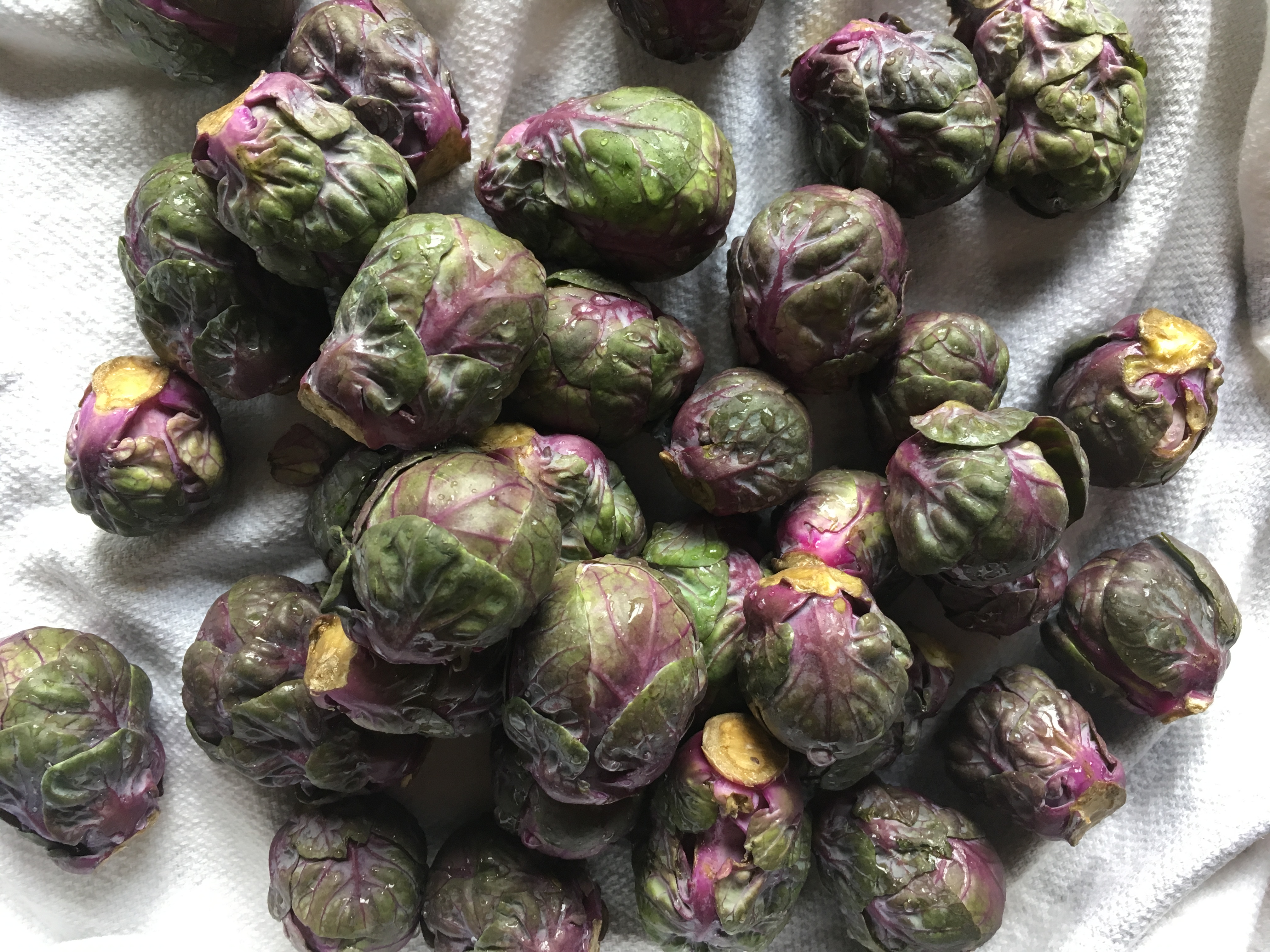 Loading up on Flavor
These Roasted Brussels Sprouts "work" because there's so much flavor! All the little steps make a big difference when it comes to this dish. So yeah, roast those sprouts and yeah, toast those pumpkin seeds. Everything counts and you won't regret going the extra mile! Because you know you love flavorful food and you deserve flavorful food!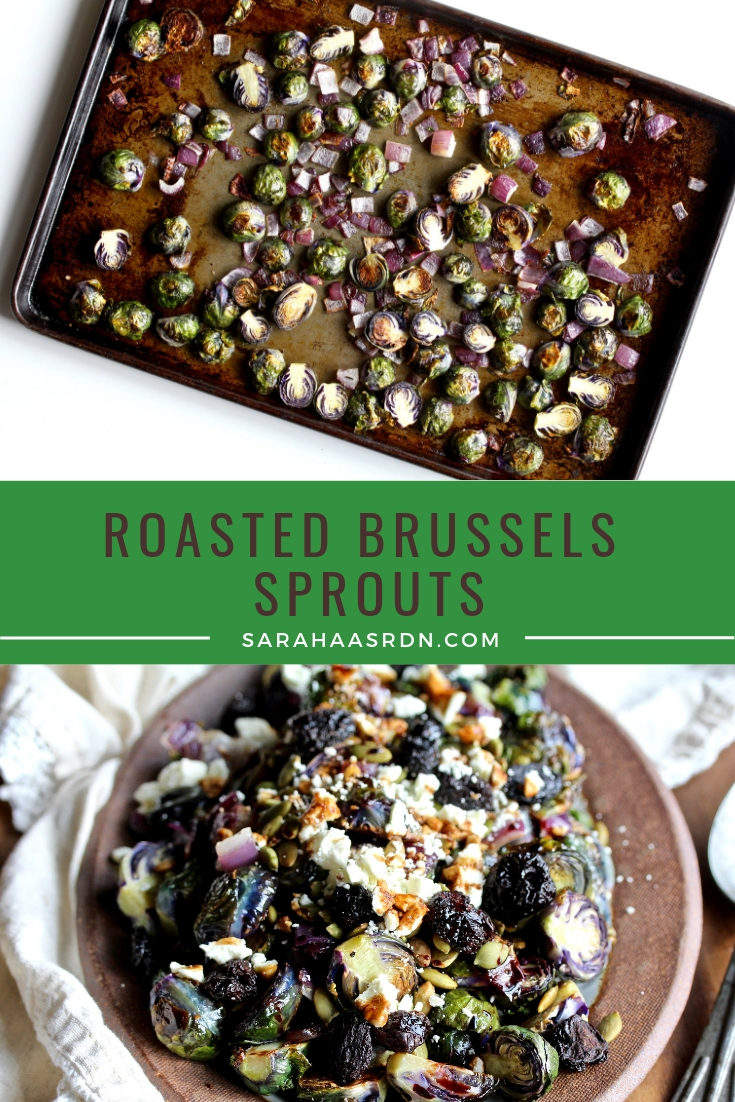 Eat Up! Roasted Brussels Sprouts Time!
Yes, you guessed it! It's your turn to make these delicious sprouts! And if you can't find the purple ones, go with the green ones, they're just as beautiful and delicious!
Did you make this dish? I want to hear about it! Drop your comments below. And as always, happy cooking friends!
Print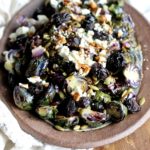 Roasted Brussels Sprouts
---
Description
The perfect side dish to any holiday meal! These Roasted Brussels Sprouts are festively topped with dried cherries, toasted pumpkin seeds and balsamic reduction!
---
1/2 cup

balsamic vinegar

1

bunch Brussels sprouts, trimmed and cut in half

1/2

small red onion, roughly chopped

1 tablespoon

olive oil

1/2 teaspoon

kosher salt

1/4 teaspoon

freshly cracked black pepper

2 tablespoons

toasted pumpkin seeds

1/4 cup

dried cherries

2 tablespoons

crumbled feta cheese
---
Instructions
Preheat the oven to 400'F and coat a large baking sheet with oil or foil coated with non-stick vegetable spray.
Place the balsamic vinegar in a small saucepan and bring to a boil over medium heat. Cook for 10 minutes or until reduced by half. Vinegar is done when it's thick enough to coat the back of a spoon. Set aside to cool.
Toss the Brussels sprouts and onion with the olive oil, salt and pepper in a large mixing. Spread out in an even layer on the prepared baking sheet. Roast for 20-25 minutes, until browned, stirring once halfway through cooking time.
Remove from the oven. Pour into a serving dish and garnish with pumpkin seeds, cherries and feta cheese. Drizzle with balsamic reduction and serve.