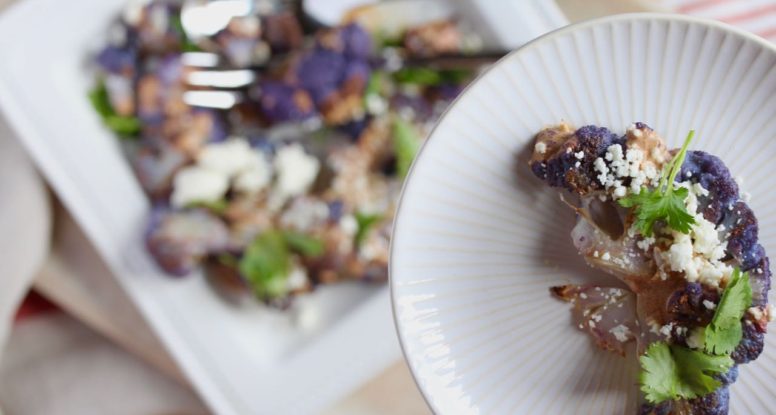 Roasted Cauliflower with Chipotle Cream
Cauliflower is having a moment right now.
Some may argue it's moment is over, but not me. Never one to shy away from a culinary or food trend, I wanted to give the roasted cauliflower "steak" a try. Well, so here's the thing about me, I am NOT patient. Not one little bit. So all of that fuss of carefully and perfectly slicing that cauliflower and then to have millions (exaggeration) of pieces of cauliflower fall off – well, it just frustrated the crust out of me!
I mean, for goodness sake, there were so many cauliflower florets on my cutting board that I thought for sure the food-waste police would be knocking on my door. This just wouldn't do!
No Steak, Now What?
Seeing as my florets outnumbered my "steaks," I knew had to abort that mission. I could still roast the cauliflower, so I said (to no one in particular), "well, why not just roast it as it is? Steaks, florets and little cauliflower bits too!" And that's what I did and it was GREAT!
Roasted Cauliflower and More!
Here's the deal, roasted cauliflower is awesome by itself. It's warm, earthy and sweet and fabulous! Amazing what a little olive oil, salt, pepper and heat can do! BUT, I wanted something different. Enter, the Creamy Chipotle Dressing. That touch of heat and creaminess brings this roasted cauliflower dish home. And the bonus feta, is well, a BONUS! Don't skip it or that refreshing cilantro.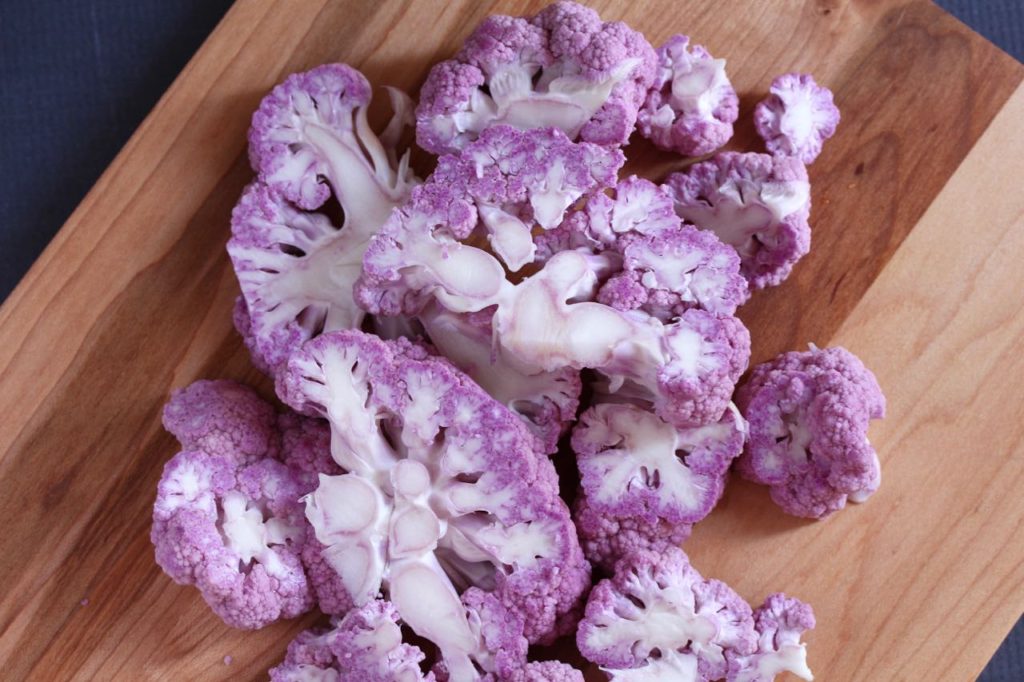 And Fertility Friday?
And why, oh why, is this related to Fertility Friday!? Did you think I forgot??? Because what Liz and I know is that we (MOST OF US!) don't eat enough vegetables. It's true! And because of that, we are missing out on great nutrients our bodies need to create another life! Why do we not eat enough? Great question! One of my assumptions is that we don't take the time to prepare them well. No one likes over-cooked, soggy vegetables, so why even bother eating them? I totally agree! That's why I created this recipe! To show you it's OK to think outside the box when it comes to vegetables. Make them as interesting as the other food on your plate and I guarantee you will be pleasantly surprised.
Keep It Easy
At the end of the day, I'd say, let someone else cook me cauliflower "steaks" as I prefer to keep my life simple (although my husband might argue that statement) and free of frustrations. And so, I'll stick to my uniquely-shaped florets and bits! They taste just as great, offer the same nutritional benefits and look just as cool.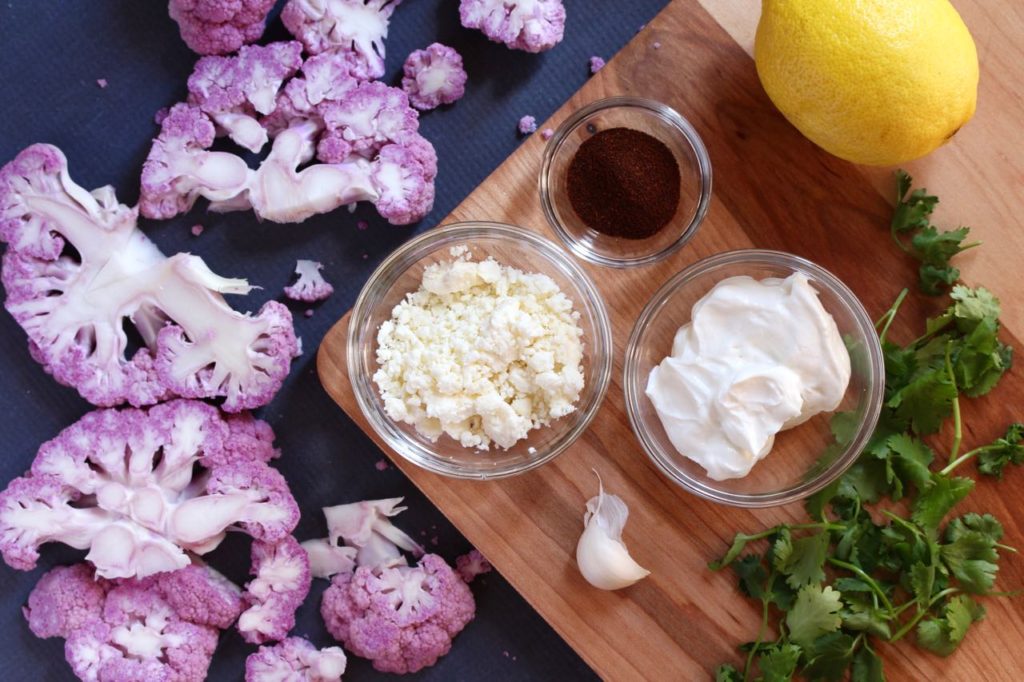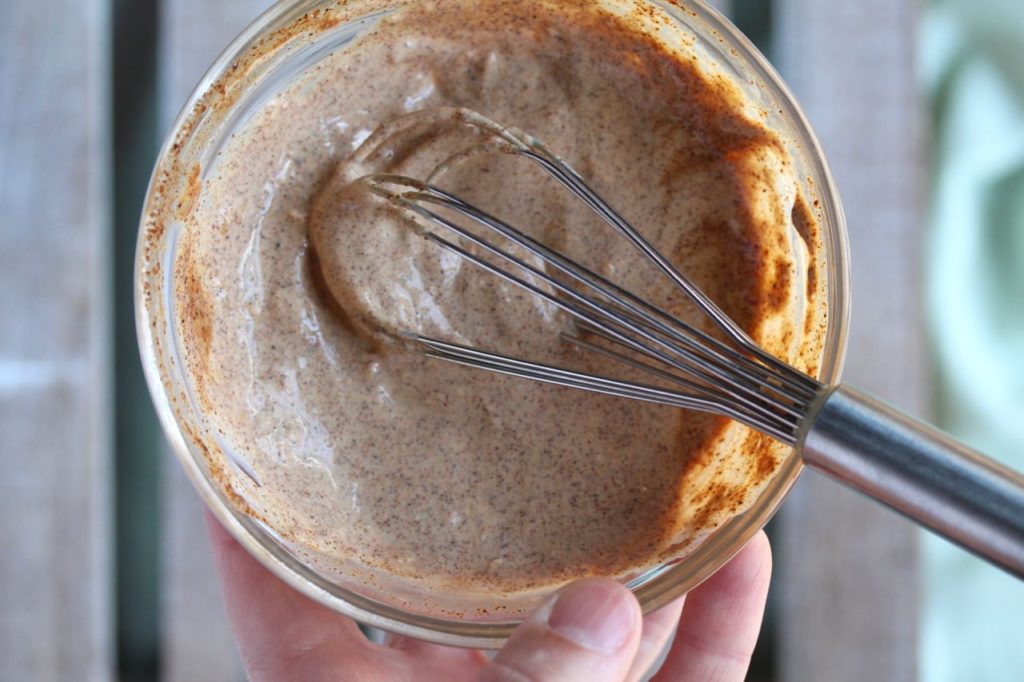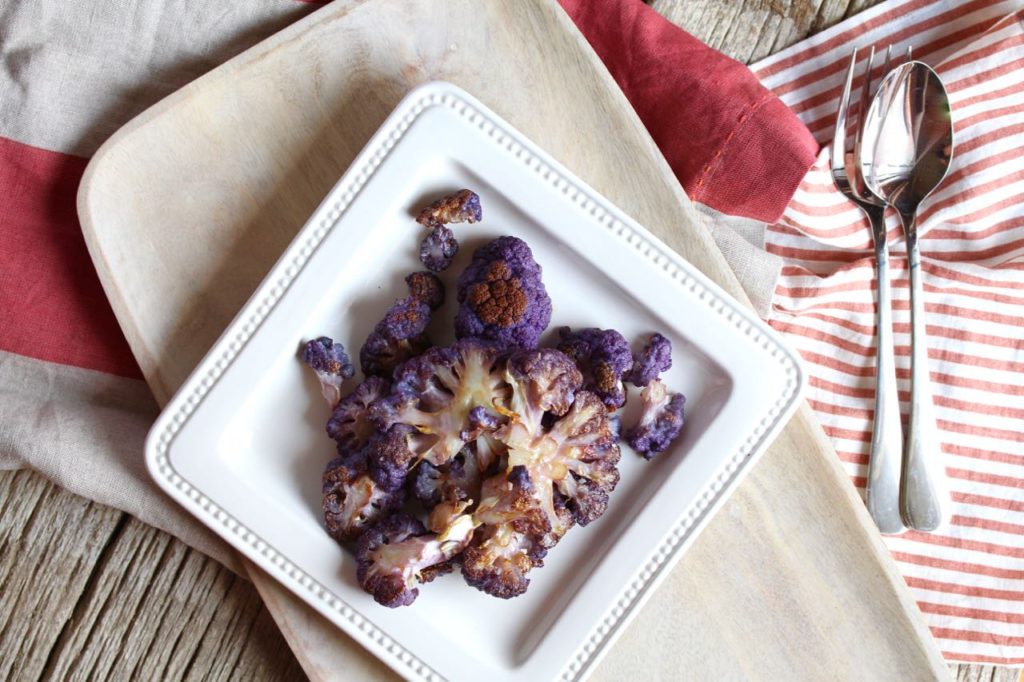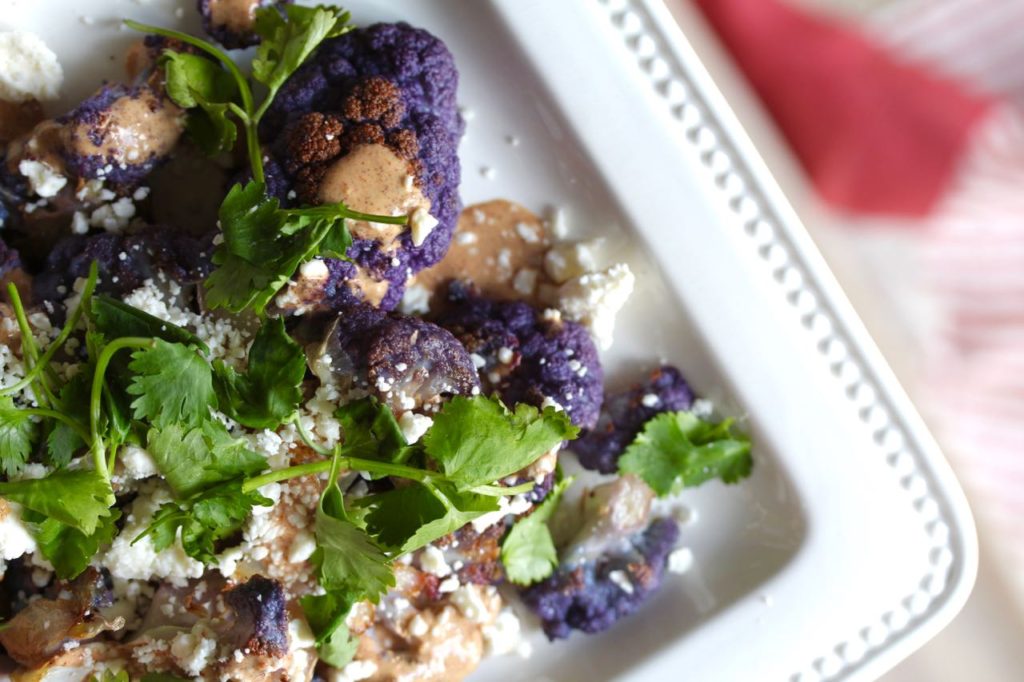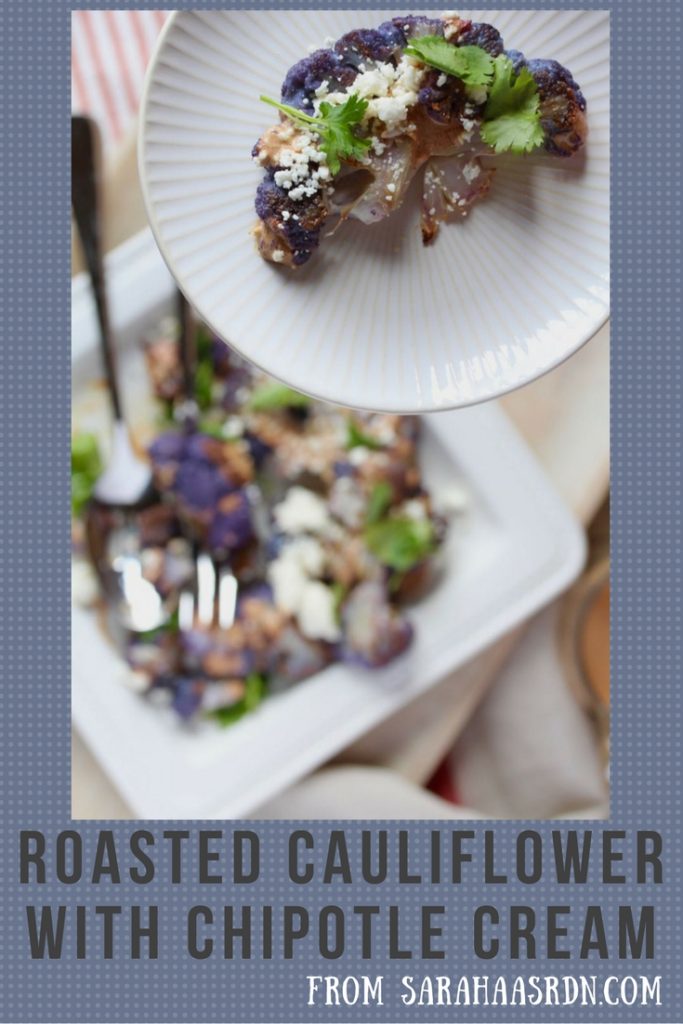 Print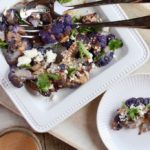 Roasted Cauliflower with Chipotle Cream Dressing
---
Description
Roast it and top it with something spicy! This is cauliflower that just won't quit!
---
1

cauliflower head, trimmed and cut into

1/4

-inch slices

2 tablespoons

olive oil

1/4 teaspoon

Kosher salt

1/4 teaspoon

black pepper

3/4 teaspoon

ground chipotle powder

1/4 cup

plain Greek yogurt

2 tablespoons

lemon juice

1

garlic clove, grated or minced

1 teaspoon

honey

1/4 cup

feta cheese

1/4 cup

chopped cilantro
---
Instructions
Preheat the oven to 400'F and line a sheet pan with foil. Place the sliced* cauliflower onto the pan, then drizzle both sides with olive oil and season with salt and pepper. Place in the oven and bake, turning once, for 20-25 minutes, or until golden.
While cauliflower is cooking, make the Chipotle Cream Dressing. In a small bowl, whisk together the chipotle powder, Greek yogurt, lemon juice, garlic and honey. Set aside.
Remove cauliflower from the oven and transfer carefully to a serving dish. Drizzle some of the dressing over the cauliflower, then garnish with feta cheese and cilantro. Serve extra dressing on the side.
Notes
*If your slices fall apart, have no fear. This still tastes awesome no matter it's appearance!
Nutrition
Serving Size:

4

Calories:

140

Sugar:

6

Sodium:

306

Fat:

10

Saturated Fat:

3

Unsaturated Fat:

6

Trans Fat:

0

Carbohydrates:

11

Protein:

5

Cholesterol:

10