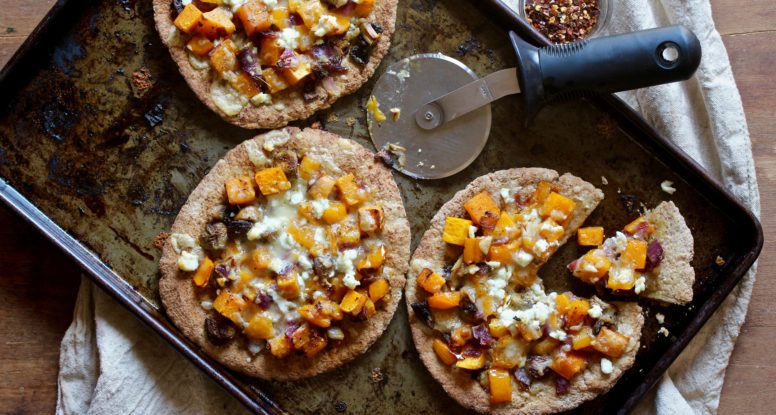 Roasted Vegetable Sheet Pan Pizza
Sheet pan meals are the best. And pizza is pretty awesome too, so why not combine them? That's just what I did with this Roasted Vegetable Sheet Pan Pizza! Get the recipe plus some real talk from yours truly!
Sheet Pan Dinners
Rejoice!!! Sheet pan dinners are POPULAR and they're EVERYWHERE! It's true, I bet if you go to any food blogger's website you'll see a Sheet Pan something or other. And I think it's awesome. Why? Well, because you've got everything you need cooking on one pan! What's not to love? You can load up the veggies, add some lean proteins and get your whole grains – it's a one pan wonder! And best of all, it's easy clean-up. LOVE THAT!
What Are You Putting on Your Sheet Pan?
Think there are limits to what you can cook on a sheet pan? Not really! I mean, I wanted pizza, so I put pizza on mine. Ok, wait there are so limits, but not too many. Don't try to cook pasta on it, that doesn't work so well. And skip anything that's got a lot of moisture – that means no soup, ok? But I think you knew that. 😉 Want to see what else you can put on a sheet pan and call it a meal? Check out the Recipe Redux link below to see what my creative colleagues came up with this month for the Recipe Redux Challenge!
Roasted Vegetable Sheet Pan Pizza Real Talk
Ok, now for the "real talk" portion of the program. I am literally hanging on by a thread over here. For real. I hope you all don't think I have it together, because I simply DO NOT! Nope, I can barely get one thing done without another thing looming over me. Case in point, I had been working really hard over the past few days to make sure my little sous chef had an awesome birthday yesterday. I got the decorations, the balloons, made the cake and got the presents. It was PERFECT. Right, sure it was. Besides the fact that I was stressing over every minute detail and completely shirking any of my work responsibilities. Cue more stress. So, needless to say, after I missed a very important work call last night, finally got to my email and shared my ridiculous IG post, I had the worst case of heartburn and indigestion. Yeah, thanks bowels. But, the sous chef had a great day, so it was kind of worth it. What I'm trying to say here is that the struggle is real!
Let's Eat!
That's it! It's time to eat! My advice? Make this Roasted Vegetable Sheet Pan Pizza recipe! It's easy, delicious and perfect for fall! And swap ingredients as you like, most will work just fine. And if you need more pizza, I've got you covered! Try my Mediterranean Pizza or this yummy Sriracha Peanut Naan Pizza!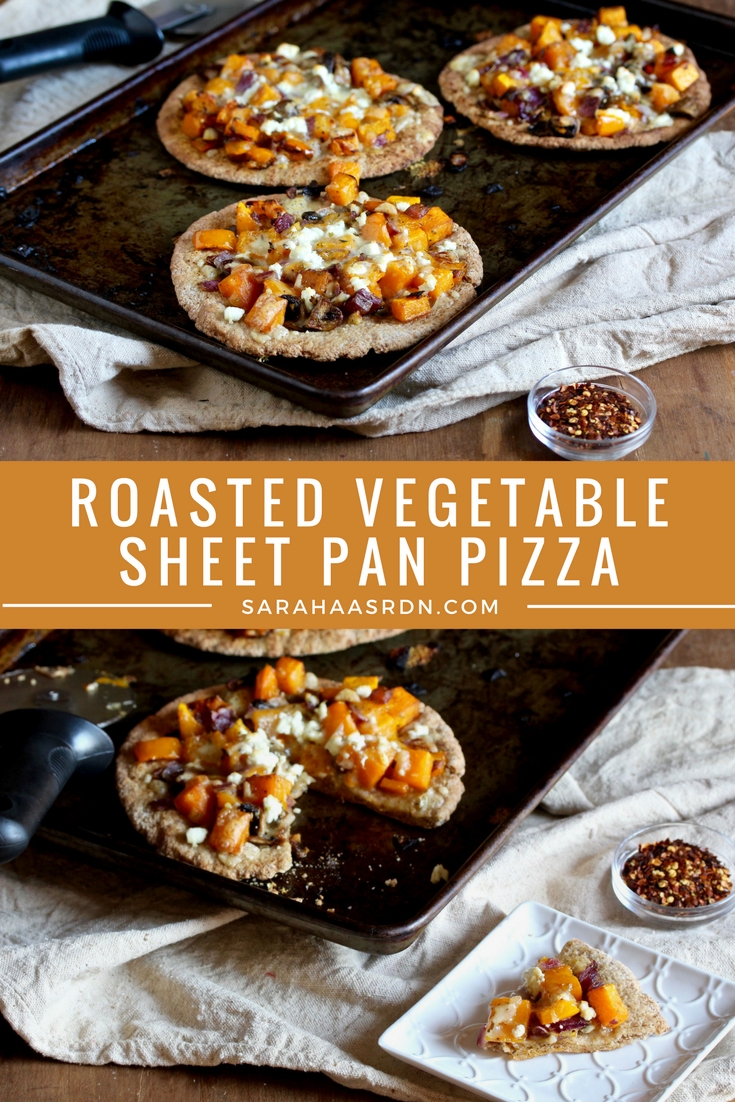 Print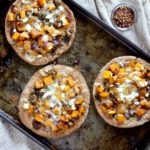 Roasted Vegetable Sheet Pan Pizza
---
Author:

Yield:

2

-

3

servings

1

x
Description
Build the perfect pizza, right on your baking sheet! This one is loaded with yummy, roasted veggies and topped with crumbled goat cheese!
---
For the roasted vegetables:
4 ounces

mushrooms, quartered

1

red, orange or yellow bell pepper, diced

1/2

red onion, diced

1 1/2 cups

diced butternut squash

1

garlic clove, minded

2 tablespoons

olive oil

1/2 teaspoon

dried thyme leaves

1/2 teaspoon

kosher salt

1/4 teaspoon

freshly cracked black pepper
For the pizza:
3

whole wheat pitas

1 tablespoon

olive oil

1/2 teaspoon

dried oregano

1 cup

shredded mozzarella cheese

2 ounces

crumbled goat cheese
---
Instructions
Preheat the oven to 425'F and place the pitas on a large, rimmed sheet. Place the pan in the oven for 15 minutes, while the oven is preheating.
Place the vegetables in a large bowl along with the olive oil, thyme, salt and pepper and toss to combine. Carefully remove the pan from the oven and spread the veggies out in an even layer on the pan. Roast for 20 minutes, stirring halfway through cooking time.
Remove pan from the oven. Transfer the veggies back to the bowl. Place pitas on the pan, drizzle with olive oil. Top with veggies then sprinkle with cheeses and a dash of oregano. Bake for an additional 5-10 minutes, or until cheese is melted.
Slice and serve!