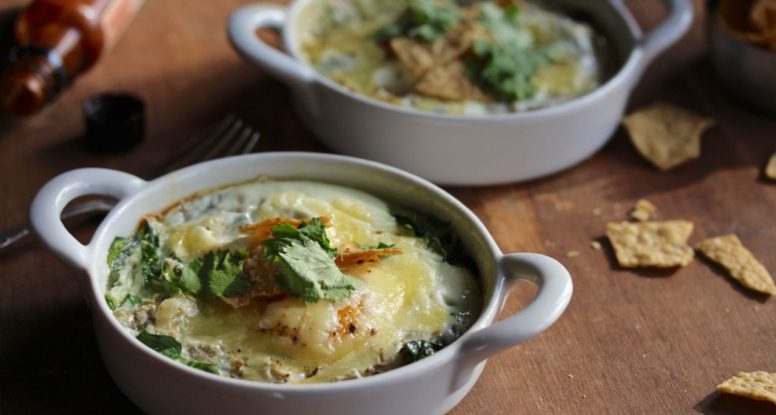 Simple Baked Eggs with Spinach and Salsa
Do you love eggs in the morning? Me too! But how often do you find yourself wishing eggs were easier to make? Sure, you've scrambled and poached them, but I've got a recipe for cooking eggs that's faster, requires less hands-on time and isn't messy! What is is?! Why, Simple Baked Eggs with Spinach and Salsa!
Baked Eggs?
Yes, baked eggs are a "thing." Did you know about them? If not, I'm about ready to change your world. Baked eggs are just as they sound, eggs baked in a vessel. Wow, does it get easier? I'm not sure it does! The beauty of this dish is that it is versatile, meaning you can re-invent it in so many different ways. That means no more breakfast boredom!
How Do You Make Them?
Believe or not, there's a simple formula to making baked eggs that always come out perfectly. The formula goes like this:
Step 1: Purchase a small ramekin or baking dish. A 6-ounce size is good, and can be found anywhere, even the grocery store!
Step 2: Build a base. This is where you can be creative! I like to start with veggies, usually about a 1/2 cup will do. Raw, leafy veggies work well, but so do leftover cooked veggies.
Step 3: Add some liquid. Again, more creativity! Yay! Add about 2 tablespoons of a liquid ingredient, but choose wisely. I love salsa for this because it adds flavor without a bunch of calories. You could also use tomato sauce or Romesco or even a gremolata.
Step 4: Add the egg and milk. The shining star, the egg, comes next and then I like to add some milk to help prevent the yolk from drying out during cooking. I got that great tip from the find people of The Kitchn.
Step 5: Add cheese, spices and other accoutrement. Again, personalize here! Add a small amount of flavorful cheese – like sharp cheddar, feta or blue cheese. Sprinkle on some of your favorite spices or add a drizzle of hot sauce. Have fun!
Step 6: Garnish. Add the final fixings to give your baked eggs that special something. You can totally skip this step, but why not add some fresh herbs or a crunchy tortilla chip or two!
Enjoy Your Egg!
See how easy that was? Super easy, right? Now it's time for you to make your own! And I'd love to hear all about it! Drop your winning combination in the comments section below!
Print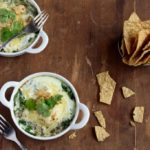 Simple Baked Eggs with Spinach and Salsa
---
Description
Love eggs for breakfast? Then you'll love this dish! Simple Baked Eggs with Spinach and Salsa are easy to make and easy to enjoy!
---
1/2 cup

chopped baby spinach or baby kale

2 tablespoons

prepared salsa

1

large egg

1 tablespoon

milk

1 tablespoon

shredded sharp cheddar cheese
kosher salt, to taste

1/8 teaspoon

black pepper

1 tablespoon

cilantro, chopped, if desired

2

crumbled tortilla chips, if desired
---
Instructions
Preheat the oven to 375'F and coat a ramekin or small baking dish with non-fat cooking spray. Place the greens in the bottom of the ramekin and spoon salsa on top. Crack the egg on top of the salsa then drizzle with 1 tablespoon low-fat milk. Season with salt and pepper and top with cheese. Bake until whites are set and yolks are just firm around the edges, about 12-15 minutes. Top with cilantro and crumbled tortilla chips, if desired.
Serve with whole wheat toast and fruit.
Note: Fresh pico de gallo can be used in place of salsa.
Nutrition
Serving Size:

1

Calories:

139

Sugar:

2

Sodium:

484

Fat:

8

Saturated Fat:

3

Unsaturated Fat:

4

Trans Fat:

0

Carbohydrates:

6

Protein:

10

Cholesterol:

195