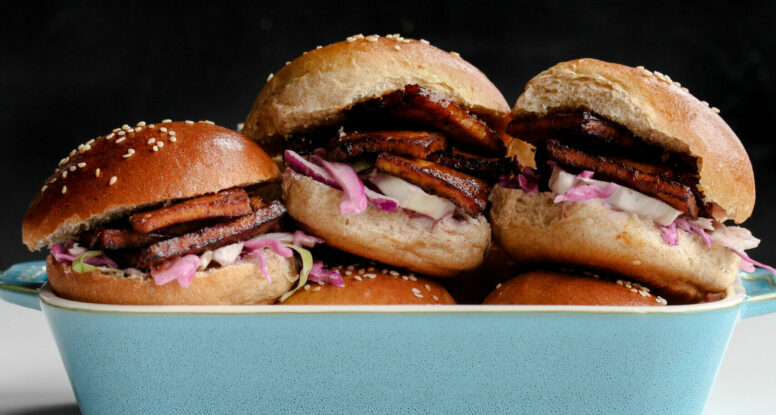 Spicy BBQ Tofu Sliders
Raise your hand if you love tofu! Wait, is your hand raised or….I can't really tell…are you just itching your arm? Ha! Well, if you're still on the fence about tofu, I've got the perfect recipe for you! It's all about the pressing and the spices! Ready to learn about my Spicy BBQ Tofu Sliders? Of course you are! Let's go!
Tofu Intro
If you're not sure about tofu, it's all good. It wasn't until I was in my late 20's that I finally started to appreciate it. That was when I went to culinary school and learned how to cook it! Until then, I was afraid to even buy the stuff. Honestly though, I'm not sure why I was so afraid of it. Probably because I was a sheltered kid from Indiana. Probably? Definitely. But when I started to learn about its origins, its history and the best ways to prepare it, well, my perception of tofu completely changed!
You've Got to Understand Tofu
Most importantly, you've got to know a bit about the different types of tofu. You know what I'm talking about, silken, soft, medium, firm, extra firm. Whew! So many kinds, right? To keep life simple for now, let's just focus on extra firm. We're focusing on that one, because, well, it's my favorite! 🙂 Extra firm is what I like to use for my stir fry recipes and really any recipe where I want some heartiness to my tofu. I'm typically not looking for that super soft, creamy stuff (silken, I'm talking about you!). I find that the extra firm tofu holds its shape well when I'm cooking it and I love that it can become kind of crispy on the outside when I cook it. So, extra firm, got it?
Drain it First
Now that you've got your extra firm tofu, it's time to do a little prep. Oh geez, don't worry, it's super simple prep. First, you've got to drain it – like you would if it was canned tuna. See, not hard.
Now Press it
You can buy a fancy tofu press, but I don't think it's worth it. Instead, save your money because pressing can be done with stuff you already have. I use a plate and line it with a clean towel or paper towels. I'll set the drained tofu on the towel and then top it with more towels. Then, the fun part – place something super heavy on top! I like to use my cast iron skillet, but there are hundreds of ways you could set this up. I've seen baking sheets placed on top and then cans of soup added for weight. Use what you've got. Then let it sit like that for 30 minutes. That's it.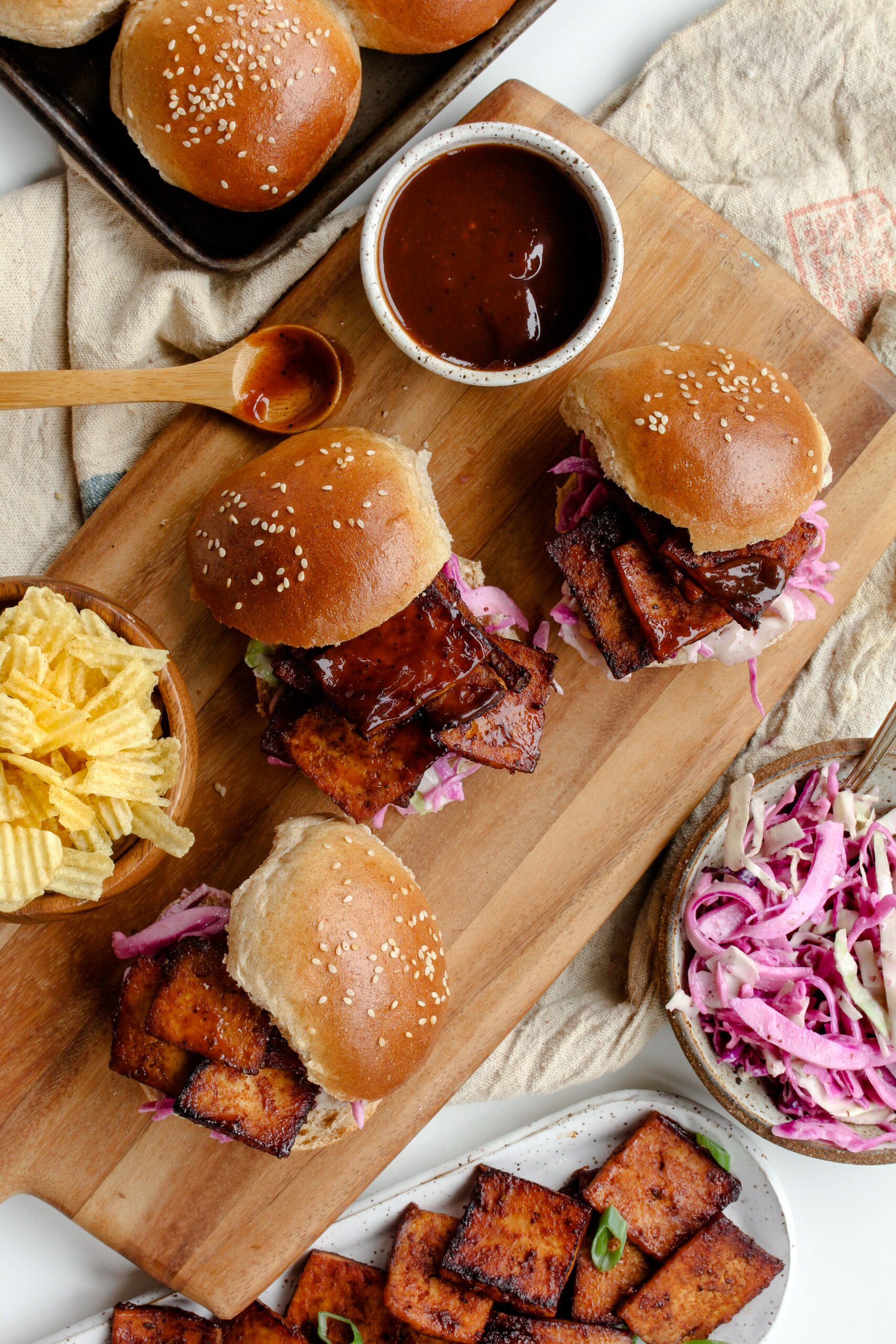 Now Let's Cook It
Now you're ready to rock and roll. Pressing out all of that liquid means you'll be able to cook this tofu like a boss. It'll be firm and sturdy and ready to take on flavor. Fantastic, right? This recipe uses a spice rub and then finishes with BBQ sauce. I love this two-layered approach for building flavor. I think you'll like it to. So, what are you waiting for? Let's get cooking!
Not sure exactly how to press tofu?
Watch me do it on my YouTube channel! And while you're there, go ahead and hit that subscribe button!
Print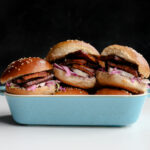 Spicy BBQ Tofu Sliders
---
Author:

Total Time:

30 minutes

Yield:

4

servings

1

x
Description
Going meatless but looking for loads of flavor? Then try these Spicy BBQ Tofu Sliders that won't leave you asking, "where's the meat?"
---
1

(14 to 16 ounce) package extra-firm tofu, drained

1 tablespoon

stone ground mustard

3 tablespoons

olive oil mayonnaise

1 tablespoon

apple cider vinegar

1 teaspoon

honey

½ teaspoon

kosher salt, divided

¼ teaspoon

cracked black pepper

1

(14 ounce) bag coleslaw mix

2

green onions, thinly sliced

2 tablespoons

Spiceology Smoky Honey Habanero Spice Rub

2 tablespoons

canola oil, divided

¼ cup

BBQ sauce + extra for serving

4

whole wheat buns (or

8

whole wheat slider buns), toasted
---
Instructions
Remove tofu from package and place on a paper towel-lined plate. Cover tofu with a few more paper towels then place a cast-iron pan (or something else that's heavy) on top. Let sit, until most of the moisture has been pressed out, about 20-30 minutes.
Combine the mustard, mayonnaise, vinegar, honey, 1/4 teaspoon salt and pepper in a medium bowl. Add the coleslaw mix and green onions and toss to combine.

 

Cut the pressed tofu lengthwise into ¼-inch thick planks, then cut planks in half. Combine ¼ teaspoon salt and spice rub in a small bowl. Sprinkle mixture on both sides of the tofu.

 

Heat 1 tablespoon oil in a large, nonstick skillet over medium heat. Add half of the tofu and cook until browned, about 3 to 4 minutes. Flip and cook until other side is browned, another 3 to 4 minutes. Transfer cooked tofu to a plate. Wipe out the pan and add the remaining oil and repeat the process. Add reserved tofu back to the skillet and push to the outer edge. Add the BBQ sauce to the middle of the skillet then carefully move and flip tofu in the sauce, cooking until sauce coats tofu, 1 additional minute.

 

Divide tofu among warmed buns and top with coleslaw.
Prep Time:

15 minutes

30 minutes drain time:

Cook Time:

15 minutes
Keywords: tofu, sliders, Memorial Day