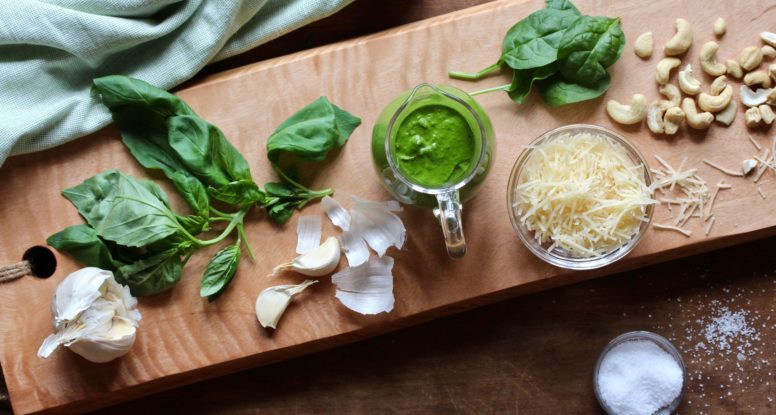 Simple Spinach Cashew Pesto
What do you usually have for breakfast? Do crush hard on cereal and oatmeal or are you more an eggs and bacon kind of a person? Well, I personally show no bias when it comes to breakfast! But these days, I'm really craving the savory stuff! Bring on the fried eggs! But those savory dishes needed something new, so how about a sauce? Yup. How about Spinach Cashew Pesto? Um, YES!!! Ok, well I've got the recipe here for you!
Cashews in My Pesto?
I am going to assume you've all experienced pesto at this point. If not, stop reading this post and immediately experience it! 🙂 It's delicious, right? There's just nothing wrong with it. So why mess with a good thing? Well, because it's fun. And besides that, pine nuts are EXPENSIVE! They are, and yes, they are super delicious, but it almost seems sad to grind them all up into pesto. Soooooo, that led me to the grocery store, in the nut aisle, pondering which nut would be a suitable replacement. Well, fate stepped in because you know what was on sale? Why, cashews of course! Hurrah! So cashews it was. Fate is funny like that! Somehow she knew that mild cashew flavor and creamy cashew goodness would be a perfect stand-in for pine nuts!
Spinach in My Pesto?
Stop groaning! Seriously! I can't help that I'm a dietitian! So don't get all mad at me if I want to add some spinach to my pesto. And here's the deal, it's DELICIOUS! Yeah, it is and I think you'll find the same. So, you know what they say, don't knock it until you try it!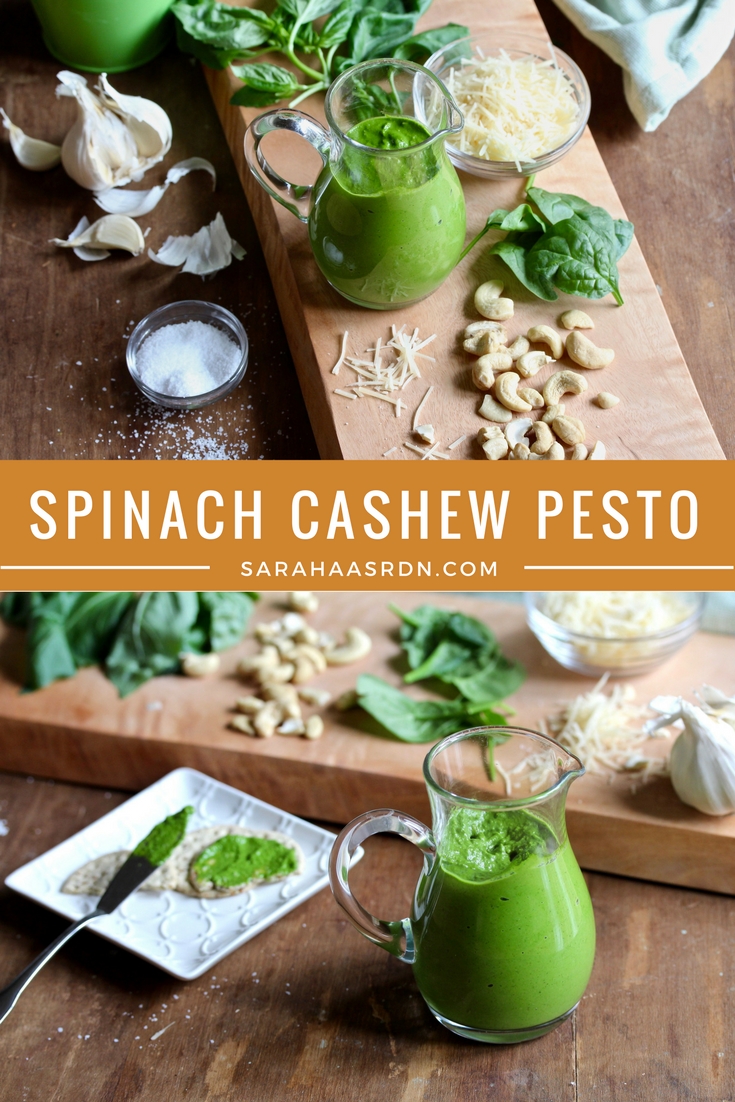 Pesto for Breakfast?
YES! Pesto for breakfast is divine! And I am super pumped that this month's Recipe Redux Challenge was all about showcasing savory breakfasts! Because I love savory breakfast, just as much as I love the sweet stuff. And this Spinach Cashew Pesto is versatile! It's awesome on fried eggs, delicious on savory waffles or pancakes, or drizzled over hash browns! Need more ideas? Swap it in for the salsa in these Baked Eggs or add it to this super simple Spinach Egg Breakfast Wrap. Are you getting hungry yet? I am, and I just ate dinner! Ha!
Spinach Cashew Pesto
Ok, now it's your turn! I've hopefully convinced you this is a recipe worth trying! I really do think you'll like these simple swaps! While you're here, why not tell me how you like to use your pesto? I'd love to hear what you're up to in your kitchen!
Print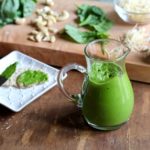 Simple Spinach Cashew Pesto
---
Author:

Yield:

Makes about

1 cup

1

x
Description
Bored with traditional pesto? I was too! And you know what I found out? That Spinach Cashew Pesto is pretty darn good!
---
1/2 cup

raw cashews

2

–

3

cloves roasted or raw garlic

1 cup

packed fresh basil leaves, washed

3 ounces

washed baby spinach (about

3 cups

lightly packed)

¼ teaspoon

kosher salt

¼ teaspoon

freshly ground black pepper

¼ cup

+

2 tablespoons

olive oil

½ cup

grated Parmesan cheese
---
Instructions
To a blender, add the cashews, garlic and basil. Pulse a few times, scrape down sides, pulse a few more times, scrape down again.
Add half of the spinach and a few dashes of water and blend until combined. Add remaining spinach along with the salt, pepper and olive oil and blend until smooth.
Add the Parmesan cheese and pulse until just combined.
Notes
To store the pesto, place it in a jar, then top with 1/2 inch of olive oil. Cover and refrigerate.