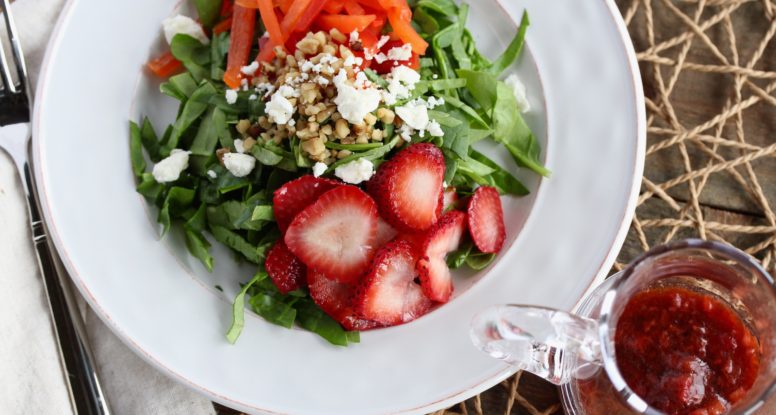 Spinach Salad with Macerated Strawberry Dressing
Spinach + Macerated Strawberries = Yummy Salad
It's probably not too shocking to hear that I love salads. But, let me clarify, I like salads that have lots of flavor and that satisfy. So if I'm building a salad, rest assured that it will taste good, be nutritious and leave you feeling content – like a happy little rabbit. Guaranteed then, that this Spinach Salad with Macerated Strawberry dressing will leave your little white tail twitching with joy.
The inspiration for this salad all started with a recent trip to the Green City Market here in Chicago. The market was just beginning to show the signs that summer produce was on it's way. The tables were brimming with beautiful tomatoes and the last of the asparagus was quickly being picked up by shoppers. Then on some tables, I spied the early crop of strawberries, a beautiful sight to see indeed. I picked up my pint and quickly hurried home.
After indulging in a few strawberries, I knew that I wanted to use them for a spinach salad. And not just for a garnish, but for a dressing too. That's when I decided that macerating them would be lovely and would make a great base for a salad dressing. Macerating berries is really just a way to soften them. To do this I used a little bit of sugar to bring out some the natural juice and then a spoon, to mash them. The result – a bright and refreshing dressing that celebrates this magnificent summer fruit.
Try this Spinach Salad with Macerated Strawberry Dressing and check out my Top 5 Ways to use fresh strawberries!
Top 5 Ways to Use Fresh Strawberries:
Slice or chop and add to still or sparkling water. Add some fresh mint or basil to make it even more refreshing.
As a topping for anything and everything – oatmeal, yogurt, ice cream, angel food cake, pancakes, literally anything and everything!
Add them to your savory dishes to keep things interesting. Fresh strawberries are great in fresh salsas, added to mustard as a topping for sandwiches or tossed into rice or grain dishes.
Slice them and add them to spring rolls or use them as a filling, along with marscarpone cheese, for sweet, dessert raviolis!
Enjoy them fresh, just as they are and SAVOR every bite!
And Now, The Spinach Salad with Macerated Strawberry Dressing!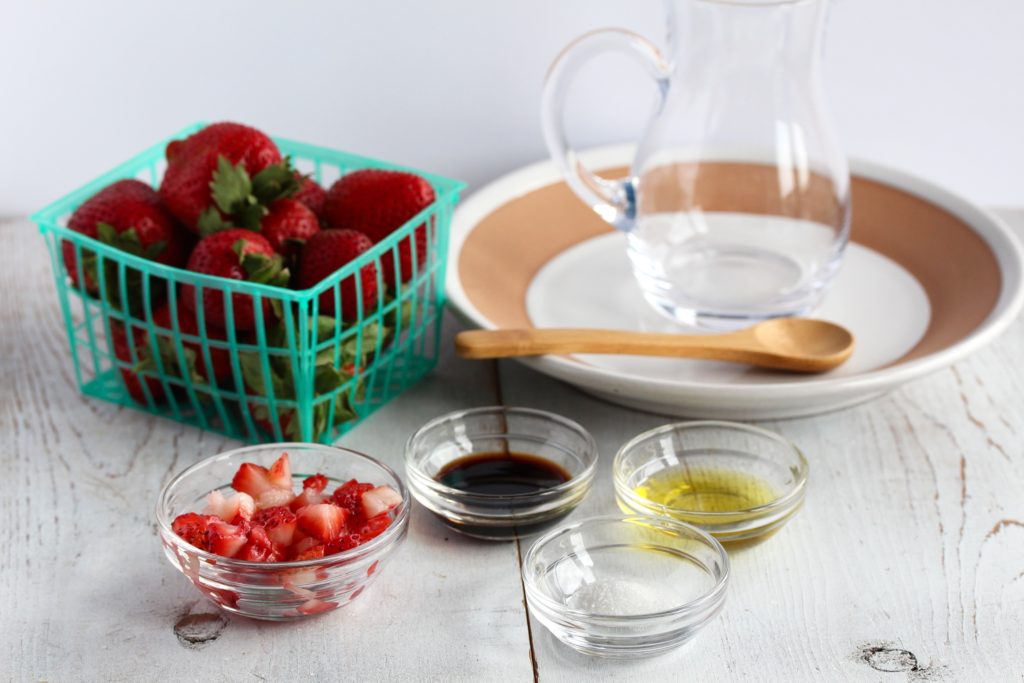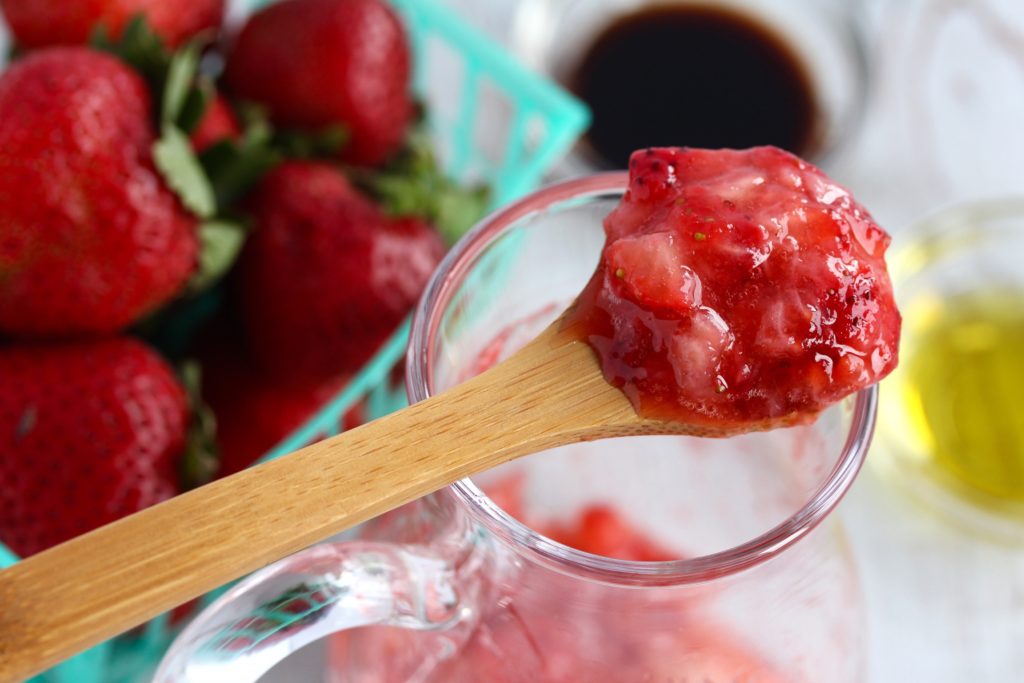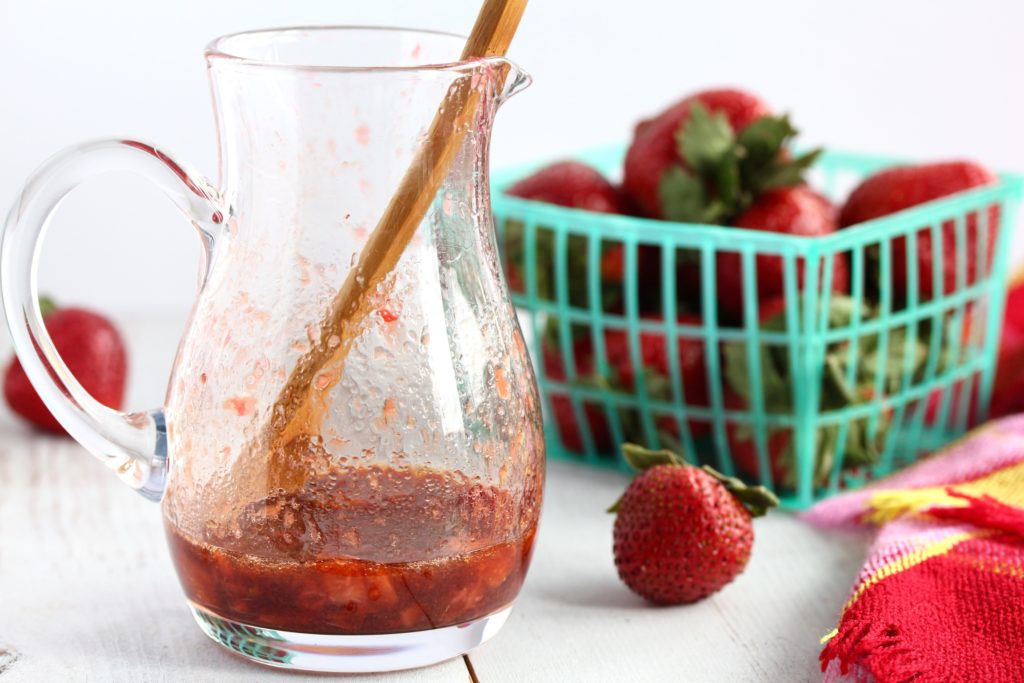 Print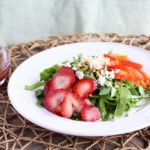 Spinach Salad with Macerated Strawberry Dressing
---
Description
A refreshing spinach salad topped with a macerated strawberry dressing infused with balsamic vinegar.
---
For the Dressing
2

strawberries, cored and diced

1/4 teaspoon

granulated sugar

1 teaspoon

balsamic vinegar

2 teaspoons

olive oil
For the Salad
2 cups

spinach, cleaned and thinly sliced

1/3 cup

red bell pepper slices

1 tablespoons

chopped walnuts

2

strawberries, hulled and sliced

1 tablespoon

crumbled feta cheese
---
Instructions
For the Dressing
Place the diced strawberries in a bowl along with the sugar and let sit for about 3-4 minutes. Using a spoon, mash the strawberries then stir in the balsamic vinegar and the olive oil.
For the Salad
To a bowl or plate, add the spinach, then top with bell pepper, walnuts, sliced strawberries and feta cheese.
Serve with dressing and enjoy.
Nutrition
Serving Size:

1

Calories:

198

Sugar:

7

Sodium:

156

Fat:

16

Saturated Fat:

3

Unsaturated Fat:

12

Trans Fat:

0

Carbohydrates:

12

Protein:

5

Cholesterol:

8