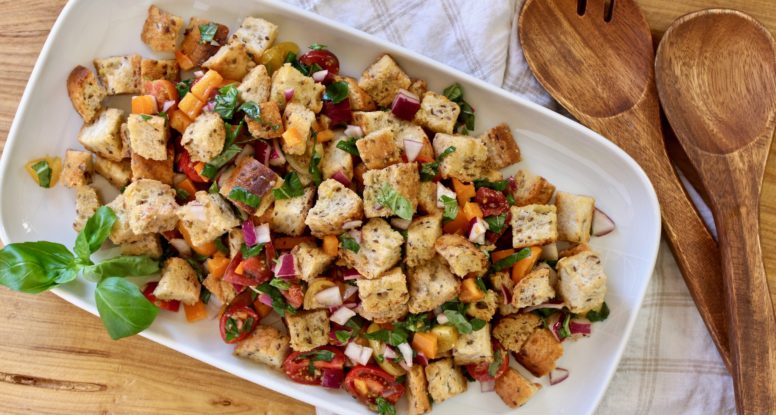 Super Simple Panzanella
If you're anything like me, you crave bread. And if you can pair that bread with a really yummy salad, well, that's pretty darn amazing. Perhaps that's why I love panzanella so much! Pan-za-WHAT? Oh, you don't know about it? Well, let me introduce you!
Panzanella, An Introduction
I can't even remember the first time I encountered panzanella. I really wish I did though. I'm pretty sure I had no idea what it was and I'm pretty sure I had no idea it would be love at first sight. It's easy to underestimate this delicious Italian dish because panzanella is really just a salad made with bread. Hearing that, you may thing, "eeeewww, gross!" But, this isn't white bread tossed in a bowl with ranch dressing. No way! It's a "salad" made with crusty bread cubes that are tossed with a light vinaigrette, tomatoes and at the very least, basil. It's simple, but delicious and beautiful. So really, panzanella is perfection!
The Bread
Speaking of white bread, don't use it. That would be just so gross. That sliced sandwich bread stuff you buy in the bag is NOT gonna work with this recipe. Nope. Spend an extra dollar or two and treat yourself to a yummy baguette or loaf of sourdough. That's the good stuff you'll need to make this salad a winner. Trust me.
Panzanella is EASY!
That's right, you know I love things that come together quickly and easily and that's another reason why I love this Italian bread salad. It's easy and customizable too. That means you can add even MORE veggies to it, if you like. I'm a big fan of cucumber and even olives. And if you want to make this a meal, why not add some rotisserie chicken, roasted salmon or even some beans!?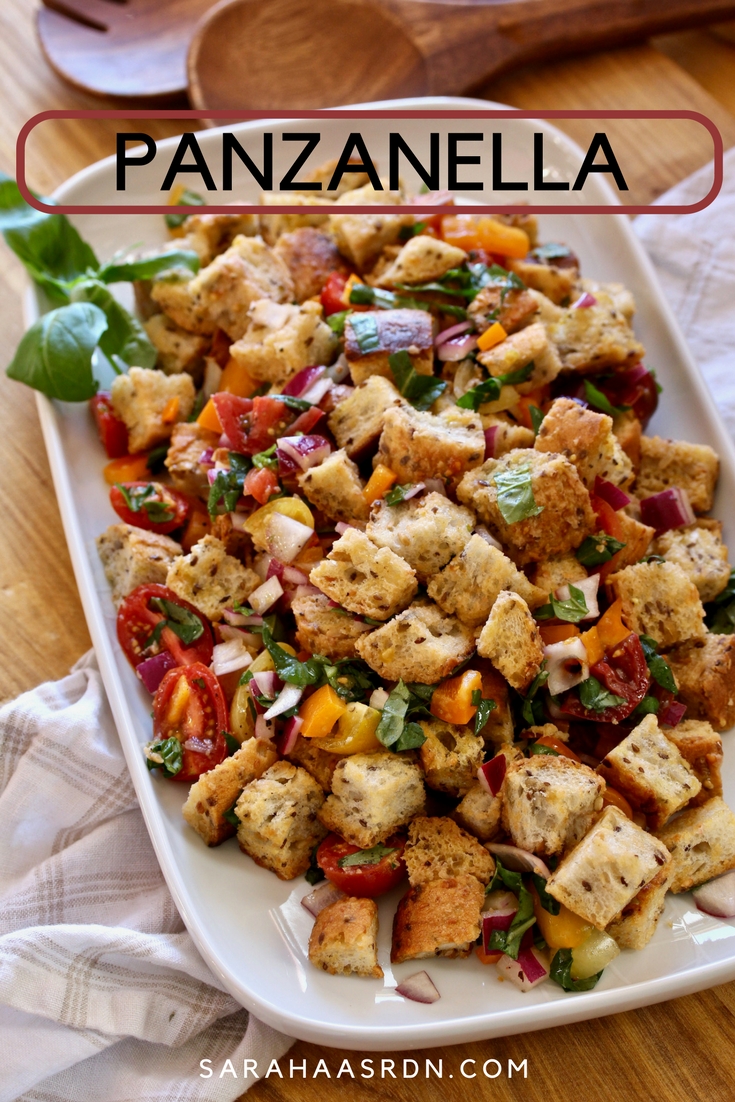 Hungry?
I thought so! Give my panzanella recipe a try and let me know what you think! I hope you love it as much as I do. And if you're on the hunt for more salad recipes, I've got you! Try a few of my other favorite salad recipes below!
Chickpea Salad with Tahini Dressing
Shaved Roasted Brussels Sprouts Salad
Print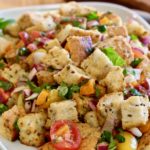 Super Simple Panzanella
---
Description
A delightful bread salad made with chewy whole grain baguette tossed with fresh tomatoes, basil and a simple vinaigrette.
---
1

(12 ounce) baguette, cut into

1

-inch pieces

1 tablespoon

extra virgin olive oil

1 teaspoon

Dijon mustard

2 tablespoons

red wine vinegar

1

clove fresh garlic, minced to a paste

¼ cup

extra virgin olive oil
kosher salt and black pepper, to taste

1/2

small red onion, diced

1

red, yellow or orange bell pepper, diced

1 pint

cherry tomatoes, halved, if large

1 cup

loosely packed basil, sliced thin
---
Instructions
Preheat the oven to 350'F. In a large bowl toss the bread pieces with 1 tablespoon oil and spread out evenly onto a large baking sheet. Bake for about 15 minutes, stirring once halfway through cooking time. Remove from oven and let cool.
While bread is toasting, make the dressing. In a large salad bowl, whisk together the mustard, red wine vinegar and garlic paste. Season with salt and pepper, then add the onion, pepper, tomatoes and basil. Toss to coat. Add the bread cubes and toss again. Serve immediately.
Notes
To get rid of some of the pungency of a fresh onion, chop and then place in a bowl with cold water to cover. Let sit a few minutes, then drain and add to salad.