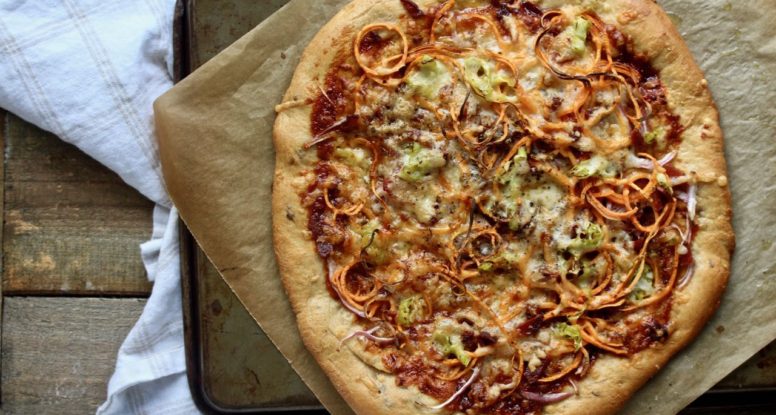 Sweet Potato BBQ Bacon Pizza
Pizza makes me really happy. I mean really happy. And I love almost every kind of pizza imaginable. You might say I'm addicted to pizza. And it's been a life-long addiction. An addiction that has made it easy and fun to explore new ways to enjoy it too. And this Sweet Potato BBQ Bacon Pizza is a true reflection of experimentation that ended successfully. Whew!

My Pizza History
Little known fact about me, I used to work in a pizza restaurant in high school. I did. I started off working the counter and phones, taking orders and having people treat me like I was nobody. Whatever, it was the best job ever. I was a pro at taking phone orders, reveling in seeing how fast I could write the abbreviations for pizza toppings.
Me: "Hi, XYZ Restaurant, this is Sara, I'll be taking your carry-out order. "
Customer: Occasionally a hello, but more often just, "I'll take a large pizza with sun-dried tomatoes, artichoke hearts, green pepper, red bell pepper, tomato and extra cheese." 
Me: "Great! Will that be all?
Customer: "Yes"
Me (in a sing-song voice because I loved working there): "Great, so I've got a L pizza w/ sdt, art hearts, gp, rbp, tom and xtra chz?"
Hilarious, right? I mean I STILL use those abbreviations when I'm writing my own recipes.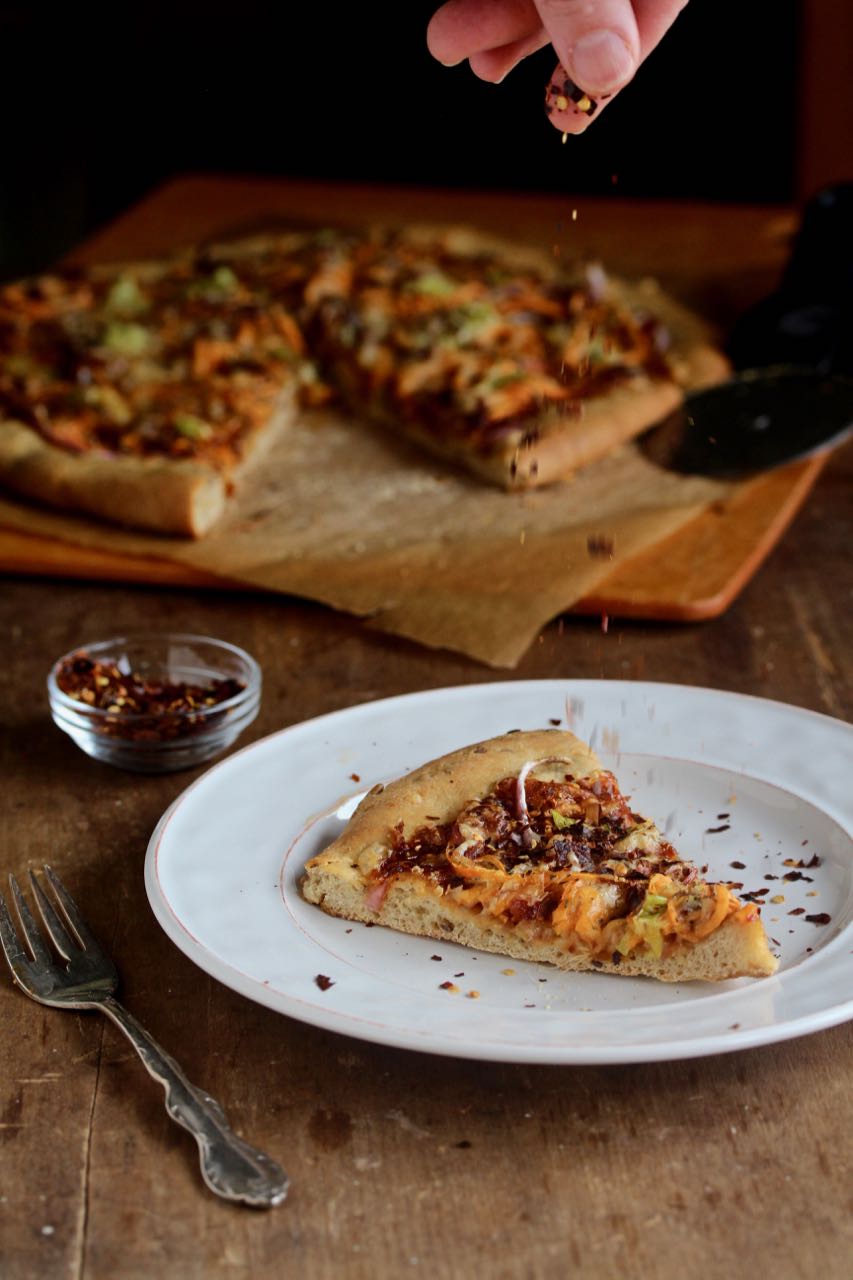 Growing Up in the Pizza Kitchen
After a year or so of that, the glamorousness (ha!) of taking orders wore off. Go figure. I wanted more! Much more! So I asked to be a prep cook. Not glamorous AT ALL, but you know what, I loved that too! I came in early, jammed out to Led Zeppelin with my fellow prep cooks and chopped the heck out of vegetables, made pizza dough and salad dressing and then prepped the kitchen for service. There's just something magical about working in a kitchen. I loved pizza before that job, but I loved it even more after it. Even though I worked with some pretty shady characters, they were awesome about teaching me stuff. And I soaked it in! I never made it past prep cook, but that's ok, because I had bigger plans. 😉 Hint- college. 😉
Sweet Potato BBQ Bacon Pizza
So you see, pizza is a part of me, it's a part of my history. Of course I love it! And now, more than ever, I love experimenting with flavor combinations. This flavor combo literally came to me after I spiralized a sweet potato. I thought, "wow, this would be fun on a pizza…with bacon…and onion…and BBQ sauce!" And you know what, it IS! That's why I'm sharing it with you!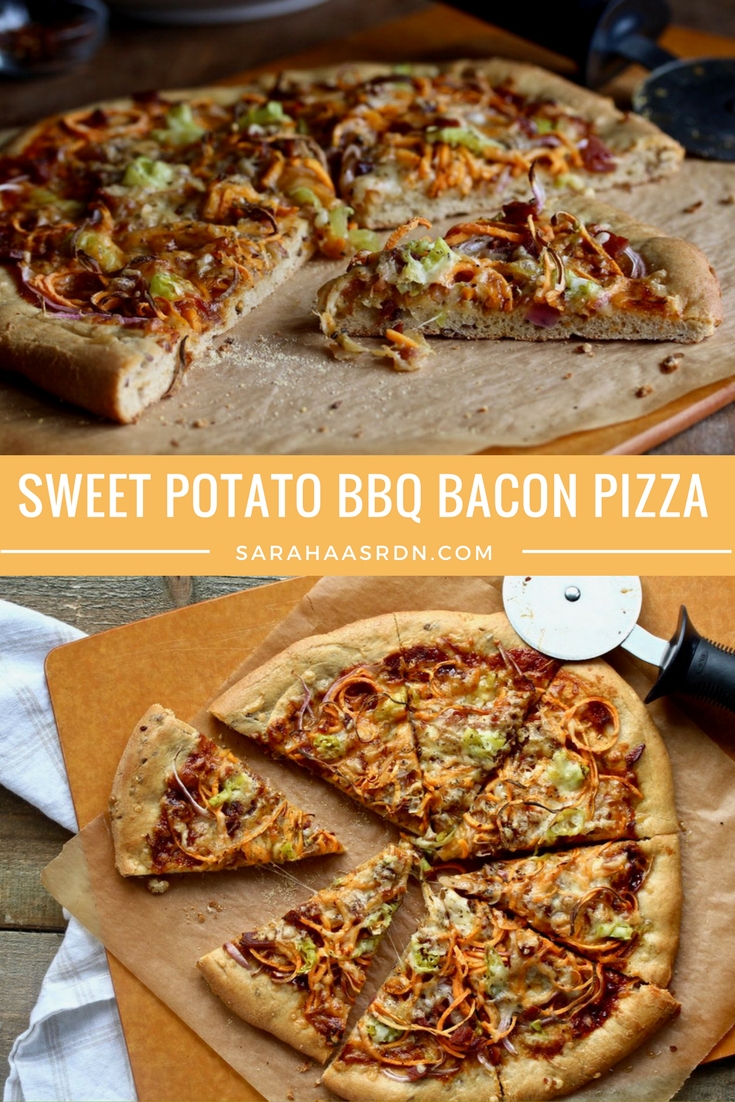 Your Turn
Now it's YOUR turn. Get your oven set and your dough proofing so you can have this for dinner! While that's happening, take a few minutes and let me know your favorite pizza memory or topping combination in the comments section below!!!
Happy Cooking!
Print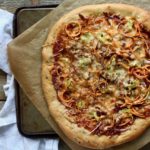 Sweet Potato BBQ Bacon Pizza
---
Author:

Yield:

4

servings

1

x
Description
Friday is Pizza Night! If you love BBQ sauce and bacon, you'll love this Sweet Potato BBQ Bacon Pizza! @cookinRD | sarahaasrdn.com
---
1

pound whole grain pizza dough

2 tablespoons

BBQ sauce

1/2 cup

sliced red onion

1 1/2 cups

spiralized sweet potato

2

slices cooked bacon, crumbled

3/4 cup

shredded cheddar cheese

3

pepperoncinis, sliced

1/2 teaspoon

Italian seasoning
---
Instructions
Preheat the oven to 425'F and move a rack to the bottom of the oven. If you have a pizza stone, place it on the rack.
While oven is preheating, prepare the pizza. Place a large sheet of parchment paper on an un-rimmed baking sheet and dust lightly with cornmeal. Shape dough into a 12-inch circle (I use my hands for this, but you could also roll it out.) and place on the parchment paper.
Spread the BBQ sauce over the pizza dough then top with the onions, sweet potato, bacon and pepperoncinis. Sprinkle cheese over the top and dust with Italian seasoning.
Transfer pizza to the oven using the baking sheet. Carefully slide the pizza and parchment from the baking sheet onto the baking stone. Bake for 15 minutes or until crust is golden and cheese is bubbly.
Remove from oven using the same baking sheet or a large cutting board. Slice and serve.
Notes
You can buy sweet potatoes already spiralized, or if you have a spiralizer, you can do the spiralizing at home.