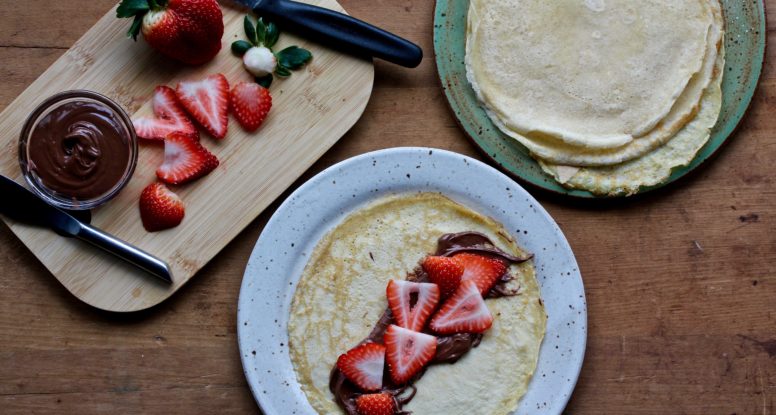 Sweet Simple Crepes
Let's go back in time for a little bit, shall we? If you had told me that one day I'd be writing a blog post about crepes, I would've said, "what's a crepe?" Seriously. Blame it on growing up and living in the Midwest, but I'd never heard of them until AFTER I went to college. Or perhaps, what might be more accurate is that I heard the word and thought, "nope, too fancy for me." Now I know better. And so should you!
Crepes Are For Everyone!
It's true! Crepes are for everyone! And sure, they're French, but they're really not that fancy. Unless you think a thin pancake is fancy and then, well, yes, they're fancy. But seriously, they're totally approachable and customizable and fun to eat. So what's not to love? Here's also why they're for everyone – they're made with really simple ingredients. All of which I'm sure you already have in your house. And to top that off, you mix the batter in a blender. See, they're for everyone!
Crepe-tastrophe!
I know there are some disbelievers out there. Those of you thinking that you'll certainly mess these up. But here's the deal, the only place where you can mess them up is when you cook them. And so what if you burn a few or even tear a few in half? You've learned from those experiences and hey, you can still eat the ugly ones, right? So don't worry about it if they don't look pretty, I won't judge you and no one else should either!
Fill Those Crepes!
Now once you've made these delicious little treats, you may be wondering, "what the heck do I put in here?" Great question! And the answer is…ANYTHING! So annoying, right? You wanted an answer. But here's the deal. You really can put anything inside and on top of them. I personally love some nutella and fresh strawberries inside and little sprinkle of powdered sugar on top. You could also put PB in there and some sliced bananas and top it with some shaved dark chocolate. Or, you could just roll them up and dip them in Greek yogurt, maple syrup, honey, WHATEVER! 🙂
Now Enjoy!
That's right, now it's your turn to make some crepes. And I would love to hear how it goes and what you put them and on them. So be sure to report back. And just remember, YOU CAN DO IT!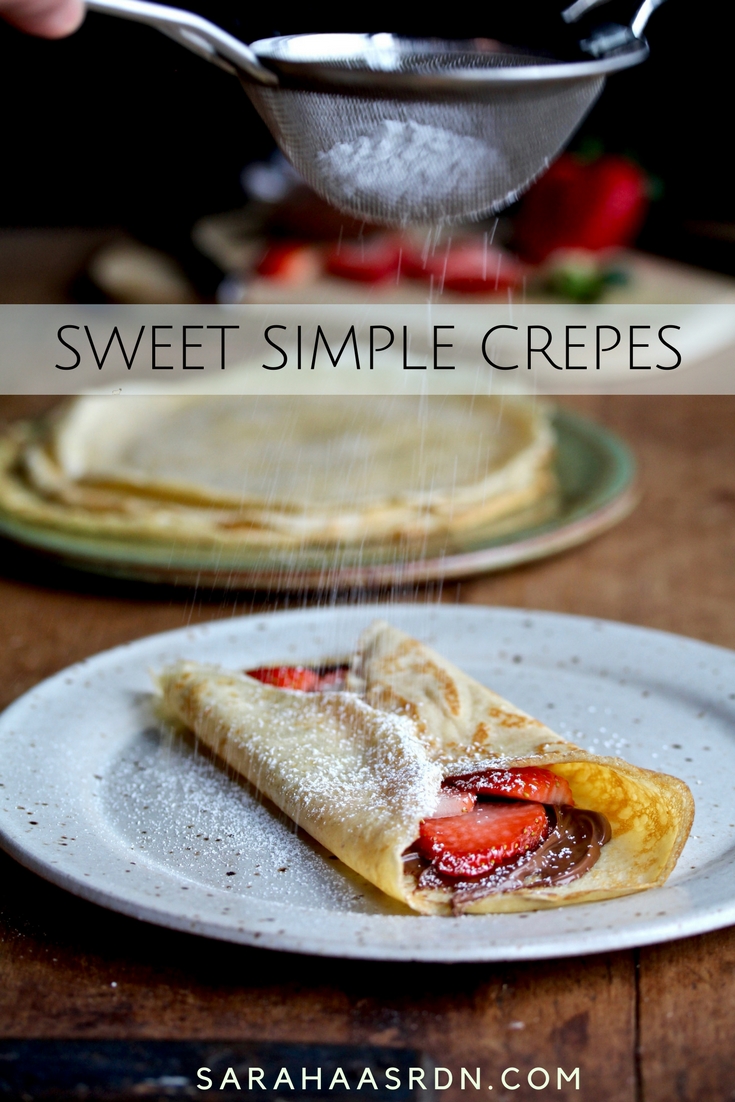 Print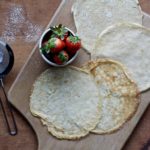 Sweet Simple Crepes
---
Description
You don't have to go to a restaurant for crepes, you can make them at home.
---
4 ounces

eggs (about

2

large)

1/2 cup

+

1 tablespoon

milk

1 ounce

all-purpose flour (about

1/4 cup

)

1 ounce

white whole wheat flour (about

1/4 cup

)

1½ teaspoons

granulated sugar

1/8 teaspoon

kosher salt

2 tablespoons

melted, unsalted butter + extra for cooking
---
Instructions
To make the crepe batter: Place all ingredients in a blender and blend until smooth, about 10 to 12 seconds. Let rest 30 minutes.
To cook the crepes: Set an 8-inch non-stick pan over medium-low heat. Brush pan with butter, then pour 1 ounce (1/8 cup) of the batter into the pan, swirl the batter to coat pan. Cook 45 seconds. Carefully loosen crepe from pan, flip and cook an additional 20 seconds. Remove from pan and keep warm. Repeat with the remaining batter. Place a piece of parchment or wax paper between each crepe to prevent sticking.