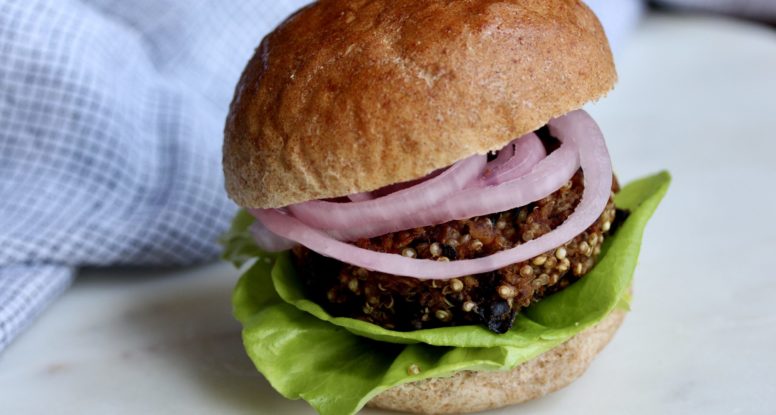 The Best Black Bean Burgers
There are a LOT of veggie burgers that you can buy. And I know that. But there's something gratifying about making my own. Maybe it's because my patties only contain ingredients I like. Or maybe it's because I shaped those darn things myself. I don't know. But I like mine. And now, I'm sharing one of my favorte recipes with YOU! Here's you make The BEST Black Bean Burgers.
Calm Down about the Prep
Breathe in. Breathe out. Feeling calm? Good, now you're ready to accept some facts of this recipe. Some of the steps may seem annoying. I get it. No one really wants to cook up some quinoa, or grate a carrot or cook the burger ingredients before cooking the actual burger! Ugh! Sara, why!? Well, just calm down, okay? First, the quinoa. Here's the deal, cooking quinoa is so easy. In fact, it's easier than cooking rice. So make a big batch, use what you need for this recipe and then freeze the rest. You'll have it ready for your next grain bowl or chili. See, not so bad. Now, grating the carrot. Yes, annoying. But, again it's SIMPLE. And it takes about 2-3 minutes. Just do it and you'll see it's worth. Last, but not least, cooking before cooking! What kind of stunt am I trying to pull? Well, the BEST STUNT EVER! Because veggie burgers with a lot of raw ingredients, including spices are gross. So take the 5 or 6 minutes to cook the stuff. You'll thank me.

Simple Best Black Bean Burgers
Beyone those 3 annoyances, making these burgers is super easy. Your kid could make them. Your grandma could make them. MY grandma could make them. When all is said in done, the whole thing will probably take less than 30 minutes, especially if you've already prepped the quinoa. So get to work!
As Usual, Totally Customizable
Before you get in the kitche, I'd also like to bring up the point that these burgers are totally customizable! Like most of my recipes, it's 100% possible (and 100% encouraged) to play around with stuff. Don't like quinoa? No problem! Try millet or brown rice? Don't like chili powder? Okay, how about ground cumin or even taco seasoning? Not in love with black beans? All good, swap in some pinto or kidney beans. See? It's easy!
Now, You Make It
I've gotten you this far, now it's your turn! Need some guidance? I've got your back! I filmed an episode of Sundays with Sara making these exact burgers. Check out how I royally mess them up on my IGTV or on YouTube!
Print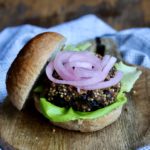 The Best Black Bean Burgers
---
Author:

Total Time:

35 minutes

Yield:

8

(1 burger each)

1

x
Description
The only Black Bean Burger Recipe you'll need!
---
2 tablespoons

extra virgin olive oil, divided

¼

jalapeno, finely chopped

2 tablespoons

finely chopped onion

1

medium carrot finely shredded

1

garlic clove, finely chopped

1 teaspoon

chili powder

½ teaspoon

salt

1

(15 ounce) can no-salt-added black beans, drained and rinsed

1 cup

cooked quinoa

¼ cup

chopped walnuts, toasted

1

large egg, beaten

¼ cup

panko bread crumbs (or whole wheat bread crumbs)

8

small whole wheat buns
---
Instructions
Heat 1 tablespoon oil in a large, non-stick skillet. Add the jalapeño, onion and carrot to the pan and cook, stirring frequently, until softened, about 5 minutes. Add garlic, chili powder and salt and cook 1 additional minute. Add the black beans and cook, stirring often, for 5 minutes.
Transfer mixture to a large bowl and mash with the back of a fork until most beans are smashed. Stir in the quinoa, walnuts, egg and bread crumbs. Shape into 8 equal-sized patties (about a rounded ½ cup each).
Wipe out the large non-stick skillet. Heat the remaining oil in the pan over medium-high heat. Add the burgers and cook, undisturbed, for 5 minutes. Flip over, cover with a lid or foil and turn heat down to medium-low and cook for 7 minutes. (Note – If your skillet is on the small side, cook burgers in batches).

 

Serve on buns with your favorite toppings!
Prep Time:

15 minutes

Cook Time:

20 minutes

Category:

Dinner

Cuisine:

American
Keywords: veggie burger, black bean burger