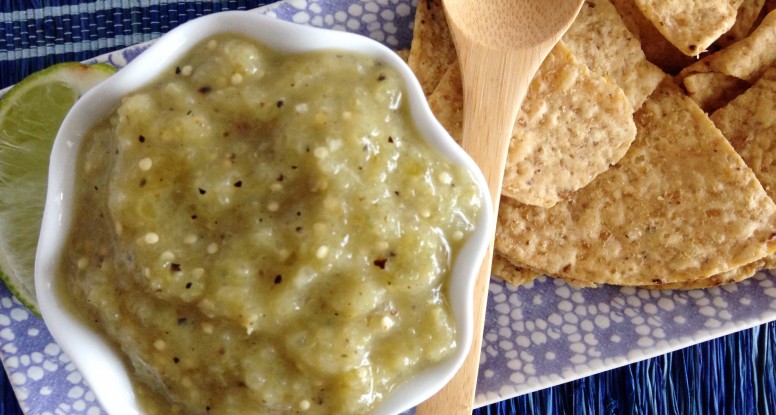 Super Simple Tomatillo Salsa
You'll wonder why you've never made tomatillo salsa before…
I know, you're doubting me when I say that, right? Why make it when you can buy a perfectly decent canned version? Hear me out! Besides being fun to play with (I mean, how awesome are those papery skins they come in?), tomatillos are a breeze to work with. And I have to say, fresh tomatillo salsa is darn good! I mean, really good. So good you'll want to add it to everything you make. From scrambled eggs to chicken salad, it'll be your new favorite condiment!
What else is there to love about tomatillo salsa? Don't worry, I've made a list! 🙂
1) It's made with fresh, simple ingredients without weird additives or preservatives.
2) Those ingredients just happen to also be healthy and taste awesome.
3) You can use it wherever you would use other salsas.
4) It makes a great party, better!
5) Your kids will eat it (at least the ones I served it to did).
Ok, now it's time to go out and get yourself some tomatillos people! But WAIT! Before you go, a tip – buying tomatillos is a little like buying tomatoes. Choose ones that aren't super soft, that don't have brown spots or look wrinkled. Select tomatillos that still have their skins. Those skins should be closely attached to the fruit and mostly closed (see my pics below!). Enjoy!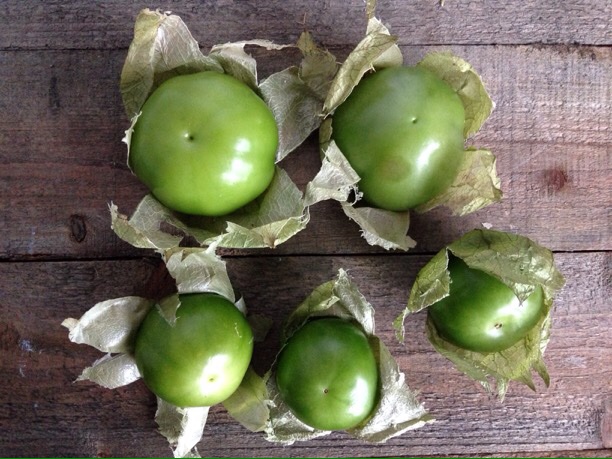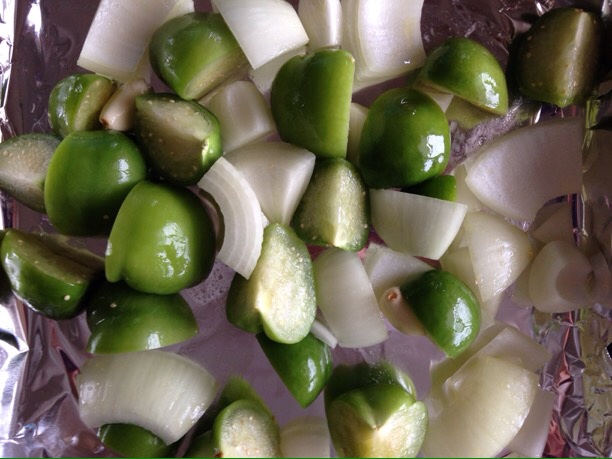 Print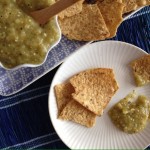 Super Simple Tomatillo Salsa
---
Description
A fresh and tangy salsa made with fresh tomatillos, perfect for tacos or for enjoying with tortilla chips.
---
15 ounces

tomatillos, skins removed and washed

5 ounces

white onion, chopped

2

garlic cloves, skins removed

2 teaspoons

olive oil

1/2

lime, juiced
salt, to taste
---
Instructions
Preheat the oven to broil and line a sheet pan with foil that has been coated in non-stick cooking spray.
Quarter the tomatillos and add them to a bowl along with the onion, garlic and olive oil. Toss to coat. Pour mixture out onto prepared baking sheet.
Broil 4 minutes, stir, then broil 2 more minutes. Stir again and broil an additional 2 minutes or until tomatillos and onion are blistered and browned. Remove and cool slightly before transferring to a blender or the bowl of a food processor. Add the jalapeño and lime juice and puree** until smooth. Season with salt to taste, if desired.
Notes
Makes about 2 cups salsa.
**When pureeing hot or warm liquids, use extreme caution. Allow to cool slightly first, work in small batches if needed, and allow a place for steam to escape.