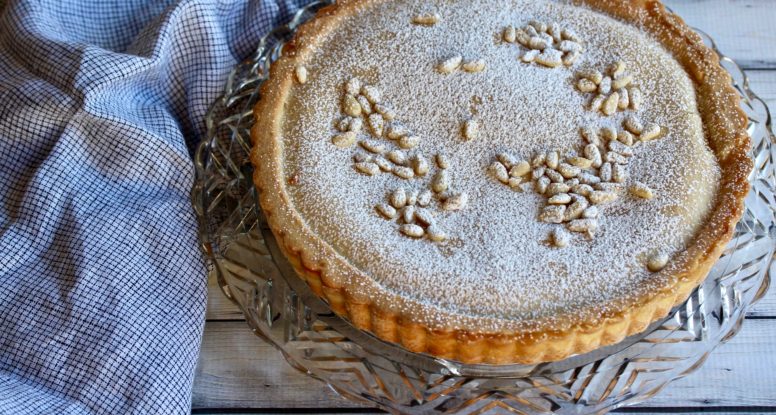 Top Chef Torta Della Nonna
Annnnnd, that's a wrap folks! Yep, I aired my final "What Was That?" episode last week on my Instagram Stories. Did you miss it? That's just not okay (insert crying emoji face), but luckily for you, they're all still there! And luckily for you, the last episode was a good one. All about a little cake called Torta Della Nonna!
What Was That?
In case you missed it, for the past few months, I've been filming a weekly series on my Instagram stories all about Top Chef. In each "story" I would take a dish from the episode and re-create it. All in the hope to make YOU and top chef in YOUR kitchen! Really, I just wanted to show you how easy it is to make the same stuff at you
r own house. Hopefully you caught it all, but if you didn't, you can still see them in my "highlights" on my Instagram account. If this all sounds like nonsense to you, ask your 12 year old nephew or niece to help you navigate the inter-web. 😉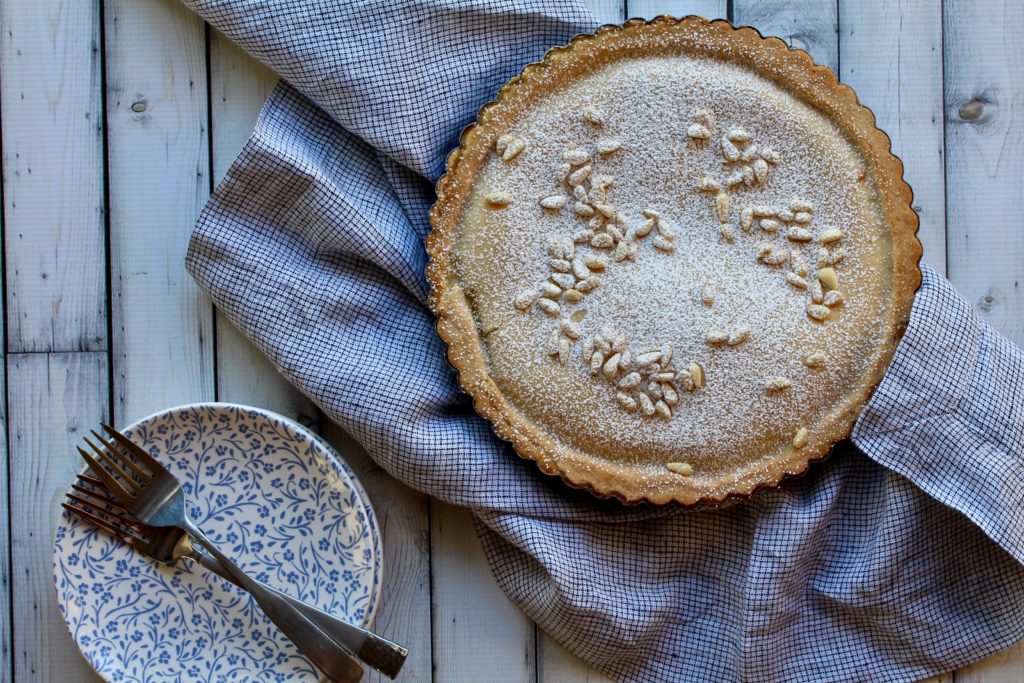 The Grand Finale
I'm happy to say that the fabulous Joe Flamm won this season. Yahoo! While I don't know Joe at all, I do have to say that I appreciate that he's from my hometown (yeah Chicago!) and that he's relaxed, fun and funny. What's not to love!? For his final meal, he served an interpretation of something called Torta Della Nonna. His was actually closer to something that resembled sticky brown butter cake, but it looked pretty darn fabulous. So in honor of him and in honor of my last episode, I attempted Torta Della Nonna.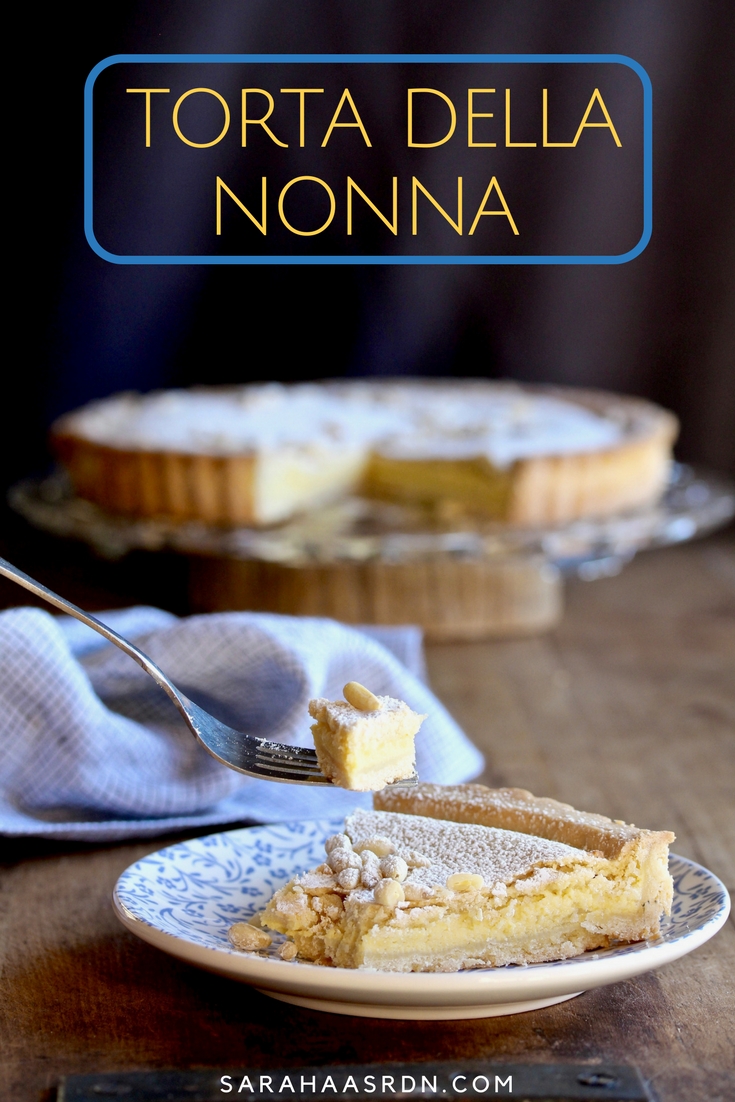 Torta Della Nonna
So, like I mentioned, Joe didn't actually make torta della nonna. What he made looked fabulous though, so I was certain this "torta della nonna" thing was something pretty close to what he made. Um, nope. Not at all. In fact, torta della nonna was REALLY different. We're talking sweet pastry dough and pastry cream. Oh boy! After much research and cups of coffee, I finally got a version I liked. And now, I share it with you! Hope you enjoy!
Print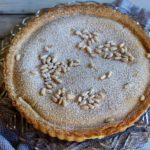 Torta Della Nonna
---
Description
This recipe was inspired by the final episode of this season's Top Chef. Expect some serious delicious-ness with this Torta Della Nonna! Serve cold and enjoy with tea or coffee. This recipe is a blend of two great recipes I found, one from Domenica Marchetti and one from Joe Sponzo 
---
Sweet dough (Pastra Frolla):
3 cups

all-purpose flour

1 cup

confectioner's sugar

¼ teaspoon

kosher salt
zest of

1

lemon

2

sticks butter, cold, cubed

1

large egg

2

large egg yolks
Crema Pasticcera (Pastry Cream):
2 cups

whole milk

1/2 cup

granulated sugar, divided

1 teaspoon

pure vanilla extract
Two

2

-by-1-inch strips of lemon zest

5

large egg yolks

1/3 cup

all-purpose flour
---
Instructions
To make the dough:
To a large food processor, add the flour, confectioner's sugar, salt and lemon. Pulse a few times to combine. Add the butter and pulse until crumbly; it should resemble wet sand. Add the egg and yolks and pulse until the dough comes together. Remove the dough from the food processor and place on a floured surface. Shape into two discs, one consisting of 2/3 of the dough and the other, the remaining 1/3 of the dough. Wrap in plastic and refrigerate for at least 1 hour and up to 1 day.
To make the pastry cream: (Method taken directly from Joe Sponzo)
In a medium saucepan, heat the milk with 1/4 cup of the sugar, the vanilla and the lemon zest until the mixture is hot to the touch. In another medium bowl, whisk the egg yolks with the remaining 1/4 cup of sugar until blended. Stir in the flour until incorporated. Whisk in the hot milk in a thin stream.   
Set a fine-mesh strainer over a medium bowl. Pour the pastry cream mixture back into the saucepan and cook over moderate heat, whisking, until thick and bubbling, about 2 minutes. Immediately strain the pastry cream into the bowl, scraping the strainer with a rubber spatula. Press a sheet of plastic wrap directly onto the surface of the pastry cream and refrigerate until chilled, 1 to 2 hours."
Preheat the oven to 350°F. Butter and flour a 10-inch fluted tart pan with a removable bottom. On a lightly floured work surface, roll out the larger disk of pastry to an 1/8-inch-thick round. Ease the pastry into the tart pan, pressing the dough into the corners. Don't trim the overhang.
Spread the chilled pastry cream in the tart shell in an even layer. Roll out the remaining pastry disk to an 1/8-inch-thick round and set it over the tart; gently press out any air bubbles. Carefully roll the rolling pin over the tart pan rim to cut off the overhanging dough. Gently press the edge together to seal the tart.
Bake the tart in the lower third of the oven for about 40 minutes, rotating the tart pans halfway through baking, until the crust is golden brown. Let the tart cool completely in the tart pan. Unmold the tart and transfer it to a large serving plate. Sprinkle the tart with pine nuts, cut into wedges.